Newport man accused of murdering Blaze Bernstein denies hate crime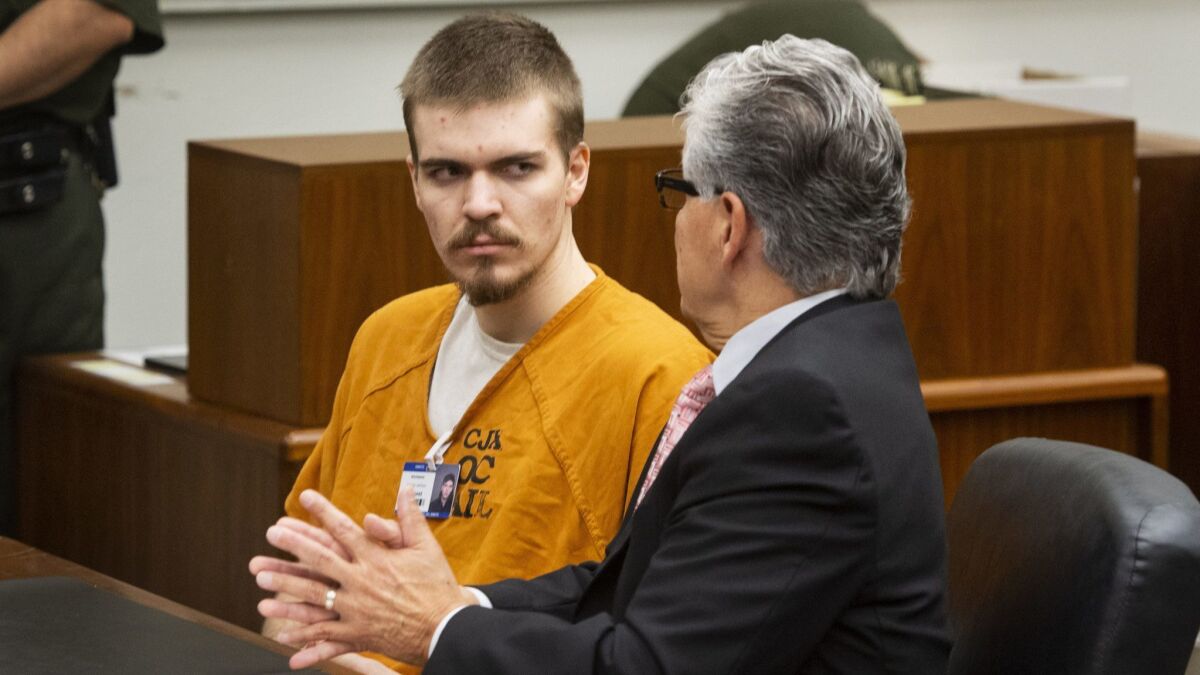 Samuel Woodward, the Newport Beach man charged with murder in the stabbing death of former high school classmate Blaze Bernstein, denied a sentencing enhancement allegation of a hate crime during a brief appearance Wednesday morning in Orange County Superior Court.
The allegation was added to the murder charge this month, with Orange County District Attorney Tony Rackauckas saying prosecutors believe Woodward killed Bernstein, 19, because Bernstein was gay.
With the possible sentencing enhancement, Woodward, 21, could face up to life in state prison without parole if convicted. Before, the maximum sentence he could have received was 26 years to life, prosecutors said.
Woodward previously pleaded not guilty to murder and denied a sentencing enhancement allegation of personal use of a knife. He is being held in Orange County Jail with bail set at $5 million.
On Wednesday, Woodward — dressed in an orange jail jumpsuit and wearing close-cropped hair and a goatee — was largely quiet during his court appearance except to answer questions or exchange words with his attorney, Edward Munoz. Woodward issued his hate-crime denial through Munoz.
The proceeding was scheduled as a preliminary hearing to determine whether prosecutors have enough evidence to move to trial, but that matter was rescheduled for Sept. 4 at the request of the attorneys in the case.
Prosecutors allege Woodward stabbed Bernstein and buried him in a shallow grave at Borrego Park in Foothill Ranch in early January. Bernstein's body was found Jan. 9 with more than 20 stab wounds.
According to an affidavit filed in Superior Court, Woodward told investigators that Bernstein kissed him while they were sitting in a parked car Jan. 2. Woodward told authorities the kiss was unwanted and that he pushed Bernstein away, adding that he wanted to call him a "faggot," according to the affidavit.
Authorities said DNA evidence found at Borrego Park and in Woodward's car led to Woodward's arrest Jan. 12.
After Wednesday's court appearance, Munoz told reporters that Woodward has been diagnosed with Asperger's syndrome, a developmental disorder that can hinder a person's ability to socialize or communicate.
Munoz added that "there's going to be some evidence that comes out to say he's very confused" about both his sexual identity and "his own identity."
According to a report published in January by nonprofit news organization ProPublica, three people who knew Woodward said he was part of Atomwaffen Division, an armed fascist organization that seeks to overthrow the U.S. government using terrorism and guerrilla tactics.
Bernstein had been visiting his parents in Lake Forest during winter break when his family reported him missing Jan. 3. He was enrolled as a pre-med student at the University of Pennsylvania. He and Woodward both had attended the Orange County School of the Arts in Santa Ana, authorities said.
Woodward attended Corona del Mar High School during his junior and senior years. He graduated in 2016.
Twitter @LukeMMoney
All the latest on Orange County from Orange County.
Get our free TimesOC newsletter.
You may occasionally receive promotional content from the Daily Pilot.