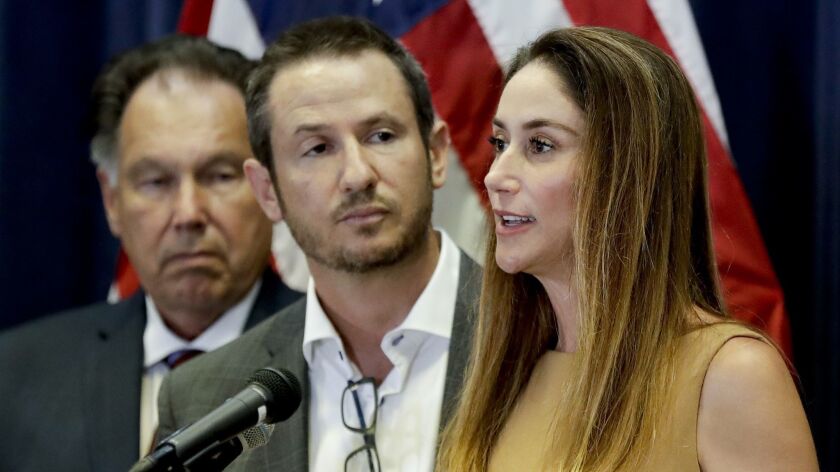 A 21-year-old Newport Beach man charged with murder in the stabbing death of former high school classmate Blaze Bernstein will also face a hate-crime sentencing enhancement allegation, Orange County District Attorney Tony Rackauckas said Thursday.
Rackauckas said prosecutors believe Samuel Woodward killed Bernstein, 19, because Bernstein was gay.
"A hate-crime enhancement based on sexual orientation is appropriate due to the evidence developed by looking at Woodward's cellphone, laptop and social media," Rackauckas said. "All of this revealed the dark side of Woodward's thoughts and intentions."
Rackauckas declined to elaborate on specifics of the evidence, though he said "there's a lot there that spews hatred toward many different groups of people."
The enhancement means that if Woodward is convicted, he could face a maximum sentence of life in state prison without parole. Before Thursday's announcement, the maximum he could have received was 26 years to life, according to prosecutors.
Woodward has pleaded not guilty to murder and denied sentencing enhancement allegations of personal use of a knife. He is expected in court for a preliminary hearing Aug. 22, according to court records.
Prosecutors allege Woodward stabbed Bernstein in early January and buried him in a shallow grave at Borrego Park in Foothill Ranch. Bernstein's body was found Jan. 9 with more than 20 stab wounds.
Bernstein, a pre-med student at the University of Pennsylvania, was visiting his parents in Lake Forest during winter break when his family reported him missing Jan. 3.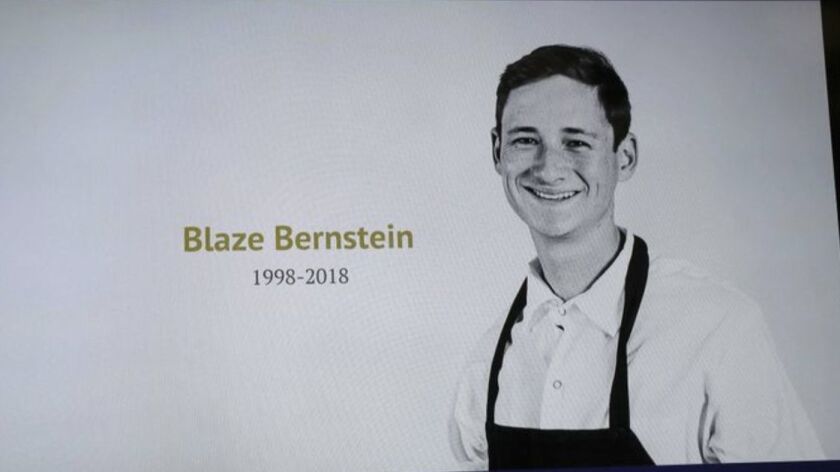 According to a 16-page affidavit filed in Orange County Superior Court, Woodward told investigators that Bernstein kissed him on the lips while they were sitting in a parked car Jan. 2.
According to the affidavit, Woodward told authorities the kiss was unwanted and that he pushed Bernstein away, adding that he wanted to call him a "faggot."
DNA evidence at Borrego Park and in Woodward's car led to Woodward's arrest Jan. 12, authorities said.
According to a report published in January by ProPublica, a nonprofit investigative news organization, three people who knew Woodward said he was part of Atomwaffen Division, an armed fascist organization that aims to overthrow the U.S. government through guerrilla tactics and terrorism.
Rackauckas declined to comment about photographs that have been circulated online allegedly depicting Woodward with members of Atomwaffen Division.
Bernstein's mother, Jeanne Pepper Bernstein, was seated in the front row during Thursday's news conference and closed her eyes as Rackauckas described the brutality of her son's slaying.
"Today we suffer an added layer of pain from learning that he was likely killed simply because of who he was as a human being," said Bernstein's father, Gideon Bernstein. "Our only objective at this point is to make sure that maximum sentencing is an option to ensure that no one is ever hurt or killed again by hate."
Twitter: @HannahFryTCN
---