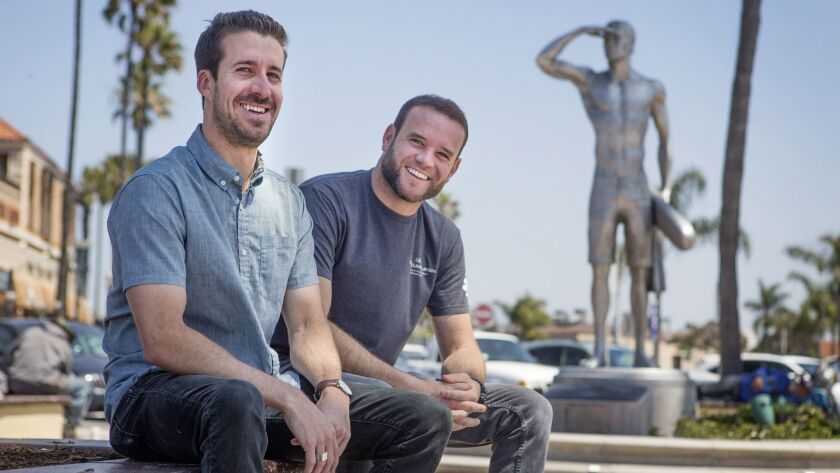 He was an inlander drawn to the water, though it would eventually claim him.
When Ben Carlson died four years ago while saving a drowning swimmer in Newport Beach, it had a resounding influence on the community.
A statue of his likeness erected near the pier and a lifeguard headquarters named after him are a few of the manifestations of this impact. Every year, residents gather on the beach on the anniversary of Carlson's death to pay tribute to his sacrifice.
Now, Carlson will be further immortalized as the subject of the documentary "Part of Water," which is being developed by Jack Murgatroyd and Tim Burnham.
Burnham, a friend of Carlson's, said they started filming last year after clearing the idea with the Carlson family. The film will look at Carlson, his courageous death and his impact within a Newport Beach community that welcomed him despite being an inlander.
Burnham remembers the moment he found out his friend had died.
"My mouth dropped and heart sank," Burnham said. "Of all the Newport Beach lifeguards, I would have put Ben at the top in terms of physical ability. It didn't make sense to me."
When Carlson, at age 32, was swallowed by a mammoth wave on July 6, 2014, it was the first death in the Newport Beach lifeguard division's nearly 100-year history. But it wasn't just the rarity of the death that provoked the community's emotional outpouring, but who it happened to.
Carlson had the DNA of a waterman, the blood in his veins flowing with the current. Yet, he was largely raised in landlocked Rancho Cucamonga.
Carlson ventured to Newport Beach at 17 — a pilgrim's journey to the sea, a mecca for the natural surfer and swimmer.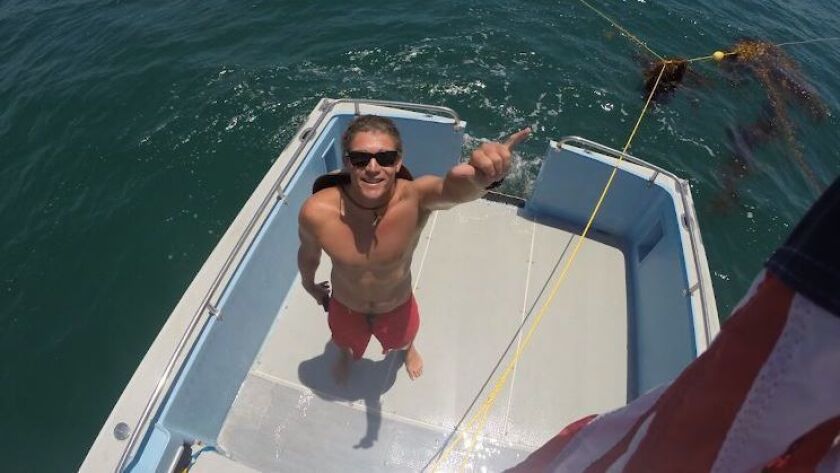 Usually, beach communities are possessive of their space. Newport Beach locals reject inlanders as "909ers."
"He spent the majority of his life in Rancho," said Chris Carlson, Ben's father. "It's not easy for an outsider to break into the Newport Beach community. They are a protective group."
But Carlson quickly endeared himself to the community as a lifeguard and bartender at a popular watering hole, Malarkey's Irish Pub.
Since his son's death, Chris has been approached by countless individuals who were affected by his son. They speak of courage and humor, helping Chris piece together a life even he didn't fully comprehend.
"Ben had an impact on the Newport Beach and lifeguard communities far greater than we ever expected," Chris said. "When Ben set his mind to something, he did it. That was the way he operated. I think that's what drew people to him."
Chris said he's looking forward to learning more about his son from the film.
"There have been so many honors — the renaming of Newport Beach headquarters, the statue that's near the Newport pier — and this is another one," Chris said. "For me, it's going to be an opportunity to have something I can look at in quiet times and reflect."
Aside from documenting Carlson's story, the film will also examine the heroism of the institution of lifeguards, which the filmmakers believe doesn't receive adequate reverence from the general public, though it demands death-defying feats like other public safety agencies — police and firefighters, among others.
"Lifeguards don't get a fair shake," Burnham said. "People have this 'Baywatch' misconception. If you look at the rescues they are doing, they are putting themselves in nature's dangerous elements. Ben's accident was a wake-up call to the community that lifeguarding is really a dangerous profession. Like a firefighter going into a burning building, lifeguards go into dangerous waters to rescue others."
Burnham said he's hoping they can release the film at the 2019 Newport Beach Film Festival.
The largest hurdle so far is the need for substantial swells this summer so they can capture shots of the lifeguards, who are on duty during the summer. Last year's disappointing surf season didn't furnish captivating action sequences.
The film is not the first the pair have worked on together.
In 2016, they released "Dirty Old Wedge," which examines the popular big-wave bodysurfing spot in Newport Beach. Burnham directed the film and Murgatroyd produced it.
For Burnham, filmmaking is more of a hobby. His primary job is at Albertini Italian Windows and Doors, a luxury Italian window brand based in Costa Mesa.
"Filmmaking is a passion thing for me," Burnham said. "I don't necessarily want to make it my profession because I feel it would take the fun away if I was relying on it for money."
Conversely, Murgatroyd is a filmmaking professional who founded the Los Angeles-based production company Hunt House Pictures. While the organization mostly produces commercials, Murgatroyd said he hopes the successes of "Dirty Old Wedge" and "Part of Water" will lead to further feature-length projects.
"Storytelling in a documentary fashion is what I got into filmmaking for," Murgatroyd said. "We hope this film does well and we can keep making documentaries and progress with bigger budgets."
"Part of Water" has already raised more funds than "Dirty Old Wedge" thanks to a recent Kickstarter campaign that reached its $25,000 goal in two days. Donations are currently more than $36,000 with 14 days left on the campaign.
A trailer was also released with the Kickstarter.
Chris Carlson thinks the fundraising successes exemplify the community's faith in Burnham following "Dirty Old Wedge," which became the top ticket seller at the festival. Burnham said it shows how resonant Ben Carlson's story is.
"Ben represents what people ultimately want to be like," Burnham said. "For him to lose his life sacrificing for someone else — people see the value in a story like that."
Although any film has its roadblocks, one of the most difficult parts of the filmmaking process so far was coming up with an adequate title — something that could describe the heroic poetry of Carlson's life arc.
"The title was a struggle for us — we threw around a lot of different ideas," Burnham said. "Ben's sister in one of the interviews said he was always 'part of the water.' That really stood out for us. We thought that's a great title.
"He was so connected with the water that he was a part of it. Having known him, he really was, even though he was born far from the ocean. He was an outsider and now he's a part of the water."
Twitter:@benbrazilpilot
---