CHOC celebrates completion of O.C.'s only mental health inpatient center for children under 12
The Children's Hospital of Orange County this week celebrated completion of an 18-bed mental health inpatient facility, the only center in the county to offer inpatient services to kids younger than 12.
The 12,000-square-foot center is being touted as a vital answer to the deficit of mental health care for children in the county.
"Up until now, the kids in the county would have to go to the emergency room," said Dr. Wayne Nguyen, the medical director of the new inpatient center. "If they are so severe that they need hospitalization, then they would have to go out of the county."
The center will begin admitting patients on April 17. Plans for the facility were announced in May 2015 and CHOC began construction in September 2016.
Nguyen said there likely will be a waiting list.
The center, located on the third floor of the hospital in Orange, will serve to stabilize children, ages 3 to 17, in the grips of a mental health crisis. Children will usually be admitted from the emergency room, though sometimes through referrals from doctors, Nguyen said.
To be admitted to the unit, children have to be either a danger to themselves and others or be gravely disabled.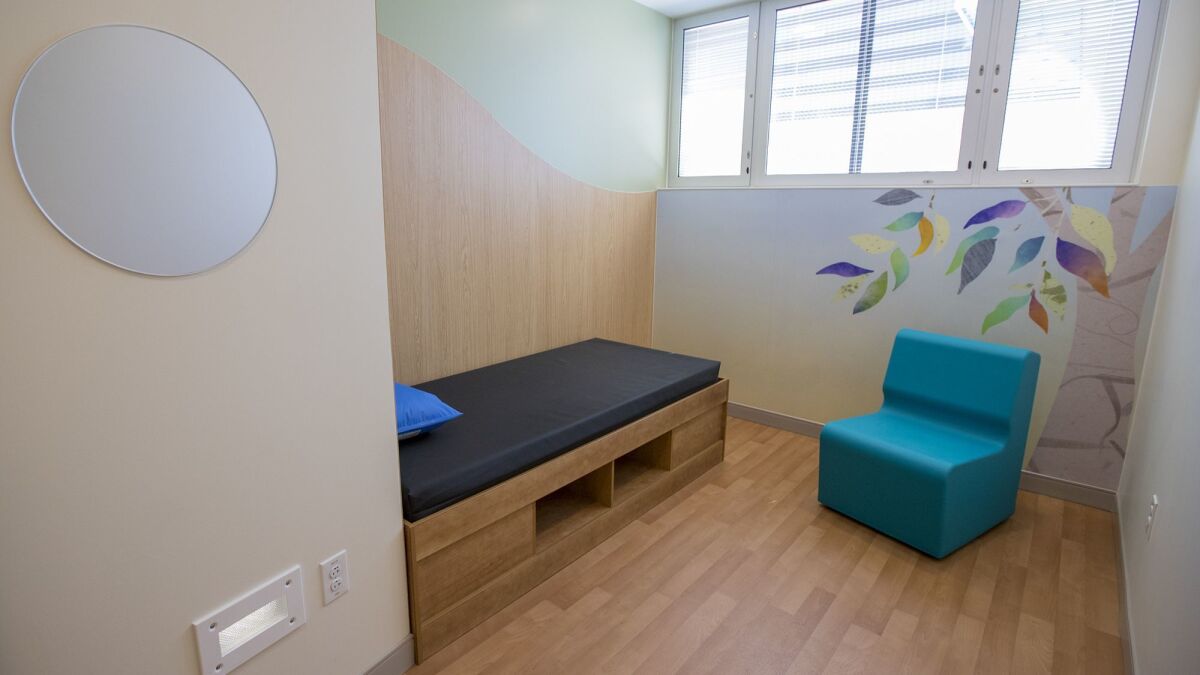 CHOC chief psychologist Heather Huszti said Monday during a tour of the center that the facility is not seeking to cure patients, but rather to discharge them after aiding them through their crisis with a new set of practices and principles to help in warding off future mental breaks.
Stays will generally range from five to seven days.
It will be the only center in California to have a private room for each patient. Young children will have the option to have their parents stay with them.
Huszti said the center wants to include parents in the healing process.
Also atypical for inpatient services, the facility will run specialty programming every day. Nguyen said the programs will span the day, with community groups where patients can set goals, various activities that teach coping skills, recreational classes that outline how to play and time management, classwork time and meetings with therapists.
Aside from the 18 separate rooms for each patient, which are fairly small and consist of a sole bed and chair, the center has a variety of rooms to support the programming.
There's a classroom with a big-screen television, activity rooms with game tables, one high-sensory room and another low-sensory room — both meant to aid patients in managing their emotions.
The sensory-rich room contains a fuzzy, blue LED-lit wall and a bubbling tube of water that changes color by flipping a large, colored dice. The low-stimulation room has a blue chair and orange bin.
Walls throughout the facility are adorned with various nature art meant to promote a calming environment.
A vibrantly-colored outdoor playground will offer patients the ability to engage with soothing activities like play on a colored drum set, gaze at a sensory wall with art of various sea life or take a stroll along a blue track.
Safety was an important part of the center's design.
Each part of the facility was planned with the tendencies of suicidal children in mind. Special handles are affixed to doors, sprinklers are sunken into the ceiling and cabinet handles don't have spaces for finger holds so patients cannot hang themselves.
The top of each door also has a sensor to monitor whether someone is trying to hang themselves.
Each patient's room has a smaller door that only opens from the outside in case a hospital team member needs to access the room quickly.
During the planning phase, hospital members visited various facilities throughout the state and country for inspiration, including Clarity Child Guidance Center in San Antonio and the Seattle Children's Hospital.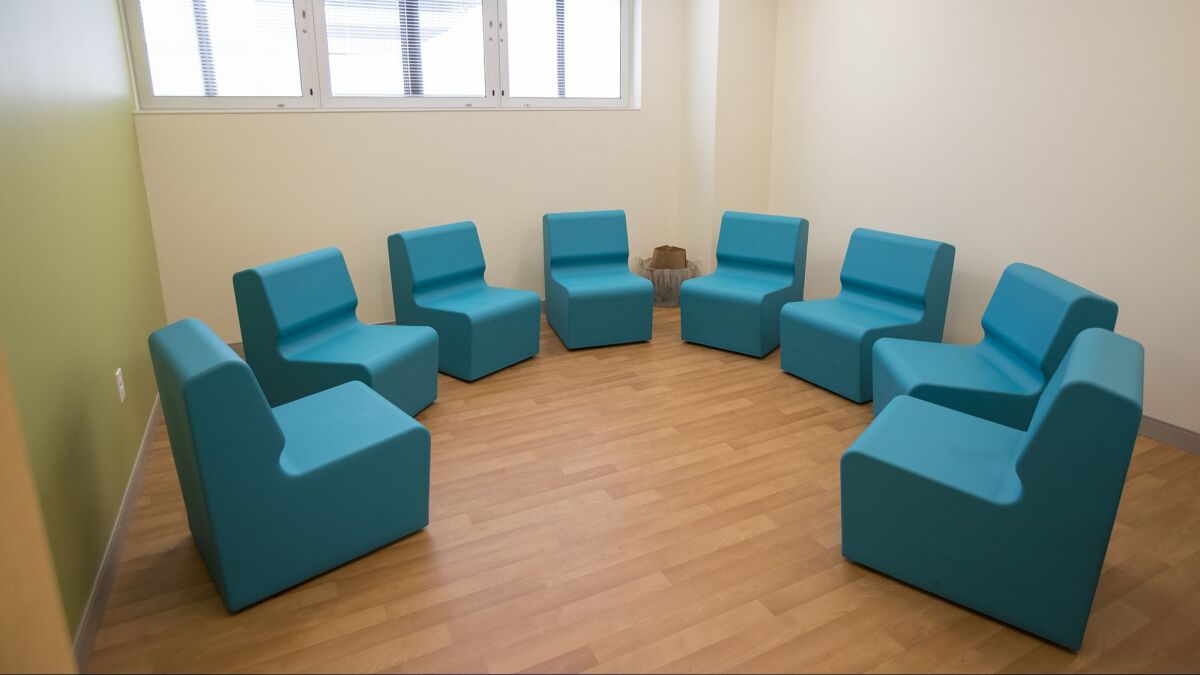 Nguyen said the center is the first new mental health facility in Orange County in more than two decades and it will play a crucial role in treating the generally underserved mental health needs of the county's children. Traditionally, parents have had to bring their children to the emergency room, which isn't equipped to deal with mental health issues.
"Most emergency rooms aren't set to deal with mental health problems because it's time consuming and it requires specialty care that they don't usually have," Nguyen said.
Nguyen said there are only about 40 psychiatric beds available for adolescents in the county. More than half of the county's kids are forced to leave its boundaries for inpatient services.
"This has always been needed — it's just that there hasn't been anybody willing to step up," Nguyen said. "It's not a money-making venture for hospitals to provide psychiatric beds."
The $13.2-million facility was funded through individual donations, government funding and grants. Sandy Segerstrom Daniels, founder of the nonprofit Festival of Children Foundation, donated $5 million to the center.
Twitter:@benbrazilpilot
---
All the latest on Orange County from Orange County.
Get our free TimesOC newsletter.
You may occasionally receive promotional content from the Daily Pilot.