Around Town: Community celebration in Costa Mesa will recognize O.C. vets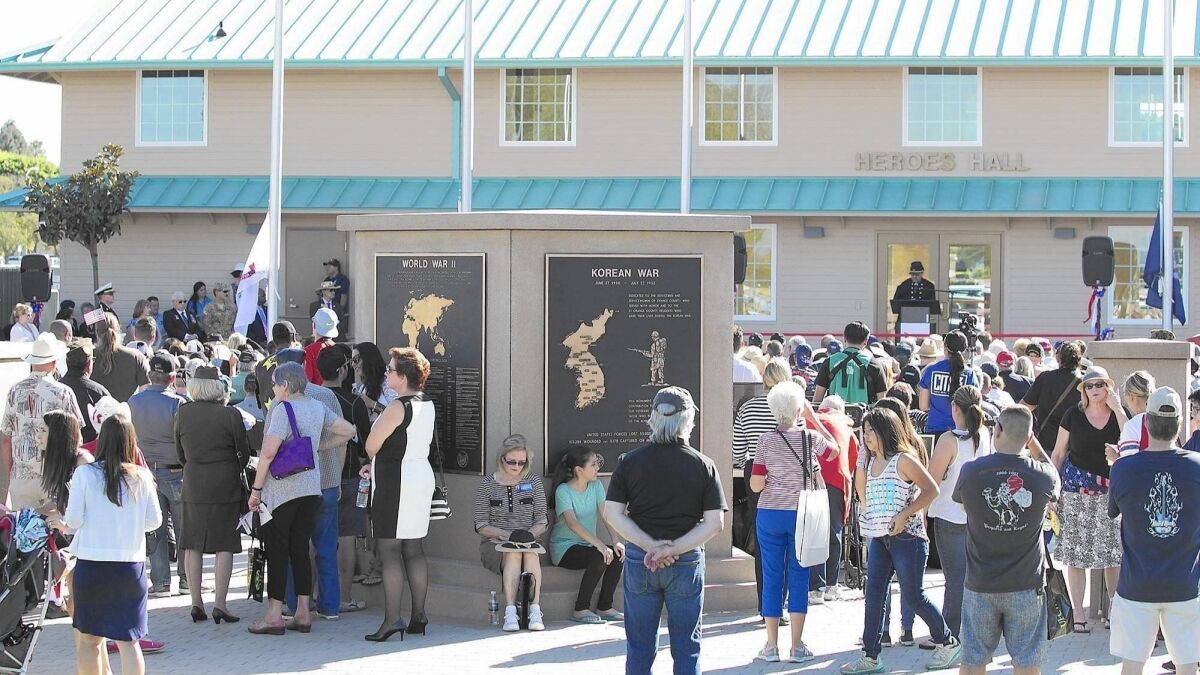 A dozen Orange County veterans will be honored Friday during a ceremony at the Heroes Hall museum in Costa Mesa.
State Assemblywoman Cottie Petrie-Norris (D-Laguna Beach) is hosting the celebration, which will recognize two residents from each of the six cities within her 74th Assembly District — Costa Mesa, Huntington Beach, Irvine, Laguna Beach, Laguna Woods and Newport Beach.
"We owe a profound debt of gratitude to the brave men and women who have answered the call of a nation to serve in the United States Armed Forces," Petrie-Norris said in a statement. "I am proud to say that Orange County has the fourth-largest veterans population in California and we are delighted to have the opportunity to salute the achievements and community contributions of 12 veterans."
The ceremony will run from 10 to 11:30 a.m. Heroes Hall is located on the OC Fair & Event Center property, 88 Fair Drive.
Event will bring dinosaurs to life at O.C. fairgrounds
Dinosaurs will walk the earth again this weekend during Jurassic Quest at the OC Fair & Event Center.
From Friday through Sunday, guests can get an up-close, hands-on look at more than 80 life-size animatronic dinosaurs and learn about the creatures in the process. The event also will feature a number of child-friendly activities.
The event's hours are 3 to 8 p.m. Friday, 9 a.m. to 8 p.m. Saturday and 9 a.m. to 7 p.m. Sunday. General admission is $25, but discounts are available for seniors, police and military service members. Parking is $9.
For more information or to purchase tickets, visit jurassicquest.com/events/costa-mesa-ca. The Fair & Event Center is at 88 Fair Drive in Costa Mesa.
Women's skateboarding tournament rolls into H.B. Saturday
Two-hundred top female skateboarders from around the globe will compete for a $65,000 purse Saturday at Vans Off the Wall Skatepark in Huntington Beach in the eighth annual Exposure benefit for Human Options, an Orange County nonprofit that serves victims of domestic violence.
The tournament, billed as the largest event for amateur and professional female skateboarders, will run from 9 a.m. to 8 p.m. and include a vendor village, a game zone, T-shirt and jewelry making stations and a learn-to-skate clinic. Spectators will have a chance to win one of 100 skateboard and helmet packages.
Admission is free. Vans Off the Wall Skatepark is at 7471 Center Ave.
For more information, visit exposureskate.org.
Chili cook-off will bring the heat in Costa Mesa Saturday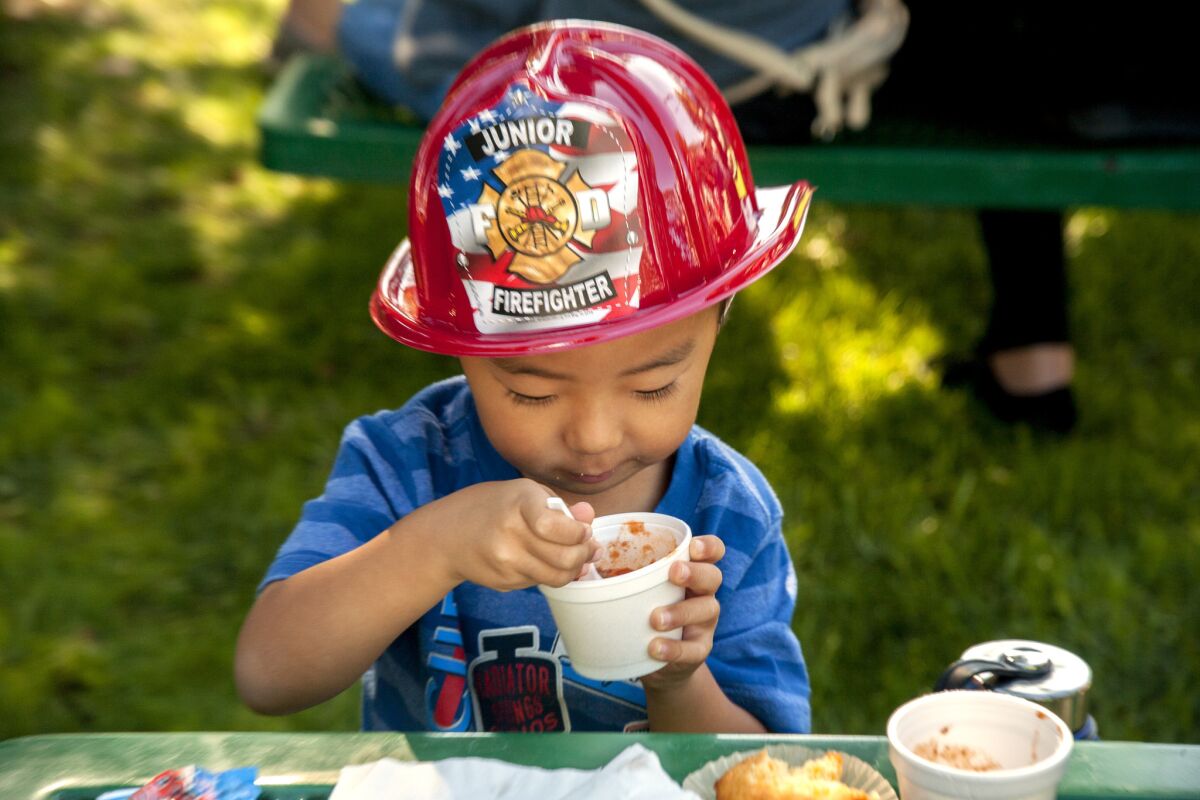 The competition will be heated Saturday during the annual Halecrest Park chili cook-off in Costa Mesa.
The free community event will run from noon to 4 p.m. at 3107 Killybrooke Lane.
Attendees will be able to sample a selection of chili recipes and enjoy other refreshments — as well as live music from the band Dead End Road.
For more information, visit halecrestpark.com/annual-chili-cook-off.
Fall Festival coming to Costa Mesa church
Christ Lutheran Church and School in Costa Mesa will host a Fall Festival Saturday from 9 a.m. to 3 p.m.
The annual event features rides, games, food and music.
Christ Lutheran is at 760 Victoria St.
Costa Mesa church will spice things up with cook-off
Costa Mesa's St. John the Baptist Catholic Church will serve up its eighth annual Chili Cook-Off and Festival Saturday from 11 a.m. to 4 p.m.
The free event at 1021 Baker St. will include food, live music, games, a water play area and classic car show.
For more information, visit sjbkofc.org.
South Coast Plaza to host fashion event
Style on the Block, an event featuring music, art and fashion, will take its turn on the runway at South Coast Plaza from noon to 5 p.m. Saturday.
The event will include discounts from participating retailers and take place on Level 1 of the Saks Fifth Avenue wing of the Costa Mesa shopping center, 3333 Bristol St.
Visit southcoastplaza.com/style-on-the-block for more details.
Make-A-Wish gala coming to H.B. hotel
Make-A-Wish Orange County and the Inland Empire's eighth annual Diamonds & Ice Gala will be held Saturday at the Waterfront Beach Resort, 21100 Pacific Coast Hwy. in Huntington Beach.
More information is available at bit.ly/2C2qlXQ.
Surf City indoor cycling gym to host fundraiser
Full Psycle, an indoor cycling gym at 7801 Edinger Ave. in Huntington Beach, will host a fundraiser for the Crohn's & Colitis Foundation on Saturday from 5 to 8 p.m.
For more information, or to participate, call (646) 477-3776.
Old documents taking up space? Shred to Newport
The city of Newport Beach and CR&R Environmental Services will offer free document shredding for local residential customers on Saturday from 8 a.m. to noon at the city's public works yard, 592 Superior Ave.
Proof of Newport Beach residency will be required. Up to 10 banker-sized boxes, or the equivalent, per household will be accepted.
For more information, call (949) 625-6735.
Rouda to address Laguna Canyon Conservancy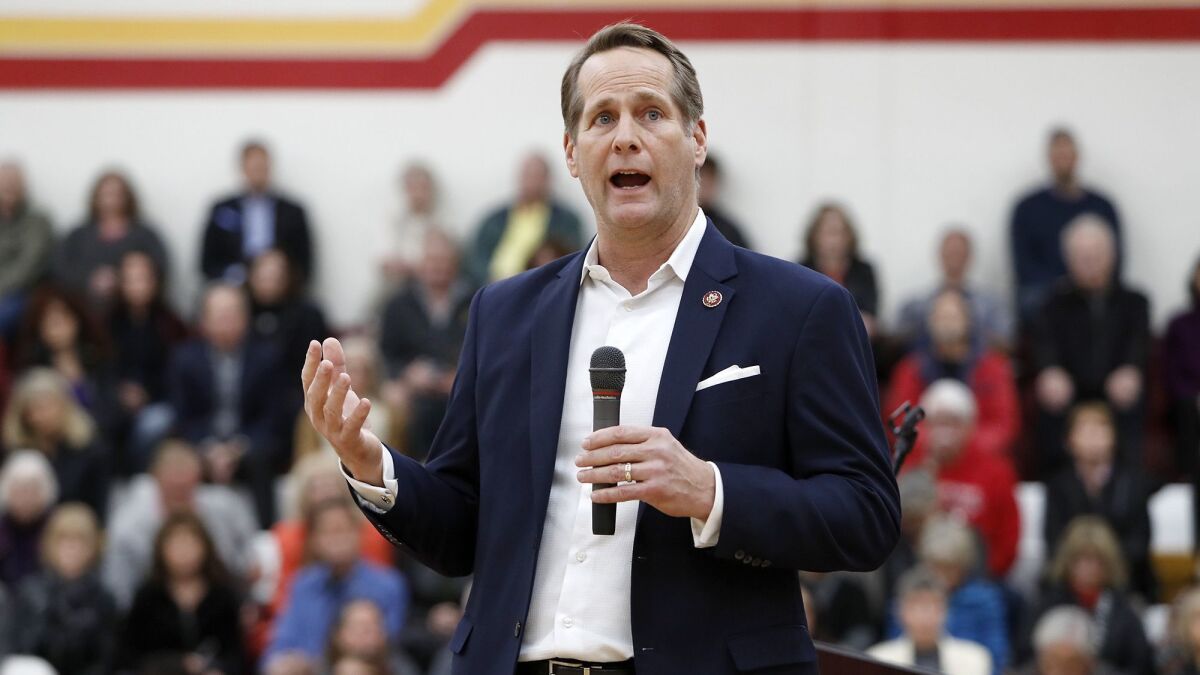 U.S. Rep. Harley Rouda (D-Laguna Beach) will address the Laguna Canyon Conservancy on Monday during its monthly dinner meeting at Seven 7 Seven, 777 Laguna Canyon Road.
Rouda will discuss legislative issues that affect preservation efforts.
The event begins at 6 p.m., with dinner to follow. Tickets start at $15.
Reservations are required and can be made by visiting lagunacanyonconservancy.org or calling Linda Mayer at (714) 812-6813.
Workshop to discuss enforcement of protected marine areas
Costa Mesa-based Orange County Coastkeeper will co-host a workshop Wednesday to discuss how to improve enforcement of the county's protected marine areas.
The workshop will run from 5:30 to 7:30 p.m. at the UC Irvine School of Law, 401 E. Peltason Drive, Suite 1000. Food will be provided and parking is free.
For more information, or to register, visit conta.cc/2C1348A.
New art installation coming to South Coast Plaza
South Coast Plaza will officially unveil a new art installation Tuesday evening.
"Now or Never," a work by Los Angeles-based sculptor and painter Lara Schnitger, is 78 feet wide and interactive. It will be located in the Saks Fifth Avenue wing of the Costa Mesa shopping center.
Holiday trees sprouting in Costa Mesa, Newport
Fashion Island will welcome its newest holiday tree Wednesday morning.
The 90-foot-tall Mount Shasta white fir tree will arrive at the Neiman Marcus-Bloomingdale's courtyard, 401 Newport Center Drive in Newport Beach, during pre-dawn hours.
Over in Costa Mesa, South Coast Plaza has already taken delivery of its tree — a more than 90-foot-tall white fir — and plans to light it for the holiday season during a ceremony on Nov. 21 in Town Center Park, 686 Anton Blvd.
Laguna Playhouse production goes medieval
The Laguna Playhouse's next production — "The Lion in Winter," a "Game of Thrones"-style drama written by James Goldman and directed by Sheldon Epps — opens Wednesday and runs through Nov. 24.
For tickets, visit lagunaplayhouse.com. The playhouse is at 606 Laguna Canyon Road.
Newport Beach Tennis Club will serve up championship tourney
The 2019 Oracle ITA National Fall Championships will make a racket at the Newport Beach Tennis Club from Wednesday through Nov. 10.
The field will include 128 of the nation's top collegiate players. Admission and parking are free.
For a complete match list and schedule, visit itatennis.com. The club is at 2601 Eastbluff Drive.
Art & Nature event returns to Laguna Art Museum
The Laguna Art Museum's annual Art & Nature festival starts Nov. 7 and goes through Nov. 10.
The event will include special exhibitions, a commissioned artwork, lectures, panel discussions and family activities, according to a news release.
For more information, visit lagunaartmuseum.org/art-nature. The museum is at 307 Cliff Drive.
Groovy Beatles production coming to Surf City stage
The Fab Four will take center stage during an upcoming Huntington Beach Academy for the Performing Arts production of "The Beatles Story: 1969" on Nov. 7 and 8.
The shows will be at First Christian Church, 1207 Main St. in Huntington Beach.
Tickets start at $20. For more information, visit hbapa.org/see.
Festival will offer sweet opportunity to find holiday gifts
The Sugar Plum Festival will be at the OC Fair & Event Center on Nov. 7, 8 and 9.
Attendees will have the chance to browse the offerings from more than 150 local artists in a holiday-themed setting.
Admission is free. Parking is $9 on Nov. 7 and 8, and free on Nov. 9.
For more information and festival hours, visit sugarplumfestivals.com.
U.S. Chamber executive to speak in Newport
Jennings Imel, executive director of the U.S. Chamber of Commerce's western regional office, will be the featured speaker during a Wake Up Newport gathering on Nov. 7.
He will discuss tariffs, infrastructure, immigration and other topics starting at 7:15 a.m. at the Newport Beach Public Library, 1000 Avocado Ave.
Admission is free.
Area politicians will convene at Irvine business event
The National Assn. of Women Business Owners, Orange County will welcome several area legislators to its Legislative Breakfast on Nov. 8.
State Assemblywoman Cottie Petrie-Norris (D-Laguna Beach) and Sen. John Moorlach (R-Costa Mesa) are among those expected to attend the breakfast — which will run from 7:30 to 9:30 a.m. at UC Irvine's Newkirk Alumni Center, 450 Alumni Court.
To register, visit nawbooc.biz/events.
Renowned gardener to speak in CdM
The Sherman Library & Gardens in Corona del Mar will host Bill Thomas, executive director of the Chanticleer Garden in Pennsylvania, for a guest lecture on Nov. 8.
The lecture starts at 11:30 a.m. and is free for library members and $5 for non-members. Tickets that include lunch also are available and cost $30 for members and $40 for non-members.
To register, visit slgardens.org. Sherman Library & Gardens is at 2647 E. Coast Hwy.
Annual Wyland fundraiser will include whale, dolphin watching
The 26th annual Wyland Foundation Fundraiser Gala will be held in Laguna Beach on Nov. 10 from 4 to 8 p.m.
The event at Seven-Degrees, 891 Laguna Canyon Road, also will include a whale- and dolphin-watching tour from 1 to 3 p.m. with Wyland, the noted marine life artist, and marine biologists.
For more information, or to buy tickets, visit wylandfoundation.org.
Newport-Mesa district announces new hire
The Newport-Mesa Unified School District has hired Angela Allen-Hess as its new coordinator of child welfare and attendance, according to a news release.
She comes to the district after serving as interim coordinator of student wellness, physical education and student athletics at the Santa Ana Unified School District.
Allen-Hess has a bachelor's degree from UC Irvine and a master's degree from Cal State Dominguez Hills. She will join Newport-Mesa on Nov. 12.
Girls Inc. event generates donations for women's group
Costa Mesa-based Girls Inc. of Orange County recently hosted more than 100 attendees for its "Love Your Body, Period" event on Oct. 12.
Because of the event, the organization was able to donate 50 period kits to I Support the Girls, an international network that gives essential items to homeless women, refugees and victims of domestic violence.
WeWork opens new location in Newport
WeWork — a provider of shared work space — has opened a new location in Newport Beach, according to Bisnow.
The company has secured more than 50,000 square feet of space in Bayview Towers, 100 Bayview Circle, Bisnow reported.
Nike sells Hurley, a Costa Mesa-based surfing brand
Nike Inc. has agreed to sell Hurley — a Costa Mesa-based surfing apparel and accessories brand — to Bluestar Alliance LLC for an undisclosed amount, according to a news release.
The parties expect to complete the transaction in December.
"We have always admired the Hurley brand as it has maintained its leadership role and premium positioning in the surf world," said Bluestar Chief Executive Joey Gabbay, in a statement. "This is a transformative acquisition for Bluestar as Hurley's international footprint will enhance Bluestar's reach around the world."
Laguna residents invited to participate in survey
KLD Engineering, a New York-based firm that provides emergency and evacuation planning, is conducting an online survey to gather information from Laguna Beach residents as part of a comprehensive evacuation time study.
The survey should only take about 10 minutes to complete, according to city staff, and can be accessed at LagunaBeachSurvey.kld.engineering.
---
All the latest on Orange County from Orange County.
Get our free TimesOC newsletter.
You may occasionally receive promotional content from the Daily Pilot.