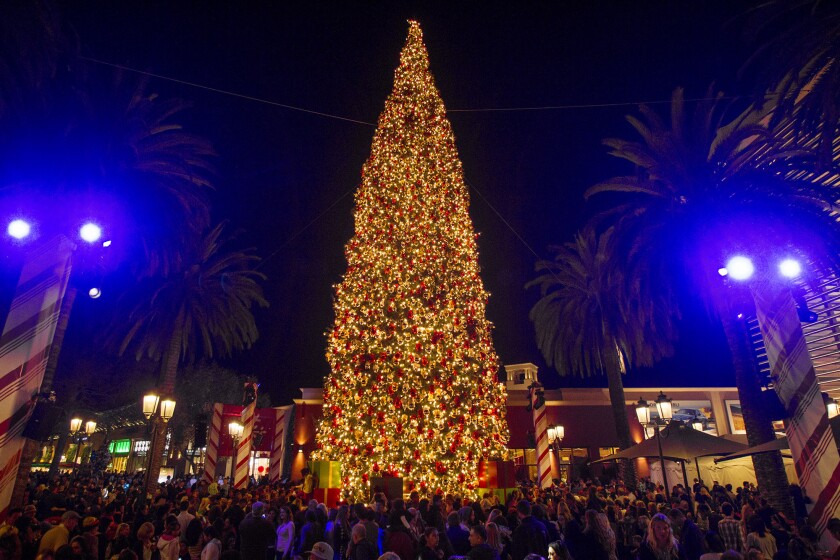 In the surest sign yet that the holidays are just around the corner, tree-lighting ceremonies are scheduled in Costa Mesa, Huntington Beach and Newport Beach next week.
The event at South Coast Plaza, 3333 Bristol St. in Costa Mesa, starts at 6:30 p.m. Thursday at Town Center Park, located north of the Westin South Coast Plaza hotel.
South Coast Plaza's tree is 90 feet tall and will be decorated with more than 94,000 lights. The free ceremony includes drinks, treats, a visit from Santa Claus and a performance by students from the Orange County School of the Arts.
Free parking is available at South Coast Plaza and nearby parking structures.
Over in Newport Beach, Fashion Island's tree-lighting is 6 p.m. Nov. 22 and 23 in the Neiman Marcus/Bloomingdale's courtyard. It will include a live musical show.
Lastly, downtown Huntington Beach's tree-lighting ceremony, part of the Miracle on Main Street event, is 6 p.m. Nov. 24 in the 200 block of Main Street.
Before the event, there will be a holiday boutique starting at 2 p.m. Admission is free. For more information, call (714) 536-8300.
H.B. Senior Center to host 'fix-it' clinic
Huntington Beach's Senior Center in Central Park is hosting a free "fix-it" clinic Saturday from 12:30 to 3:30 p.m.
Participants are encouraged to work on broken items that can be carried into the event. All ages are welcome.
For more information, visit fixitclinic.org. The center is at 18041 Goldenwest St.
Traveling actor troupe will perform in Laguna mansion
On Impulse Actors, a traveling troupe, will perform "The Elephant Man" in Laguna Beach at 7 p.m. Saturday.
The performance will take place inside a local mansion. The address will be provided to patrons who purchase tickets, which are $20.
For tickets and more information, visit pamelapeakproductions.com/the-elephant-man.
Juried art show begins Saturday in H.B.
The Huntington Beach Art Center's sixth annual Artist Council Exhibition begins Saturday and runs through Dec. 14.
The exhibition is a juried presentation of original works by Southern California artists.
The Art Center is at 538 Main St. For more information, call (714) 374-1650 or visit huntingtonbeachartcenter.org.
Meet therapeutic animals Sunday in Newport
The nonprofit Back Bay Therapeutic Riding Club, 20262 SW Cypress St. in Newport Beach, will throw open its doors Sunday from 12:30 to 3:30 p.m.
Attendees to the open house can meet instructors, as well as horses, donkeys and goats. There also will be demonstrations, food, music and drinks.
For more information, visit backbaytrc.org.
C.M. chamber will host morning engagement session
The Costa Mesa Chamber of Commerce will host an event Tuesday to discuss social responsibility and community engagement.
The session will take place at the restaurant in the Costa Mesa IKEA, 1475 S. Coast Drive, from 8 to 9:30 a.m.
Admission is $10. To RSVP, visit costamesachamber.com/events.
Local governments nominated for 'Red Tape' awards
The Orange County Business Council has announced the nominees for its ninth annual Turning Red Tape Into Red Carpet Awards, an event that recognizes public agencies that "cut through red tape and open the door for business growth and success."
Nominated locally were Fountain Valley, for Experience Fountain Valley, a food and wine event; Newport Beach, for its online permitting system, iPermit; and Costa Mesa, for its bridge shelter.
The awards reception starts at 5:30 p.m. Wednesday in the Center Club Orange County, 650 Town Center Drive in Costa Mesa. Tickets start at $85.
For more information, visit ocbc.org/general-events.
Magazine editor to speak at Leadership in Heels event
Coast Magazine Executive Editor Samantha Dunn will be the guest speaker at the Nov. 21 Leadership in Heels event at the Center Club Orange County, 650 Town Center Drive in Costa Mesa.
Dunn will discuss "courageous leadership" alongside Scharrell Jackson, the founder of the speaker series.
The event will run from 7 to 9:30 a.m.
Tickets are $75 and available at lihthecouragetolead.eventbrite.com. A portion of the proceeds will go to benefit the March of Dimes.
Production of 'Elf' musical coming to Costa Mesa Middle
Costa Mesa Middle School drama students will perform "Elf The Musical Jr." on Nov. 22 at 7 p.m., Nov. 23 at 2 p.m. and 7 p.m., and Nov. 24 at 2 p.m.
Tickets are available at showtix4u.com/event-details/35662 or at the door and cost $10 for students and $15 for adults. Performances on the 23rd are free with a donation of canned food.
The shows will be in the Costa Mesa High School Performing Arts Center, 2650 Fairview Road.
Santa dropping back into Surf City
Santa Claus will drop by Pacific City in Huntington Beach — literally — on Nov. 23 during an event from noon to 3 p.m.
After parachuting in, Santa and some of his elves will be at Pacific City, 21010 Pacific Coast Hwy., for pictures daily through Dec. 24.
H.B. to host Mayor's Ball event
The inaugural Huntington Beach Mayor's Ball is Nov. 23 at the Waterfront Beach Resort, 21100 Pacific Coast Hwy.
The event, which starts at 5:30 p.m., will "honor the Huntington Beach leaders of today by encouraging and investing in the HB leaders of tomorrow," according to its organizer, the nonprofit Unity Impact.
Tickets start at $125. For more information, visit hbmayorsball.org.
Annual winter-themed art event returning to Sawdust
The Sawdust Art Festival will get into the spirit of the season with the return of its Winter Fantasy on Nov. 23.
The 29th annual event, which runs on select days through Dec. 22, will feature handmade art, live entertainment, photos with Santa, winter-themed art classes, a petting zoo and more.
Tickets are $8 for adults, $6 for seniors and $4 for children ages 6 to 12. Children who are 5 years old and younger can attend for free, as can military service members and veterans.
For more information, or to buy tickets, visit sawdustartfestival.org. The Sawdust Art & Craft Festival grounds
are at 935 Laguna Canyon Road in Laguna Beach.
Grand opening scheduled for Newport medical spa
Beyond Regenerative Medicine & Aesthetics, located at 1501 Westcliff Drive, Suite 301, in Newport Beach, will celebrate its grand opening from 10 a.m. to 4 p.m. on Dec. 3.
The facility, founded by Newport Beach native Dr. Allyson Berkey, will provide various wellness treatments for men and women.
For more information, call (949) 270-6789 or visit beyondregen.com.
H.B. cops, lifeguard join paddle to raise awareness of veterans issues
Huntington Beach public safety personnel were among those who paddled 33 miles Monday as part of an inaugural Veterans Day event.
The journey, organized by the nonprofit Operation Open Water to raise awareness for veterans issues, began at the USC Wrigley Institute for Environmental Studies in Avalon and ended at the Huntington Beach Pier.
Huntington Police Officers Grant Hasselbach and Ian MacLeith, as well as Sgt. Thoby Archer and lifeguard Derek Peters, participated in the event.
Newport Harbor company hires first female gondolier
Gondola Adventures in Newport Beach recently welcomed its first female gondolier, Joelle Dueck.
"I have always been passionate about female empowerment, so this job makes sense for me," Dueck, a graphic designer who also surfs, said in a news release. "I am just stoked to have a fun job, honestly. And let me tell you, it meets the requirement."
More information about the company is available at newportbeach.gondola.com.
Laguna hires city arborist
Laguna Beach has hired Nate Faris as its new city arborist, according to a news release.
"I love being outside, working with trees and people who are passionate about the urban forest," Faris, who has 15 years of experience and industry certifications, said in a statement. "My focus is not only the health and well-being of individual trees, but also a larger-scale perspective like canopy cover and the overall benefits of trees to our community."
The position had previously been filled by a contractor.
Golden West wins city award
Golden West College recently won a Best of HB award.
More than 2,500 community members voted for the awards, which are organized by the Huntington Beach Chamber of Commerce to recognize people or organizations that have contributed significantly to the community.
"We are humbled and honored by this prestigious recognition," college President Tim McGrath said in a statement. "It's even better that this award comes from our friends and neighbors in our community. This award speaks to our tradition of providing pioneering, learning-centered programs for our students."
JWA Hyatt completes renovation project
Renovation work recently wrapped up at the Hyatt Regency hotel near John Wayne Airport.
Upgrades at the 343-room hotel, 4545 MacArthur Blvd. in Newport Beach, included installing Italian marble-laden bathrooms, a high-end fitness facility and 65-inch televisions in each guest room.
Hoag wins industry recognition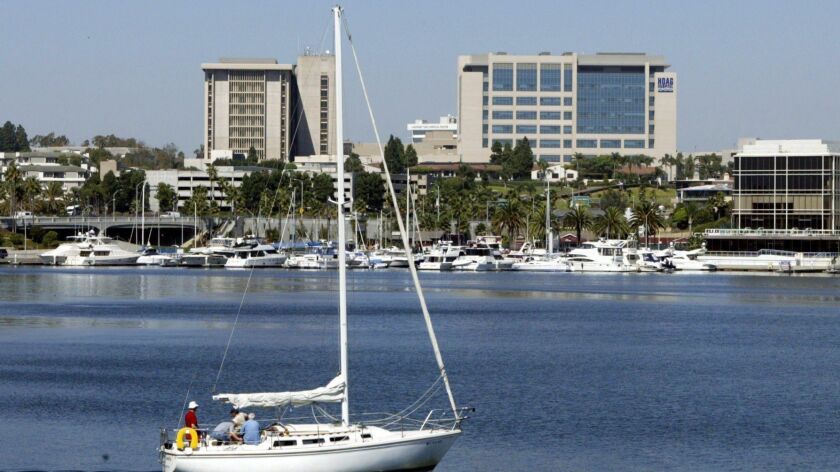 The Hoag Medical Group, which operates Hoag Hospital in Newport Beach, recently received a 2019 Excellence in Healthcare Award from the Integrated Healthcare Assn.
The company was noted for its top performance in clinical quality, patient experience and cost measures, according to a news release.
Costa Mesa prevails in sober-living lawsuit
Costa Mesa recently won a legal victory after a federal judge denied a motion filed by California Women's Recovery Inc. and the Sober Living Network Inc. to set aside a jury's ruling that rejected a challenge to the city's sober-living ordinances, according to a news release.
"It's time for these sober-living home operators to stop fighting our local laws and realize that we are on the right side of history when it comes to protecting both neighborhoods and patients from the industry's bad actors," Mayor Katrina Foley said in a statement. "We will continue to enforce our laws. I am positive they will withstand these challenges as reasonable and a model for other communities."
Costa Mesa city manager honors code enforcement officer
Costa Mesa City Manager Lori Ann Farrell Harrison recently presented Code Enforcement Officer Winston Karuga with the City Manager Leadership Award.
"As a code enforcement officer in our Community Improvement Division, Winston is tasked with taking on tough issues like group homes and illegal dispensaries," Farrell Harrison said in a statement. "Winston's work and leadership in this area has been a tremendous achievement in maintaining the high standards expected by the city's residents."
---