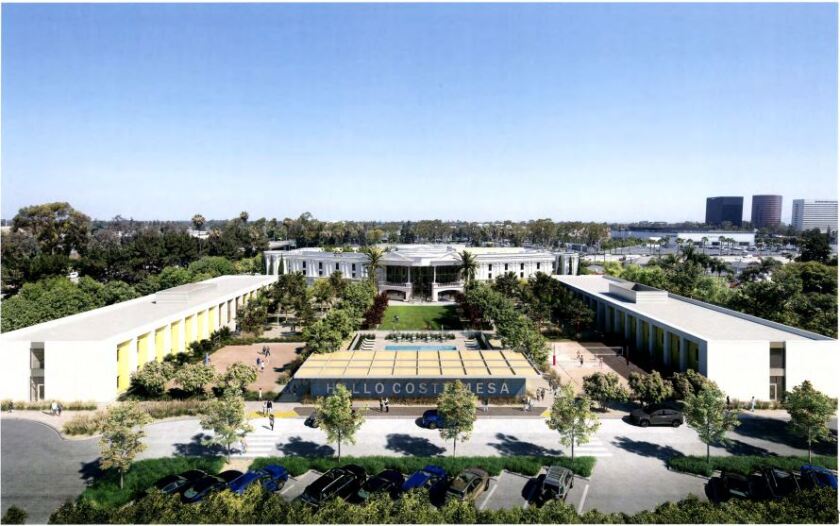 The Costa Mesa City Council is set to make the final call Tuesday on whether an international language campus can go on the former site of the Trinity Broadcasting Network headquarters.
The project spoke the Planning Commission's language, as it unanimously approved the proposal Nov. 25.
However, Stacy Swanson, who owns property abutting the project site to the south, appealed the decision to the City Council on Dec. 2, citing concerns about vehicle traffic and exhaust and noise from the campus parking lot and recreational area.
City staff recommends the council uphold the Planning Commission's vote.
EF Education First, a company founded in Sweden that offers study-abroad, language learning and cultural exchange programs, plans to transform the 6.19 acres at 3150 Bear St. into a for-profit school serving 627 students living onsite and 720 living with host families within 45 minutes of the campus. International students traveling to the United States for a short time would immerse themselves in American culture and learn English.
EF Education First has built campuses across the world and in Southern California, including Santa Barbara and San Diego.
Several conditions were added as part of the Planning Commission's approval to help protect residents near the Bear Street property from possible noise, traffic and privacy and security issues, and the company agreed to invest $1.8 million over 15 years for infrastructure and services necessary for the project.
Under city code, the EF campus would normally need 1,550 parking spaces, but the company plans to provide only 102 spaces for employees and visitors. International students are not allowed to own or drive vehicles according to the school's code of conduct.
Planning Commission Vice Chairman Jeffrey Harlan expressed reservations about deviating from the city code but added, "I think that is a testament to the fact that good projects can come forward, even if they don't directly align with our general plan or our zoning code."
Police Department projects
Upgrades and funding designed to benefit the Costa Mesa Police Department also are on the table for council discussion.
Among the upgrades is replacing video surveillance around the department headquarters, rental car contracts for unmarked vehicles and broadband service.
The council approved a three-year plan to fund law enforcement projects after a dispute in which Police Chief Rob Sharpnack sent a memo in May criticizing the city's proposed budget, claiming the Police Department was being shortchanged.
"We want to make sure that our police officers have the equipment they need so that they can protect the community, they can protect themselves and we can provide good service in our community," Mayor Katrina Foley said during a November council meeting.
Tuesday's meeting starts at 6 p.m. at City Hall, 77 Fair Drive.
---