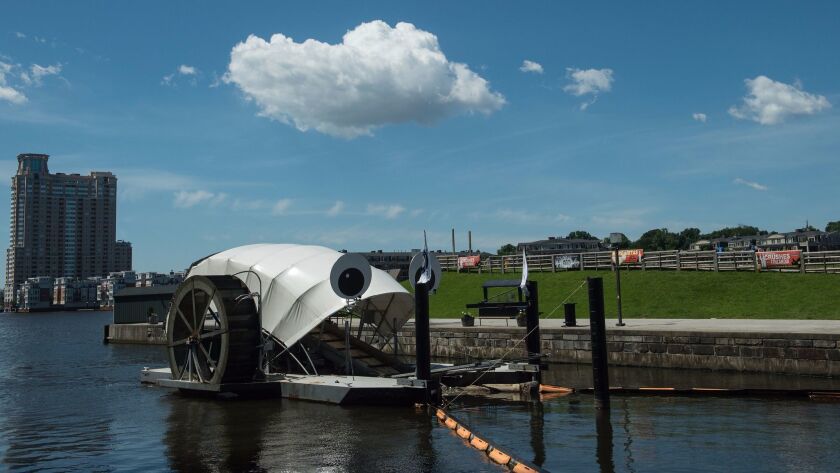 Newport Beach has the preliminary engineering, environmental review and startup funding for its long-planned trash-collection vessel for Upper Newport Bay.
Now it's looking forward to the final design, construction and giving the water wheel a personality.
Like its cousins in Baltimore — the first city in the United States to use a water wheel — Newport's vessel will look like a snail with a paddle wheel, or a conch shell crossed with a steamboat. Baltimore has capitalized on this unique silhouette to whimsically anthropomorphize its rubbish-gobbling fleet — adding googly eyes and even creating Twitter accounts for "Mr. Trash Wheel," "Professor Trash Wheel" and "Capt. Trash Wheel."
Newport, which is expected to be the first West Coast city to use the trash-snaring device, is thinking of similar ways to engage.
John Kappeler, an engineer for the city, told the Harbor Commission Wednesday that public education opportunities could include a viewing platform with informational signage, a program to measure and quantify trash, a webcam, a "creative design concept" and an array of social media accounts.
The planned solar and hydraulically powered water wheel will be placed at the top of Upper Newport Bay by the Jamboree Road bridge. It is intended to capture garbage flowing down San Diego Creek from inland Orange County before it can hit Newport Harbor and the Pacific Ocean.
From its stationary position, the wheel will funnel debris into an onboard holding bin that will be emptied periodically. The device should prevent up to 80% of the floatable debris that enters the bay from getting past the jetty and hitting the open ocean.
The California Ocean Protection Council approved a $1.7 million grant for the project in 2018.
The city will consider a consultant contract in February before getting into detailed design and permitting. Construction should begin in 2021.
Estimated construction and other startup costs come out to $2 million. Annual maintenance and operations should cost between $25,000 and $50,000.
The city has been talking about the water wheel for three years.

Movement to ban plastics continues
The Harbor Commission also seemed amenable to a movement to ban plastic foodware in the city.
Hoiyin Ip, a member of the Sierra Club's Angeles chapter, has already brainstormed extensively before the city's Water Quality and Coastal Tidelands Committee, which last month seemed open to the idea of banning restaurants from using single-use plastic utensils and other tableware, as well as clamping down on balloons, to keep the nonbiodegradable items out of the ocean.
Ip's vision includes banning any disposable bowls, plates, cartons, cups, lids, straws, utensils and other items that are not marine degradable, or designed to disintegrate in the ocean in less than 120 days.
The envisioned balloon regulations would affect Mylar, or foil, and latex balloons, and prohibit any balloons on beaches and in parks or purposely releasing helium-filled latex balloons anywhere. The city also could ban businesses from selling Mylar balloons.
The "marine degradable" requirement would eliminate conventional plastics and expanded polystyrene, or Styrofoam, the latter of which is already largely prohibited in Newport Beach.
The water quality committee will continue to refine the proposals. Any potential ban would need that panel's endorsement, as well as City Council approval.
---