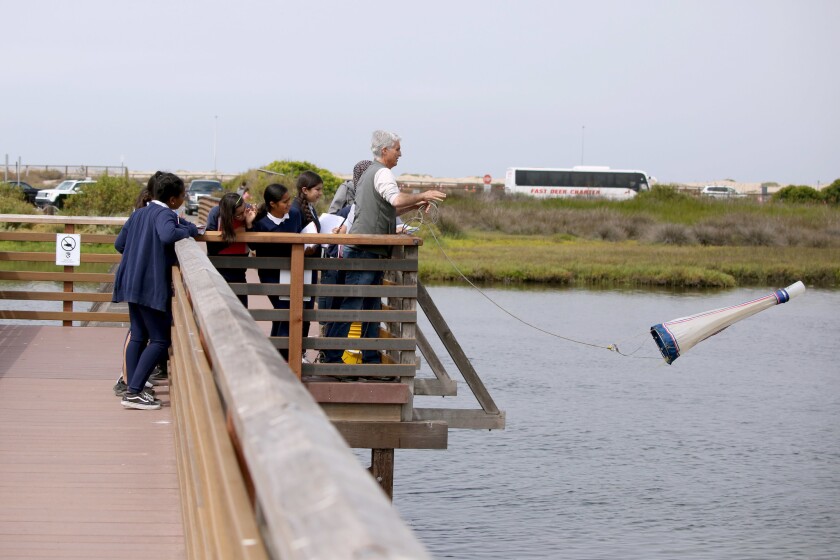 The waters around Huntington Beach will get a bit of sprucing up this year as a result of a settlement between the U.S. Environmental Protection Agency and a manufacturing company.
The EPA announced Monday that it has reached a settlement with Airtech International, which has a facility off Bolsa Avenue in Huntington Beach, about a mile from the Bolsa Chica flood channel.
For about four years, the EPA said, Airtech violated the federal Clean Water Act by allowing industrial stormwater runoff to flow into the Bolsa Chica channel without a stormwater discharge permit from the California State Water Resources Control Board. The EPA said the unauthorized discharges occurred between December 2014 and January 2019.
Airtech is a manufacturer of materials used in the aerospace, automotive, marine and wind energy industries. An EPA inspection of its facility in March 2018 found that industrial materials such as plastic resin pellets were overflowing waste containers, scattering on the loading dock and spreading into a stormwater drain, according to the settlement agreement.
Airtech representatives did not respond to requests for comment Monday.
Under the settlement, Airtech will complete habitat restoration projects, conduct five beach cleanups in Huntington Beach and pay a $95,208 penalty to the federal government.
The habitat restoration, which the settlement said must cost an additional $66,120 or more, is expected to add oyster shells and replant eelgrass in parts of the Upper Newport Bay area.
"Stormwater discharges from the manufacturing industry are a major contributor to California coastal water pollution," Amy Miller, director of the EPA's Pacific Southwest Enforcement and Compliance Assurance Division, said in a statement. "This settlement will bring about improved stormwater management at the Airtech facility along with a much-needed project to clean up local beaches and restore coastal habitat."
Tom Anderson, administrative director for Amigos de Bolsa Chica, a nonprofit organization that aims to preserve the Bolsa Chica wetlands, said in an interview that "any funds for wetland restoration projects and beach cleanups are welcome and very much needed everywhere along the remaining parts of the undeveloped Orange County coast."
---