Newport-Mesa starts online classes as other local school districts continue moving to distance learning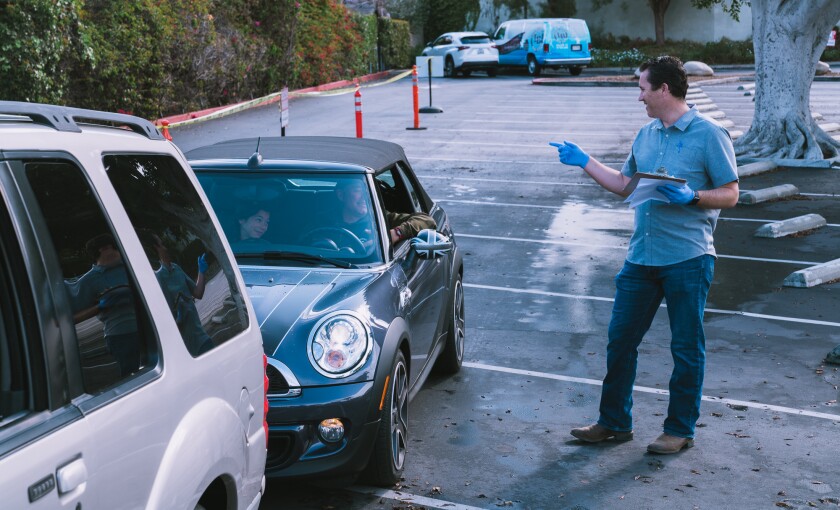 Local school campuses have been closed since mid-March because of coronavirus protections and aren't planned to be opened again until mid-April, but that doesn't mean students will go uneducated. Even without classrooms, school is back in session this week or soon will be, districts said.
Newport-Mesa Unified School District
Online classes started Wednesday in Newport-Mesa Unified, which launched its distance learning program with orientations for parents and students Monday and Tuesday.
The district will be using virtual meeting platforms such as Zoom for teachers to connect with students and their families, including through "office hours."
Elementary school students will use Google Classroom, Seesaw, Remind and other online platforms already used by teachers.
Seventh- through 12th-graders can connect to classes through School Loop or another platform the teacher already uses.
The orientation document said students and parents should receive a plan from their school principal on how to pick up Chromebooks for students who don't have access to such devices at home and that the process would be staggered to comply with social distancing recommendations that people stay at least six feet apart.
"I'd like to thank everybody for enduring the unexpected conditions we are all facing [and] for having some flexibility and understanding as we move forward to provide a different type of learning for our students," Supt. Fred Navarro said in a video statement released to the Newport-Mesa community.
Laguna Beach Unified School District
Laguna Beach Unified parents and students began receiving lesson plans and other communications from teachers March 18. The lessons may include Chromebooks for students with limited computer access and for parents to check out for children in grades one through five.
In an update Monday, the district said it was continuing to move along with distance learning and asked the community to be patient as staff works to improve practices and protocols.
Printed instructional materials from some teachers were available for pickup outside the district office.
Huntington Beach City School District
While site administrators, teachers and district staff members undergo training this week to prepare to go online, the Huntington Beach City district said it put together a week's worth of ungraded "upgraded enrichment activities."
The district said Monday that it also plans to distribute Chromebooks after receiving more than 1,500 responses requesting the devices in a needs assessment survey the district sent out Friday.
Ocean View School District
Teachers and other staff in the Huntington Beach-based Ocean View district are working on the transition to distance learning, but the district is providing a third week of instructional enrichment packets that will be available online Thursday. Printed copies will be available at all school sites from 9 to 11 a.m. Thursday and Friday.
The district currently expects classes to begin April 1.
Ocean View also will be distributing Chromebooks to students without access to such devices at home. Supt. Carol Hansen said Tuesday that schools would be reaching out to see which families have the greatest need.
Chromebook pickups are scheduled at all schools from 1 to 4 p.m. Monday and noon to 3 p.m. Tuesday. Parents or guardians must be present for pickup and have their child's student ID number.
Huntington Beach Union High School District
Huntington Beach Union's plans for distance learning remained unclear Wednesday. The district has said it would align its educational plans with state guidelines.
Fountain Valley School District
The Fountain Valley district is offering educational activities for students this week as it transitions to electronic learning.
The district said students would need access to digital resources and it would provide Chromebooks for families who don't have such devices at home.
The district said it plans to share its distance learning plans with parents and students Monday.
"In the meantime, the best things you can do are reassure your children that we will be providing learning options soon, creating a quiet place for them to read/learn in the house and allowing some playtime options to act as a distraction from this ever-evolving situation," Steve McLaughlin, assistant superintendent of educational services, said in a statement.
---
All the latest on Orange County from Orange County.
Get our free TimesOC newsletter.
You may occasionally receive promotional content from the Daily Pilot.