Newport-Mesa and Laguna Beach school districts delay return to classrooms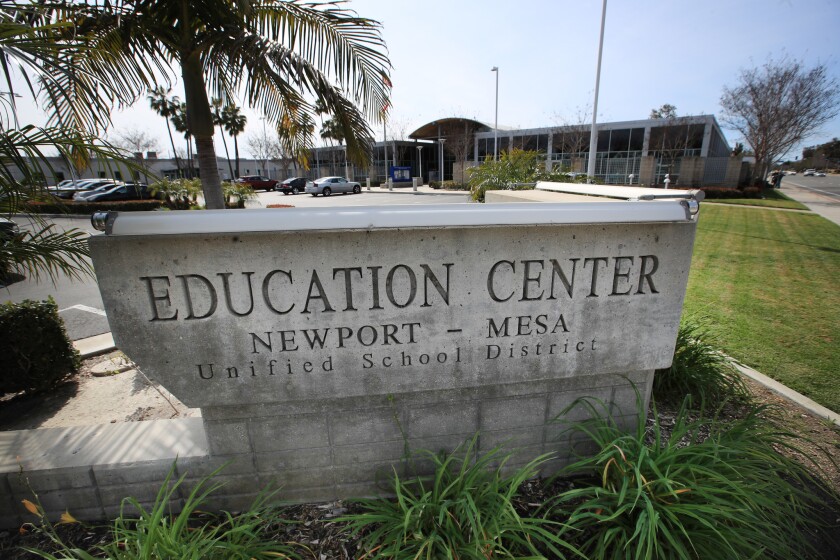 The Newport-Mesa Unified School District now plans to resume in-person classes June 1, delaying a return previously set for April 13.
The Laguna Beach Unified School District says it will deliver online instruction until further notice.
The decisions this week extend distance learning in the face of the coronavirus pandemic.
Newport-Mesa started online classes March 25 after closing its 31 campuses starting March 16.
High school graduations are set for June 18.
Newport-Mesa's extension of classroom closures Tuesday came the same day that state Supt. of Public Instruction Tony Thurmond suggested that California public school campuses are unlikely to reopen this academic year.
"Due to the current safety concerns and needs for ongoing social distancing, it currently appears that our students will not be able to return to school campuses before the end of the school year," Thurmond wrote in a letter to local superintendents.
On Wednesday, Gov. Gavin Newsom similarly said that all California families and teachers should operate "with the expectation now that schools will not reopen" for the rest of the school year.
Laguna Beach Unified said Wednesday that it would deliver online instruction until further notice, consistent with Newsom's statements.
"The top priority of the board and district leaders is the health and safety of our students, staff and families," board President Peggy Wolff said in a statement. "The board supports the superintendent's decision to extend the dismissal and continue to provide distance learning for students."
Newport-Mesa spokeswoman Annette Franco said that "regardless if our school campuses are physically open or closed, we are prepared and committed to continue supporting our students' educational needs. Our teachers and staff have done an incredible job navigating this difficult situation, and we appreciate everyone's understanding and support as we, like everyone, figure this out together."
Here are the most recent announced campus reopening dates in other area school districts:
Huntington Beach City: April 20
Ocean View: May 4
Fountain Valley: May 4
Daily Pilot staff writer Lilly Nguyen contributed to this report.
---
All the latest on Orange County from Orange County.
Get our free TimesOC newsletter.
You may occasionally receive promotional content from the Daily Pilot.