'An unstable individual': O.C. officials warn public of child sex predator's release from state hospital
After 21 years of involuntary confinement to a state mental hospital for continually and openly harboring fantasies of raping and killing children — desires that his psychologists have previously agreed made him too dangerous to release — Cary Jay Smith is free.
Despite a separate conviction for sexual offenses against children, the one-time Costa Mesa man does not have to register as a sex offender. He was released from Coalinga State Hospital on Tuesday, and it's unclear where he is now.
"He can be sitting at a park right now watching kids play and nobody knows who he is," said Lynn Rinner, whose then-7-year-old son was the subject of a letter Smith wrote in 1999 detailing violent sexual fantasies after he saw the boy in his neighborhood.
Costa Mesa Mayor Katrina Foley said Wednesday that local police are closely monitoring the situation, but Chief Bryan Glass has been informed by the district attorney's office that Smith is not in Costa Mesa. Smith no longer has family in town.
District Atty. Todd Spitzer and Board of Supervisors Chair Michelle Steel have appealed to Gov. Gavin Newsom asking him to intervene and require Smith to resume registering as a sex offender. In a joint letter penned Tuesday, the two said they fear Smith may return to Orange County and harm children.
He manifested his desires by collecting movies with themes of sex and violence against children and by saying he wanted to be known as "Mr. RTK" — for "rape, torture, kill," Spitzer and Steel said in their at-times graphic letter, citing Smith's testimony in previous hearings to review his commitment.
The Department of State Hospitals did not renew the most recent hold, allowing it to expire "despite Mr. Smith not learning concrete skills to manage his deviant sexual impulses should he find himself in a high-risk situation," the letter said.
NMUSD elementary students can learn in a 100% virtual school or be in a program that regularly responds to shifting coronavirus orders. A plan for middle and high school students is coming soon.
"This sexual predator has repeatedly testified under oath that he will reoffend if he is released, and we should believe him," Spitzer said in a follow-up statement.
"Smith, an unstable individual, has openly made threats to rape and murder children and has stated that he would reoffend upon his release," Steele added. "The fact that he is being released back into our community is unconscionable. We must take this threat to our community very seriously and ensure that everyone in Orange County is aware of this individual's grave threat to our children."
A spokesman for the Department of State Hospitals responded to a series of questions from the Daily Pilot Wednesday by saying that state and federal privacy laws prohibit the agency from confirming or denying that anyone is, or ever was, a patient at a state hospital.
Smith, 59, pleaded guilty in 1985 to a misdemeanor sex offense against a child, long before he wrote the letter about Rinner's son. Smith's then-wife found the letter, which led to a 72-hour psychiatric hold at Patton State Hospital in San Bernardino that stretched into two decades of regular civil trials to renew his confinement.
Rinner said she and her son, now 28, lived a few doors down from Smith's parents' home, adjacent to Paularino Elementary School in Costa Mesa, at the time Smith took an interest in her child. She and her son have since left Orange County.
Although Smith wasn't criminally charged for the letter, the O.C. district attorney's office — which is not a party to the civil hold on Smith — filed 20 felony counts of lewd and lascivious acts with a minor against Smith in 2002, stemming from the alleged continuous abuse of a young neighbor boy in 1996. However, prosecutors were forced to dismiss those charges because of the statute of limitations at the time.
Smith was most recently committed to Coalinga, a 1,286-bed compound about an hour southwest of Fresno where roughly three-quarters of the patient population is described as "sexually violent predators."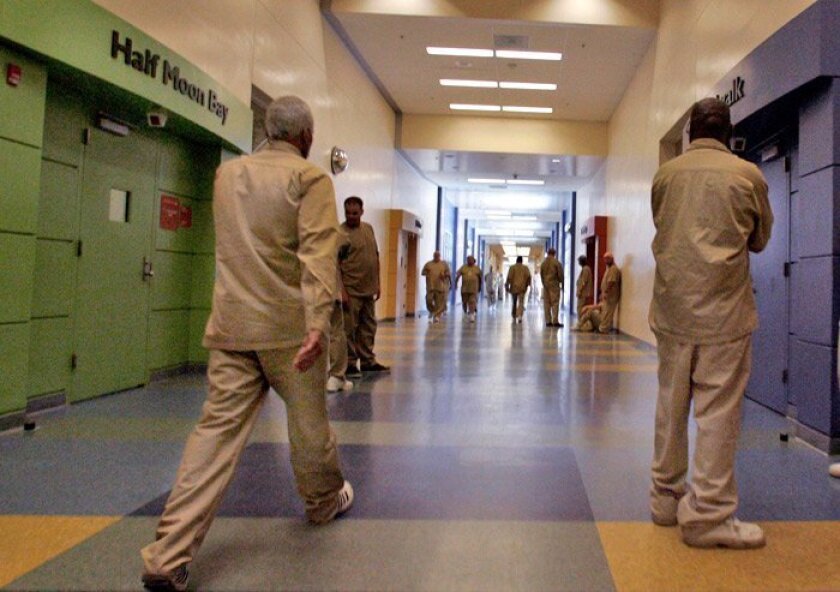 He's said that he has killed three boys and molested 200, but investigators couldn't corroborate his claims, with the possible exception of the one alleged victim, according to a 2002 Los Angeles Times article.
Smith has been allowed to make a bid for his freedom with trials every six months, with county counsel arguing to keep him locked up. Rinner, who is backing the county's call to have Smith again register as a sex offender with an online petition, attended every trial.
One, in 2013, took only 24 minutes of deliberation by the jury to keep him behind the hospital's security fence.
Rinner described his demeanor as calm and matter-of-fact as he testified. It was at these trials where doctors have pronounced his diagnoses: schizoaffective disorder, pedophilic disorder and sexual sadism disorder.
"It rolls off of my tongue way too easily at this point," Rinner said. "That term is very, very scary, and it kind of says it all."
---
All the latest on Orange County from Orange County.
Get our free TimesOC newsletter.
You may occasionally receive promotional content from the Daily Pilot.