President Donald Trump's visit to Newport Beach draws many supporters and some critics
Pockets of people stood on street corners hoping to catch a glimpse of President Donald Trump more than an hour in advance of his scheduled arrival at John Wayne Airport.
Trump landed in Orange County shortly after 11:30 a.m. Sunday, and a group of more than 100 supporters greeted him at the runway with a chant of "Four more years!"
Trump exited Air Force One and descended a flight of stairs onto the runway and came over to interact with the crowd, and then he was on his way to Newport Beach for a scheduled private fundraiser at the Lido Isle mansion of tech mogul Palmer Luckey. The 28-year-old is one of California's top GOP donors.
Mona Howerton, 65, of Newport Beach and her husband, Greg, listened intently to an aviation radio as they waited for the arrival of Trump.
"He's the next plane in, by the way," Howerton said moments before the plane landed. "We have a radio. We're both pilots."
A cash-strapped President Trump stopped in California to raise money 16 days before election day, appearing at a high-dollar Newport Beach fundraiser.
Trump's visit to Orange County drew many supporters and some critics.
For Howerton, she said she was upset when the president contracted COVID-19 earlier this month and is glad to see him back on the campaign trail with the election just over two weeks away. Trump trails Democratic nominee Joe Biden in polls.
"He's like our only hope," Howerton said. "The way that we look at it, you're voting for the U.S. or you're voting for socialism [or] communism."
An invitation for the fundraiser indicated that Richard Grenell, who formerly served as acting director of national intelligence, was to be a special guest. It cost $2,800 per person to attend the fundraiser, with tickets going as high as $150,000 per couple for co-chair status.
Grenell's inclusion in the president's Cabinet was a source of pride for Marko Lukich, 31, of West Hollywood.
"I think it's harder to come out [as] conservative now than it is gay," Lukich said.
How the 2020 election looks from Palm Beach, Fla., the adopted home of President Trump and his Mar-a-Lago resort, and a town whose largely white, wealthy population stands in contrast to its surroundings.
Lukich came to see the president with his partner, Gary Westphal, 30.
"I think he's left the country in a great place after four years, even including a pandemic," Westphal said. "I think he built an incredible economy and is doing it again in a six-month window since the pandemic started."
Westphal said he was excited by the pomp and circumstance of a presidential visit, including the motorcade. He said he had seen a president in person once before, having performed in an inauguration parade for President George W. Bush as a member of the Arcadia High School marching band.
Justin Steinberger, 40, of Lake Forest, said that tax cuts were among the reasons why he supports Trump.
"I definitely saw more money in my pocket," Steinberger said. "My 401K looks a lot better."
Don Allen, 69, of Newport Beach, said he considers both presidential candidates to be flawed. A partner of Windes Inc., a certified public accounting firm, he said he favored Trump on matters concerning the economy.
"I do believe that Trump has good policies to help our economy, which will … help all people," Allen said. "I think he cares about everyone. I don't think he dislikes any particular group of individuals."
Near the site of the fundraiser, thousands of people lined the sidewalks on Newport Boulevard and Via Lido waiting for the president to pass by once again.
Margaret Sharp of Costa Mesa said that she would be supporting Biden, who served as vice president under former President Barack Obama.
"Every single day for the past four years, [Trump] has been an assault on our democracy, and I'm so anxious to get our democracy back," Sharp said. "There are all the GOP members who are starting to run away from Trump. They should have changed their tune four years ago."
A substantial part of the crowd was composed of Armenians hoping to appeal to Trump to intervene internationally on behalf of the Republic of Artsakh. Signs called for sanctions to be brought against Azerbaijan and Turkey, and members of the crowd chanted "No more genocide!"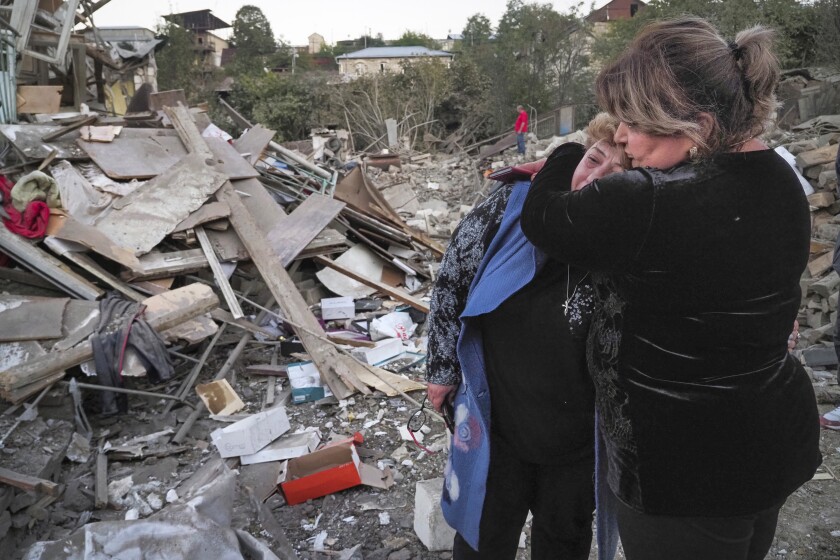 Despite an announced truce, Armenia and Azerbaijan are trading accusations of violating the cease-fire in their conflict over Nagorno-Karabakh.
"We are Armenian Americans," Sofia Sarkisian, 24, of Burbank said. "As American citizens, we are looking for help from our current president, from our current government, for support, to be heard and to be able to put a stop to the war and bring peace."
At a campaign rally held later in the day in Carson City, Nev., Trump acknowledged seeing the Armenian demonstrators in Southern California.
"Where I just left, there were so many Armenians with a beautiful flag," said Trump, adding that the Armenian people have great spirit for their country. "And we're working on some things."
Staff photographer Raul Roa contributed to this report.
---
All the latest on Orange County from Orange County.
Get our free TimesOC newsletter.
You may occasionally receive promotional content from the Daily Pilot.