Newport council OKs plan to ease parking requirements in Balboa Village; state review next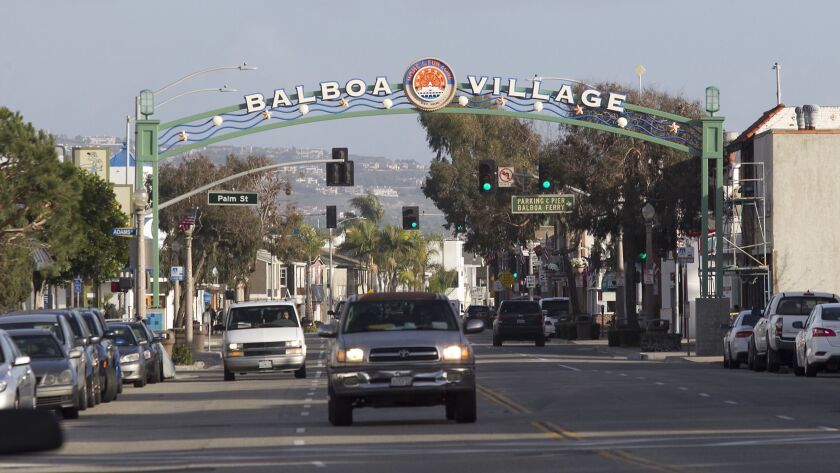 Some businesses in Balboa Village are a step closer to getting relief on parking requirements.
The Newport Beach City Council unanimously approved a parking management overlay district Tuesday for the visitor-serving stretch of the Balboa Peninsula near the Fun Zone and Balboa Pier. The proposal now goes to the California Coastal Commission for final approval.
The overlay district is a framework intended to relieve some types of businesses of having to provide dedicated parking along Balboa Boulevard between Adams and A streets, with the idea of reducing parking-related congestion and encouraging continued pedestrian use of the traditional storefronts. It's been on the city's radar for at least four years but is subject to state scrutiny because of its proximity to the beach.
Kelly Carlson, president of the Balboa Village Merchants Assn. and co-owner of shops that rent bicycles, personal watercraft, paddleboards and other beach essentials, said the parking plan would help maintain the neighborhood's feel while keeping it fresh.
"[On] the peninsula you should be riding your bike, you should be walking places," she said. "Some of these parking restrictions have really kept us from getting new business uses in there, which we need because we can't depend on stuff that was happening 20 or 30 years ago."
Mayor Diane Dixon, whose district includes the Balboa Peninsula, said parking relief would be an economic stimulus.
"Business owners and commercial real estate brokers have said to me this is a game-changer," she said.
The Balboa Village Parking Management Overlay District is intended to eliminate required off-street parking for new or expanded offices, retail establishments and restaurants, maintain existing off-street parking facilities and allow shared use of parking facilities in the densely developed corner of the peninsula. It would not exempt some uses — such as churches, schools, hotels, yacht clubs, boat yards and boat charters — that the city says typically have a high demand for parking. It also would not apply to residential uses.
The City Council established the overlay district in zoning code in 2015. Later that year, it included the Balboa parking strategy in its comprehensive Local Coastal Program proposal for approval by the Coastal Commission before it could be enforced. The Coastal Commission grants LCPs to allow cities to issue permits for development on land close to shore.
The state approved Newport's LCP, which went into effect in 2017, but not with the Balboa parking district, as Coastal Commission staff did not think there was sufficient time or information to adopt it. The current attempt would amend the LCP.
---
All the latest on Orange County from Orange County.
Get our free TimesOC newsletter.
You may occasionally receive promotional content from the Daily Pilot.