Proposal for medical marijuana extraction facility goes to Costa Mesa Planning Commission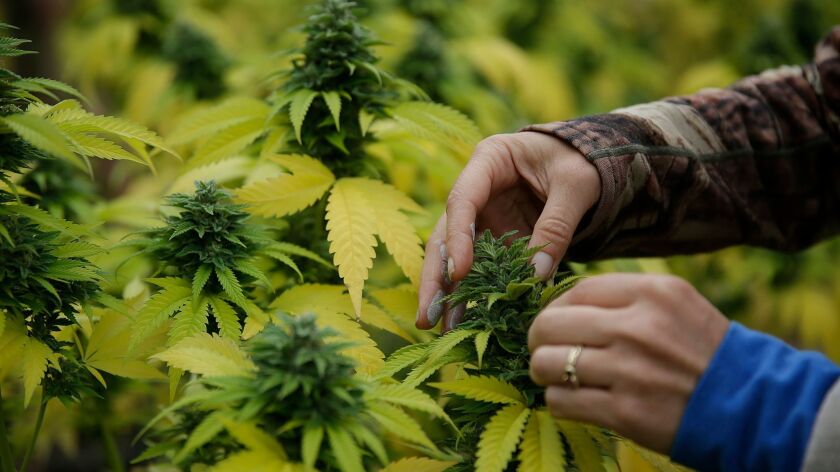 A medical marijuana extraction facility could be a step closer Monday to opening in Costa Mesa.
The Planning Commission will review an application for a conditional use permit to open the facility in a 7,315-square-foot tenant space at 3590 Cadillac Ave.in the northwest area of the city.
The establishment would contain up to four rosin press machines, which use pressure and heat to wring oil from marijuana plants, according to the application from Shepard Investments Inc.
Once produced, the oil would be "wrapped in parchment paper and inserted into small envelopes that will be sold on a wholesale basis to marijuana retail dispensaries," the application states.
Transportation of the finished product would be provided by a separate approved business and monitored using a point-of-sale tracking system, according to the city.
The proposed extraction facility also would include offices, storage space and a conference room and be equipped with security systems. Proposed business hours are 7 a.m. to 5 p.m. Mondays through Fridays.
Under Measure X — which Costa Mesa voters approved last year — businesses that research, test, process and manufacture some medical marijuana products are allowed to open in the area north of South Coast Drive, west of Harbor Boulevard, south of MacArthur Boulevard and east of the Santa Ana River, though not in South Coast Collection.
Retail sales of marijuana and marijuana products are still prohibited in the city.
From the applicant's perspective, the proposed extraction business would be compatible with other manufacturing uses in the area.
"The manufacturing in the surrounding area is similar to ours, except they are not marijuana-related," the application states.
If approved, the business would be subject to a host of requirements, including that people younger than 21 not be allowed on the site and that cannabis not be consumed on the premises at any time in any form.
Signs for the business would be barred from including any references to marijuana, and employees would be required to wear identification badges at all times, according to planning documents.
If the commission signs off on the permit request, the applicant still would have to get final fire prevention, finance and building safety approvals from the city to obtain a medical marijuana business permit and business license.
The applicant also would need state approval to operate after Jan. 1.
Monday's Planning Commission meeting starts at 6 p.m. in the council chamber at City Hall, 77 Fair Drive.
A special meeting will be held at 5 p.m. Monday in the first-floor conference room at City Hall so the commission can hear a presentation regarding a "draft work program" for small-lot subdivisions and urban plans and overlay districts.
Costa Mesa's small-lot ordinance eases standards for proposed developments of 15 or fewer detached homes in areas zoned for multifamily units, while the urban plans and overlay districts outline development standards in select portions of the Westside and the Sobeca district around The Lab and The Camp shopping centers on Bristol Street.
At a joint study session in September, planning commissioners and City Council members expressed interest in reviewing those matters and possibly making modifications.
Twitter @LukeMMoney
---
All the latest on Orange County from Orange County.
Get our free TimesOC newsletter.
You may occasionally receive promotional content from the Daily Pilot.