3 O.C. cities propose shelters to help serve growing homeless problem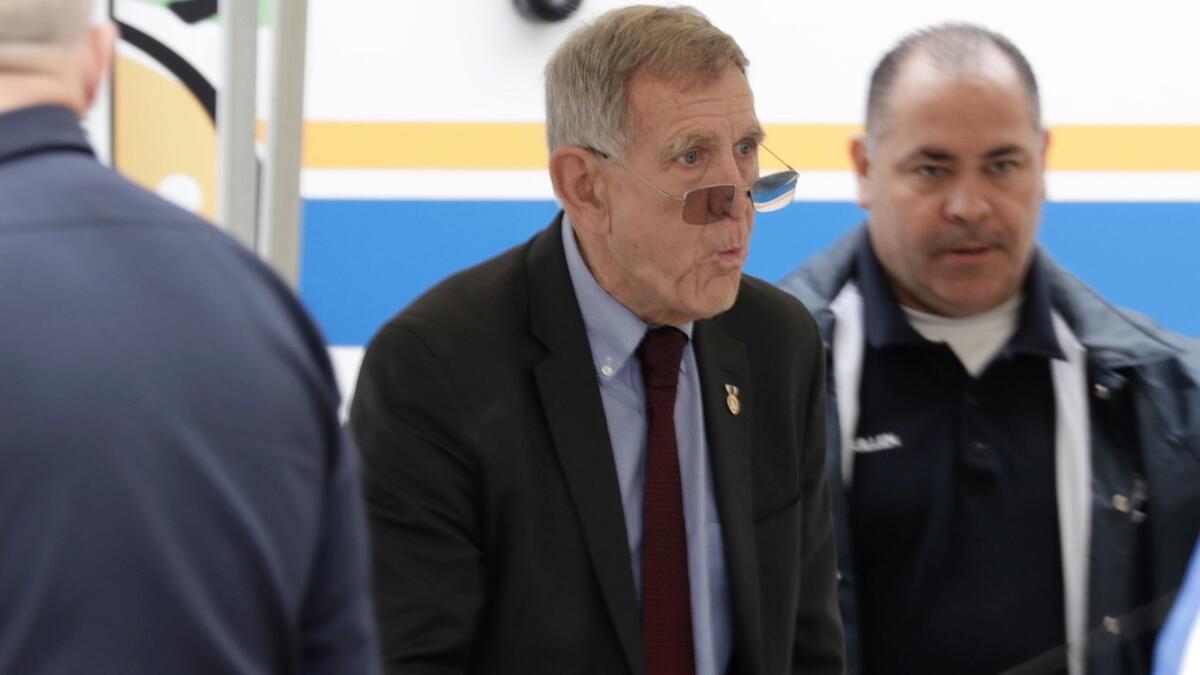 Officials from three Orange County cities — Anaheim, Huntington Beach and Santa Ana — have proposed new shelter sites to help solve the area's growing homeless crisis.
City representatives made their offer at a hearing this week before U.S. District Judge David O. Carter, who's presiding over a lawsuit filed by advocates for the homeless who wanted to halt the removal of an illegal encampment along the Santa Ana River Trail.
Carter allowed the evictions to begin Jan. 22, but said that they must be done "humanely" and with a measure "of compassion." He also pushed cities to work together to come up with housing solutions for the riverbed population, describing them as "vulnerable," often with "nowhere to go."
The riverbed residents were moved temporarily to motels, but vouchers for those rooms have since expired.
Since then, Carter has gathered delegations from the county's 34 cities, including mayors and police chiefs, at court conferences where they can update their progress in helping ease the homeless situation. At this week's meeting, Carter warned officials not to release details on potential shelter locations.
Courtroom observers weren't surprised that Santa Ana and Anaheim presented proposals because those cities have carried the heaviest workloads in serving the county's homeless. Their idea, along with Huntington Beach's, would add 700 beds total for housing the homeless.
"He wants to give people time to properly vet these locations and we appreciate that," said Jorge Garcia, assistant to the city manager in Santa Ana.
"Yes, Santa Ana has been overburdened with huge amounts of the homeless," he added. "But regardless of what the other cities do, we're not going to shy away from these people…. Ultimately, we hope to operate shelters in a way that's dignified. We understand that some individuals may have mental illness or PTSD that doesn't allow them to be in tight, closed spaces."
Two locations in Santa Ana are under consideration for "low barrier or no barrier" shelters, according to Garcia, citing operations where "any person with any background could be accepted" — in contrast to referral-based systems.
Anaheim officials are reviewing three sites, two of which would house up to 125 beds total and a third that belongs to a private property owner who has offered to convert his space for 200 beds by year's end, according to Mayor Pro Tem Jose Moreno.
"None of the locations are near a school or a park," he said, adding that Carter "wants people to have a place where they can be assessed. And he's seeking cooperation. For example, Anaheim can partner with Orange or Buena Park because everyone realizes that it's a regional problem."
Moreno added: "The judge told us that he doesn't want people to be stranded. He knows there is NIMBYism, but he's asking cities to show political will and courage at a time when constituents want segregated spaces."
In March, the Orange County Board of Supervisors asked its staff to research building temporary shelters on county-owned land in Huntington Beach, Irvine and Laguna Niguel — a move it quickly scrapped due to intense protests by residents and threats of lawsuits from officials in those cities.
Supervisor Andrew Do on Wednesday suggested building 2,700 units of affordable, permanent housing over seven years, using mainly federal and state grants. He did not specify locations, but said that rather focusing on a few cities, they should be spread countywide.
"We urgently need to find solutions, and to do it with balance and reason," Moreno said. "Every city should get involved."
Sign up for Essential California for news, features and recommendations from the L.A. Times and beyond in your inbox six days a week.
You may occasionally receive promotional content from the Los Angeles Times.