Orange County officials agree to extend motel stays 'on a case-by-case basis' for Santa Ana River homeless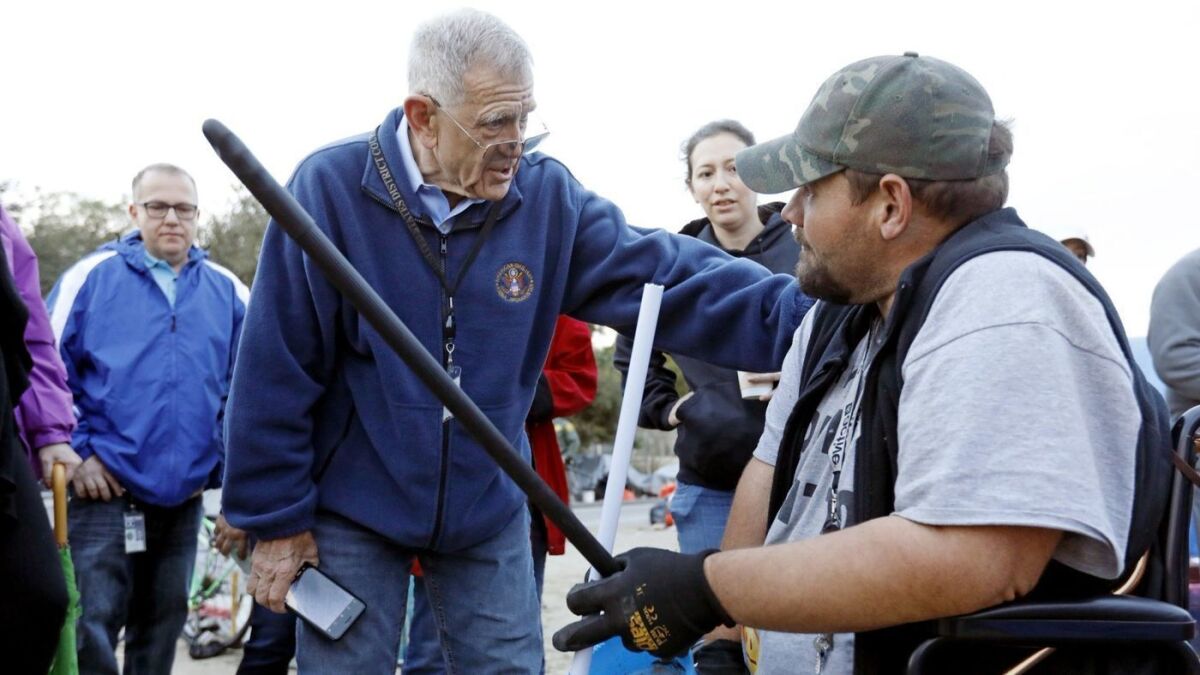 After a rare federal court hearing Saturday, Orange County officials agreed to extend motel stays "on a case-by-case basis" to homeless people removed from camps along the Santa Ana River while working to prevent the mass evictions from worsening the homeless crisis at the Santa Ana Civic Center.
The daylong hearing and negotiations marked the latest chapter of an extraordinary effort by officials, homeless advocates and a federal judge to improve the lot of the growing homeless population in one of America's most affluent counties.
Andrew Do, chairman of the county Board of Supervisors, announced what he called the "big concession" at about 5 p.m., after more than five hours of meetings between attorneys for the homeless and county staff. "This is not a blanket extension," he warned, adding that starting next week, officials will help transition up to 100 people a day from motels to their next stop.
Do scheduled a special supervisors meeting on Monday to discuss using county land and sites available for shelter.
Officials will share the locations with advocates for the homeless — 48 hours before the move — allowing attorneys enough time to challenge those moves if they feel they're not a good fit for each individual.
"We have couples who need to stay together but they're sent to places that separate couples. We have a few people who may be nearing the end of their lives, someone with Stage 4 cancer, all of these folks have special needs and we want to be sensitive to them," said Carol Sobel, a lawyer who attracted national recognition for her legal advocacy on behalf of the rights of the homeless.
In February, more than 700 homeless people were moved to county motels after officials pushed to clear a massive encampment along the Santa Ana River. Vouchers for the motels expired in 30 days — beginning this past Friday — prompting advocates and county officials to face off trying to figure out how to provide longer-term temporary housing.
Attorney Brooke Weitzman, who represents seven homeless people and filed a civil rights lawsuit against the county in January over the clearing of the river encampment, argued in a court filing that the only shelter options available are the same ones that existed before. Those include the Bridges at Kraemer Place in Anaheim, the Courtyard in Santa Ana and beds at private shelters.
"This leaves well more than 500 individuals relocated from the riverbed without shelter and competing with the additional 2,300 unhoused persons in Orange County for the limited resources that exist," Weitzman wrote.
Lawyers for the county struck back, maintaining that there are enough beds for all those who completed a clinical assessment during their motel stays.
"These beds include shelter, recuperative care, Full Service Partnership mental health treatment and substance-use disorder treatment beds," county attorneys wrote in a court filing.
To find solutions, U.S. District Judge David O. Carter invited all parties to Saturday's hearing — along with mayors and city managers from all of Orange County's 34 cities — because homelessness, he said, is a countywide issue.
"Without appropriate resources, unsheltered individuals returning to the streets, sidewalks, plazas and parks in the cities of Orange County could be at risk, simply because of their homeless status, of being criminalized under anti-camping and anti-loitering laws," Carter wrote in the hearing invitation.
As soon as the session opened, Carter pushed everyone to cooperate by helping to clean up the other homeless eyesore in Orange County — the controversial encampment at Santa Ana's Civic Center that ballooned to more than 500 residents last year and has now decreased to a population of about 200.
Advocates say Carter worries that some people from the motels could end up at the Civic Center if there aren't enough beds for them at safer locations.
Do promised that county officials would work with Santa Ana officials to remove the populations at the Plaza of the Flags and around county buildings, including parking structures, the city's library and near the public defender's office. He also pledged to allocate up to $70 million in county funding to "end the paralysis" and tackle homelessness.
Jeff Levine, who is staying at Bridges, the county's first year-round homeless shelter in Anaheim, said he was satisfied with Saturday's outcome. "It's compromise. And I think everyone's done a very good job. This is a complicated, huge issue, and it's going to take plenty more time to resolve it to everyone's liking."
If there are not enough indoor spaces for the homeless, Levine suggests operating outdoor encampments with assigned guards to give residents "more freedom and air. That way, it's an open and secure area where people could feel comfortable." .
Lili Graham, director of litigation for the Legal Aid Society of Orange County, said she continues to worry for her homeless clients. She has filed a lawsuit on behalf of the People's Homeless Task Force and seven river trail residents, alleging that the county's sudden eviction of those residents is discriminatory because it denies them access to county benefits because of their disabilities.
The lawsuit maintains that Orange County has nearly $700 million in unspent funds available to end homelessness, including $146 million for housing vouchers, but officials show "a lack of willingness" to implement long-term solutions. "There is so much uncertainty for our clients," Graham said. "What happens after eviction — and after the motels? There are no answers."
The stories shaping California
Get up to speed with our Essential California newsletter, sent six days a week.
You may occasionally receive promotional content from the Los Angeles Times.