State sues Huntington Beach over blocked homebuilding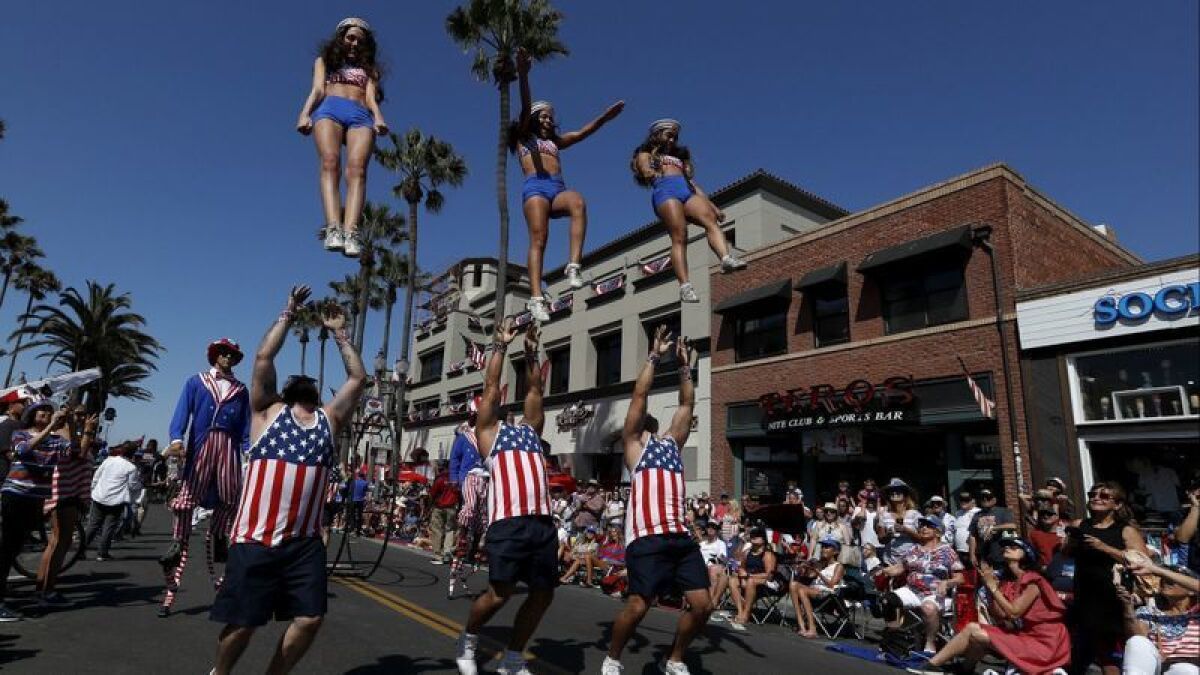 At Gov. Gavin Newsom's request, California filed a lawsuit Friday against the city of Huntington Beach over what state officials describe as the city's failure to allow enough homebuilding to accommodate a growing population.
Newsom said the suit is needed to address rising housing costs that threaten economic growth and deepen inequality. The lawsuit accuses Huntington Beach of defying a state law that requires cities and counties to set aside sufficient land for housing development.
The California Department of Housing and Community Development issued letters to the city in 2015 and 2018 requesting that it comply.
"Many cities are taking herculean efforts to meet this crisis head on," Newsom said in a statement. "But some cities are refusing to do their part to address this crisis and willfully stand in violation of California law. Those cities will be held to account."
The state is asking that an Orange County Superior Court judge order Huntington to comply with the law. It also seeks attorney fees and other costs.
But Huntington Beach City Attorney Michael Gates contended "the city has been, in fact, complying with all applicable state housing and zoning laws."
Huntington "has been and will continue to work with the California Department of Housing and Community Development regarding meeting the city's Regional Housing Needs Assessment," Gates said in a statement Friday. "Any delay experienced by the city in its ability to amend its zoning and/or make additional progress has been caused by the city fighting lawsuits and court appeals filed by plaintiffs such as the Kennedy Commission."
He pointed to recent court victories in an ongoing lawsuit in which the Kennedy Commission, an affordable-housing advocacy group, alleged that an amendment to the city's development plan for the Beach Boulevard-Edinger Avenue corridor violated state housing law.
Gates called the state's lawsuit "timed poorly" because it interrupts months of discussions between the Department of Housing and Community Development and the Kennedy Commission toward reaching a resolution of outstanding disputes.
He said it also raises questions about the state's motive, as "50 other cities in California have not yet met their RHNA targets."
Gates said the city is reviewing its options on how to respond to the lawsuit.
The case against Huntington Beach is a rare legal action by the state against a local government over housing laws. In 2009, when former Gov. Jerry Brown was attorney general, the state intervened in a lawsuit against the Bay Area city of Pleasanton, where voters capped the amount of housing allowed. The case ended with Pleasanton getting rid of its cap, zoning for more homes and owing about $4 million in attorney fees.
Though cities and counties do not build homes, local restrictions on development, such as high fees or a lack of land zoned for residential use, can prevent construction that might otherwise occur. Higher-income coastal communities, including Huntington Beach, often maintain some of the tightest development rules in the state, even as housing costs have soared in the past decade.
The median home value in the beach city of 200,000 people tops $834,000, according to real estate website Zillow. More than half of Huntington Beach's tenants are rent-burdened, meaning they spend more than 30% of their income on housing, according to U.S. Census data.
Huntington Beach put itself in a shortfall toward its state-mandated target for low-income housing units when the council in 2015 amended the Beach and Edinger Corridors Specific Plan, which was adopted in 2010 to help revitalize Beach Boulevard and Edinger Avenue by streamlining the building approval process.
The amendments reduced the cap on new residential development from 4,500 units to 2,100 and imposed stricter height and setback requirements after many residents complained about the high rate at which high-density residential projects were popping up.
The original Beach and Edinger plan is tied to Huntington Beach's housing element, a guideline in the city general plan that it uses to identify ways the city can address housing needs for all economic segments as the community grows.
The amendments meant the city no longer had enough land zoned to accommodate low-income residents under state requirements, prompting a lawsuit two months later from the Kennedy Commission.
According to the state's lawsuit, the Department of Housing and Community Development began working with the city to prepare an amended and "legally compliant" housing element shortly after it issued its first letter in 2015.
But the Kennedy Commission sued Huntington in the midst of the state and city partnership.
"We're concerned about the opportunities for affordable housing, being that Orange County is among the least affordable counties in the nation and in California," Cesar Covarrubias, the nonprofit's executive director, said in 2015. "We believe that every city should have appropriate sites to create opportunities for housing all its residents, especially low-income residents."
The city argued in court that it was working to amend its housing element and that the Kennedy Commission's lawsuit was "unnecessary and would soon be moot." But a proposed plan was unanimously rejected by the City Council in 2016.
Councilman Erik Peterson said at the time that the city should prepare to fight the state regarding the mandated amount of low-income housing in the city.
The legal battle with the Kennedy Commission is continuing, though a state appeals court ruled in favor of the city in 2017 because Huntington is a charter city, exempting it from some state zoning laws.
After Housing and Community Development issued a second notice of noncompliance in 2018, the city said it would create a new housing plan after it resolved its dispute with the Kennedy Commission.
"The time for empty promises has come to an end," the state's lawsuit says. "The city should not be allowed to avoid its statutory obligations any longer."
Huntington Beach has issued permits and filed inspections for more than 2,500 new housing units, including about 100 very-low-income and low-income deed-restricted units, since 2014, according to Gates. The city also established a Tenant Based Rental Assistance Program designed for extremely low-income and homeless people, he said.
State Assemblyman Tyler Diep (R-Westminster) expressed support for Huntington Beach, part of the area he represents, and said litigation isn't the solution to the housing shortage.
"There are reports on cities in California stating they will not meet their 2040 housing goals until the year 2295 or after," Diep said in a statement Friday. "Huntington Beach has had a 4% population increase since 2004; meanwhile, some of the fastest-growing cities in California are required to build less housing than this city."
State Sen. John Moorlach (R-Costa Mesa) said in a statement that he was "befuddled" that Newsom — a former mayor of San Francisco, a city with high housing costs — singled out Huntington Beach with litigation instead of engaging in "goodwill gestures" to help cities reach their housing goals.
"Once this approach is started, then it must be applied to all other cities not in compliance," Moorlach said. "He should have a policy of no better, no worse. Otherwise, these are strong-arm tactics."
Priscella Vega is a Daily Pilot staff writer. Liam Dillon writes for the Los Angeles Times.
---
UPDATES:
This article was originally published at 9:10 a.m. and has been updated throughout.
All the latest on Orange County from Orange County.
Get our free TimesOC newsletter.
You may occasionally receive promotional content from the Daily Pilot.