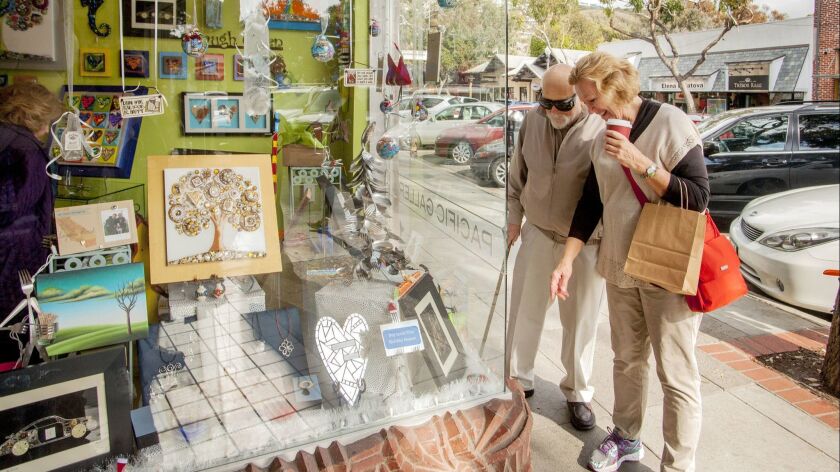 After nearly an hour of deliberation among council members, staff and the public Tuesday night, the Laguna Beach City Council unanimously approved an ordinance allowing but strictly regulating sidewalk vendors.
The action followed a recent change in state law that goes into effect Jan. 1.
In the vein of regulations in neighboring cities such as Newport Beach, the new ordinance places several requirements and limitations on sidewalk vendors hoping to conduct business in Laguna Beach.
State Senate Bill 946, signed by Gov. Jerry Brown in September, legalizes street vending, strips any criminal penalties and essentially gives the state overriding control over such enterprises, requiring local governments to adopt regulations that conform to the state framework.
"We definitely worked on trying to make something as aggressive as we can be while still complying with the state law," said Christa Johnson, assistant city manager.
"All of our restrictions have to be targeted at the health, safety and welfare of the public," she said.
According to the new ordinance, a sidewalk vendor must shell out $180 to obtain a permit. Once approved through a rigorous application process, the vendor would face several more restrictions, such as confining business hours to between 7 a.m. and 10 p.m. The ordinance also prohibits stationary sidewalk vending in residential areas and "roaming" vending overnight and on Sundays and holidays.
Other restrictions require vendors to be farther than 50 feet from one another on a sidewalk, at least 25 feet from fire hydrants, bus zones, ATMs, city art displays and other public objects and at least 100 feet from a school, place of worship or childcare facility.
"Has anybody figured out the 3-by-3 place where a vendor can be in town?" Mayor Bob Whalen said to a round of laughter from the audience.
Johnson said police and beach patrol officers will be responsible for enforcing the regulations. Vendors who don't comply may face fines or revocation of their permits.
Council and community members raised concerns about the effect of sidewalk vendors on merchants in downtown Laguna.
"What can we do to make more of an even playing field for the merchants?" asked Kavita Reddy, a retail owner and resident.
Johnson said merchants can apply for permits to have sidewalk vendors in front of their stores, provided the vending carts meet distancing requirements.
Previously, Laguna's only code governing sidewalk vendors required a permit to operate a booth near the Irvine Bowl, home of the Pageant of the Masters.
Wildfire subcommittee
A month after Laguna voters rejected Measure P, which proposed a 1% sales tax increase to pay for placing utility lines underground along Laguna Canyon Road to help reduce fire hazards, the council formed a new subcommittee on wildfire mitigation and fire safety.
The panel, composed of Whalen and Councilwoman Sue Kempf, will research Laguna's preparedness for wildfires and report to the council in June.
Grant for playhouse
Laguna Playhouse will go ahead with plans to renovate the Moulton Theatre following unanimous City Council approval of $633,500 in funding through the city's cultural facilities matching grant program. The city is distributing $449,125 for now, pending matching funds from the playhouse.
Twitter: @faithepinho
---