Laguna Beach greeted fresh faces in every level of government in the 2018 election season.
The year also brought settlements in two major local lawsuits, groundbreaking on two key construction and renovation projects, a centennial celebration for the Laguna Art Museum and more.
Here are some of Laguna Beach's top stories in 2018:
The Laguna Beach City Council in November unanimously approved a new ordinance allowing but tightly regulating sidewalk vendors following a state law change legalizing street vending and requiring local regulations to be based on public health, safety and welfare.
Laguna's regulations limit where and when vendors can sell their wares, including requirements that they be at least 25 feet from fire hydrants, bus zones, ATMs and public art displays.
"We definitely worked on trying to make something as aggressive as we can be while still complying with the state law," said Christa Johnson, assistant city manager.
Two Laguna Beach police officers were justified in shooting a Huntington Beach woman who was holding a BB gun that they mistook for a semiautomatic weapon, the Orange County district attorney's office said in November.
Officers Thomas McGuire and James Michaud responded in February to reports of a suicidal woman with a weapon. She pointed a BB gun at each of the officers, authorities said, and McGuire reacted by firing eight shots, striking her multiple times.
The woman, identified as Valerie Giocondo, who was 36 at the time of the shooting, was critically wounded but survived.
Laguna Beach Democrat Harley Rouda defeated 30-year incumbent Dana Rohrabacher (R-Costa Mesa) to win the 48th Congressional District seat in November.
During the campaign, Rouda, a lawyer and real estate businessman, accused Rohrabacher of being soft on Russia and wanting to deport all undocumented people in the United States. Rohrabacher said Rouda wanted to give undocumented immigrants Medicare, which he said would add to their drain on American resources.
Also in November, Cottie Petrie-Norris, another Laguna Beach Democrat, won the state 74th Assembly District seat over incumbent Matthew Harper (R-Huntington Beach).
Laguna Beach City Councilwoman Toni Iseman won her sixth council term in the November election as Sue Kempf and Peter Blake were elected to their first.
The final tally showed Blake as the top vote-getter, with 4,881, leading Iseman's 4,792 votes and Kempf's 4,483.
Blake and Kempf took the spots formerly held by Kelly Boyd and Rob Zur Schmiede, both of whom decided not to run for reelection.
Laguna Beach voters defeated a ballot measure that would increase the local sales tax by 1 percentage point to pay for burying overhead utility lines on a portion of Laguna Canyon Road as a fire prevention tactic.
The City Council voted in May to craft the proposal, called Measure P.
Supporters with Underground Laguna Now said undergrounding power lines would reduce the risk of fires caused by downed utility lines.
City staff estimated the project would cost $135 million, to be funded by the sales tax increase, the city budget and a special Southern California Edison fund.
Opponents complained of the project's cost and the increased taxation.
A federal judge in November approved a settlement between Laguna Beach and the American Civil Liberties Union in a lawsuit filed three years ago that accused the city of trying to push out homeless people by not providing adequate accommodations for them.
The ACLU argued on behalf of five homeless people who were mentally and physically disabled.
In the settlement, in which no money was exchanged, the city agreed to make local homeless shelters more accommodating to disabled people. The agreement, signed in March and filed in June, said the city would create a pilot daytime services program and an enrollment process that gives priority to local homeless people deemed most vulnerable.
As required by the settlement, the City Council passed a resolution in December reaffirming the city's commitment to ending homelessness.
After decades of debate and planning, construction began in September on Laguna's Village Entrance project, with completion tentatively scheduled for summer 2020.
The City Council approved an $8.4-million construction bid in August for the $11.1-million project, which envisions a safer and more inviting gateway where Laguna Canyon Road becomes Broadway at Forest Avenue. It will develop paths for walkers and bicyclists and is intended to tackle downtown congestion by creating new bridges, access roads and parking areas with improved circulation.
Councilman Steve Dicterow dissented in the 4-1 vote in August, citing escalating costs and suggesting an alternative plan involving private sector resources.
Mayor Kelly Boyd and Councilwoman Toni Iseman said the plans had taken long enough — originating in the 1970s — and that it was time to move forward.
The Laguna Beach City Council supported a plan to improve the Festival of Arts grounds and rebrand the downtown art scene in the latest effort to advance the city's Cultural Arts Plan that was approved in 2016.
A consultant's plan the council approved in September, dubbed the Creative Placement Assessment, suggested the city rebrand the downtown area as the Civic Arts District and use the Festival of Arts grounds more often during the summer and pay to improve seating and technology at the Irvine Bowl.
It also concluded that a potential $20-million cultural facility for music, theater, art exhibits and film screenings was unlikely because there wouldn't be enough funding or available space.
Laguna Beach sued Orange County in August in a last-ditch effort to stop a commercial and residential development near the Great Park in Irvine that the county Board of Supervisors approved in November 2017.
The 108-acre El Toro Development Plan would put a hotel, offices and retail and residential spaces south of the Great Park. Laguna complained that traffic generated by the project would adversely affect the city's roads, recreational amenities and public services and that the county abused its discretion in approving it by skirting a voter-approved initiative called Measure W that placed restrictions on the county general plan.
The wheels for a $200,000 renovation of the 50-year-old Laguna Playhouse began turning in June with the Laguna Beach Planning Commission's initial approval of the project.
The commission again reviewed the proposal for updating the building's exterior in July, and the City Council gave its approval after that. The renovations include adding a smooth stucco to the building, changing its color, installing new tile in the ramp and courtyard areas and other cosmetic changes.
The project broke ground in early November.
The playhouse has been at its current location on Laguna Canyon Road since 1968, but the nonprofit organization has existed since 1920.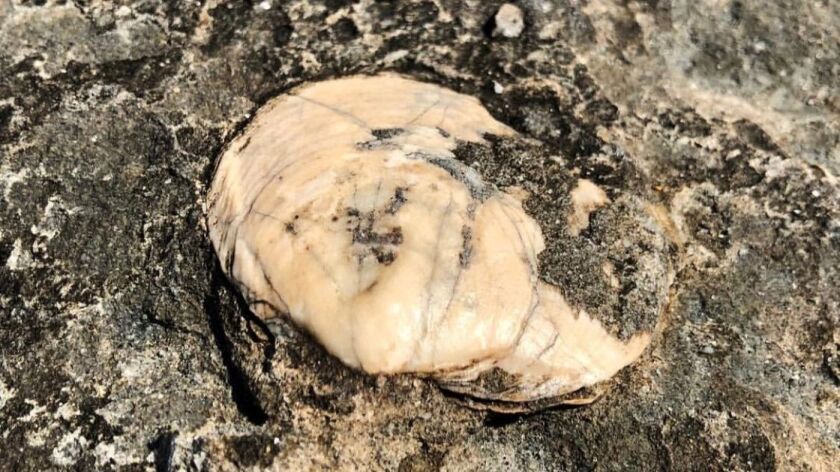 A Mission Viejo couple were searching for sea glass in Laguna Beach's Heisler Park in November 2017 when they noticed what appeared to be fossils.
Experts confirmed in January that they likely were 17-million-year-old clam shells, barnacles and snail shells from the Miocene epoch, between 23 million and 5.3 million years ago. John Foster, coordinator of Cal State Fullerton's John D. Cooper Archaeological and Paleontological Center, said Laguna Beach would have been hundreds of feet underwater millions of years ago and that the fossils likely came from shallower depths closer to where the shoreline would have been.
He said there had been findings of similar fossils in Orange County, but not usually in a public park such as Heisler.
Laguna Beach and the Federal Aviation Administration reached a settlement in January in the city's lawsuit intended to lessen noise associated with John Wayne Airport.
As part of the settlement, the FAA agreed to require planes to fly at an altitude of more than 10,000 feet when crossing south of Laguna Beach, and to work on possible noise-reducing changes to the commercial jet approach to John Wayne during Santa Ana winds.
The city sued in 2016, challenging the FAA's plans to change flight departure patterns from John Wayne. The FAA said the changes would be more efficient, cost-effective and environmentally conscious. Laguna Beach argued the FAA did not provide enough evidence that the changes would not adversely affect residents.
One hundred years after two local artists began showcasing works in a downtown cabin, the Laguna Art Museum celebrated its centennial with a yearlong lineup of commemorative events.
The museum grew out of the Laguna Beach Art Assn., which artists Edgar Payne and Anna Hills founded in 1918 with 150 members — more than half the population of the artist colony at the time.
The gallery opened in its current location in 1929, officially became a museum in 1972 and expanded to its current form in 1986.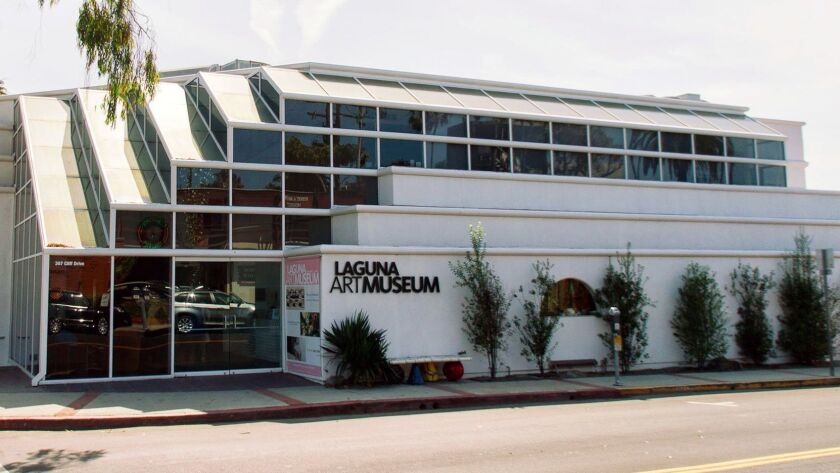 Twitter: @faithepinho
---