New lawsuit ratchets up claims of open-meeting violations in Newport city manager's looming exit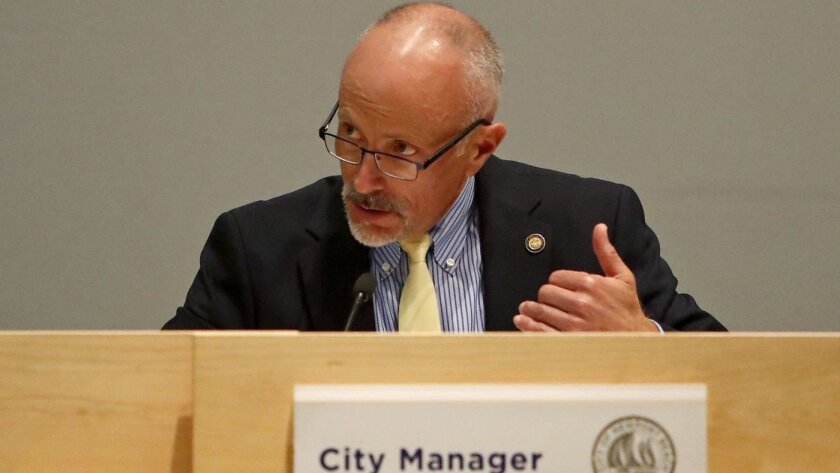 Another Newport Beach resident has filed a lawsuit demanding that a court-appointed special prosecutor look into allegations of impropriety in Newport City Hall, this time over the impending departure of City Manager Dave Kiff.
Chuck Groux filed a complaint last week in Orange County Superior Court alleging that four members of the City Council — Scott Peotter, Kevin Muldoon, Mayor Marshall "Duffy" Duffield and Mayor Pro Tem Will O'Neill — violated the state open-meeting law by secretly conspiring to oust Kiff.
The complaint — filed May 30 on Groux's behalf by attorney Phil Greer — also claims City Atty. Aaron Harp was either complicit or derelict in allowing the alleged private meetings to occur. But, the complaint argues, Harp cannot cross the four council members — who form a majority of the seven-member council — if he wants to keep his job, creating a conflict that must be solved by a court-appointed prosecutor.
For evidence, the complaint repeats much of what Councilwoman Diane Dixon said from the dais at the April 10 council meeting when she echoed accusations by some Kiff supporters that a majority of the council had plotted to oust the city manager months ahead of his scheduled contract expiration in April 2019. Kiff now plans to leave at the end of August this year.
Dixon said in April that Kiff told her that others told him that Duffield told "several people in the community" in 2015 that the council wanted to "get rid of" Kiff. She said Duffield affirmed that sentiment in 2016 as relayed by a mutual friend of the mayor and Kiff during yacht club chatter, and that Duffield and Peotter had done so with another council member who was quoted about it in a newspaper column.
Duffield and Peotter didn't deny making the statements, the complaint states.
The four council members have publicly denied plotting to oust Kiff.
The complaint also claims the city "publicly admitted" that it violated the open-meeting law ahead of a unanimous council vote April 10 to amend Kiff's contract to allow it to end in August with an exit package worth more than $100,000. The city issued a formal "commitment letter" in May promising not to violate the law but also emphasized that such surreptitious meetings never took place.
Harp said Tuesday that Groux's lawsuit is "wholly without merit."
"The city intends to notify counsel for plaintiff that if this frivolous action is not immediately dismissed, the city will be forced to seek to recover attorneys' fees and costs associated with defending this case," Harp said. "I am not sure why this lawsuit was filed; however, it is fundamentally unfair to ask the taxpayers to expend limited city resources defending against these type of meritless cases."
The call for a special prosecutor uses arguments about Harp that are similar to those in another complaint Greer filed in April. That's when Newport Beach resident Martha Peyton claimed that Peotter broke several state and local campaign finance rules by accepting noncash donations from Duffield and others in his bid for reelection this year that either pushed the donors over the contribution limit or were misreported, if they were reported at all.
Peotter has denied wrongdoing.
Patrick Bobko, an outside lawyer for the city, called the Peyton complaint "improper, premature and [an attempt] to insert the court into the political interworking of the Newport Beach City Council." He said Harp lacks statutory authority to pursue the alleged violations and that a simultaneous complaint from Peyton was pending with the California Fair Political Practices Commission. Bobko also said the constitutional separation of powers bars direct judicial interference with the City Council, a legislative body.
The city filed a motion to have Greer dismissed from that case after Councilman Jeff Herdman sent him two emails between himself and Harp about the matter. A hearing on that motion is set for June 28.
Twitter: @Daily_PilotHD
---
All the latest on Orange County from Orange County.
Get our free TimesOC newsletter.
You may occasionally receive promotional content from the Daily Pilot.