Hoping to jog the memories of longtime residents who might have crossed paths with the suspect in the kidnapping and killing of 11-year-old Linda O'Keefe in July 1973, authorities Thursday night released a vintage photo of James Alan Neal to show what he may have looked like at the time of the slaying.
The undated photo is thought to have been taken between the late 1970s and early 1980s, Newport Beach police said.
Neal, 72, was arrested Tuesday by authorities in Colorado, where he lives and remains in custody. Barring any legal challenges, he awaits extradition to California, according to Newport Beach police.
Neal has been charged with special-circumstances murder, kidnapping and lewd and lascivious acts on a minor under 14 in connection with Linda's death.
Authorities say Neal went by the name James Albert Layton Jr. at the time of the killing. Investigators believe he lived in Southern California in the 1970s and changed his name following an incident in Florida.
A sketch of a person of interest in Linda's death was circulated at the time of the killing, but it generated no leads.
DNA testing wasn't available at the time. Instead, investigators tested bodily fluids and blood left at crime scenes for proteins that helped provide clues or narrow a list of suspects.
The science eventually became key to the case.
Newport Beach detectives in 2018 contacted Parabon NanoLabs, a Virginia-based medical lab, which used DNA from the crime scene to calculate a possible suspect's facial composite, gender, ancestry, freckles and skin tone, and eye and hair color.
The lab provided two profiles — one showing a man in his mid-20s and another detailing what he might look like today in his late 60s or early 70s.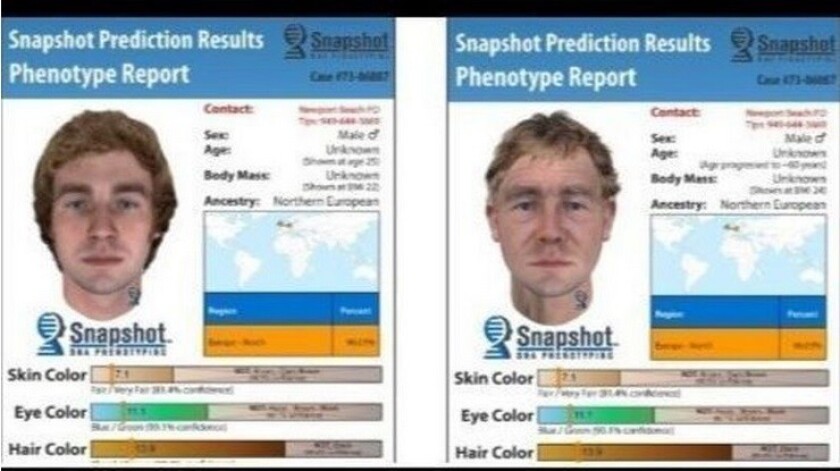 But detectives still couldn't put a name with the computer sketch. They had checked the DNA against databases of convicted felons over the years but continued to come up empty-handed.
That changed in January when investigators tapped FamilyTreeDNA.com, a genealogical database that the public can use to search for relatives and ancestors.
"As a result of genealogical submission, they got an indication that James Alan Neal might be the suspect," Orange County District Attorney Todd Spitzer said Wednesday.
Once investigators located Neal in Colorado, they began watching him. Authorities said they collected additional DNA evidence from Neal during that time, though it isn't clear how that was done. The DNA from that sample matched the one collected at the 1973 crime scene, officials said.
Anyone with information about the case can call the Newport Beach Police Department cold-case tip line at (949) 644-3669.
Julia Sclafani is a Daily Pilot staff writer. Hannah Fry writes for the Los Angeles Times. KTLA contributed to this report.
---