A DNA match brings relief to Linda O'Keefe's sister, four decades after girl's slaying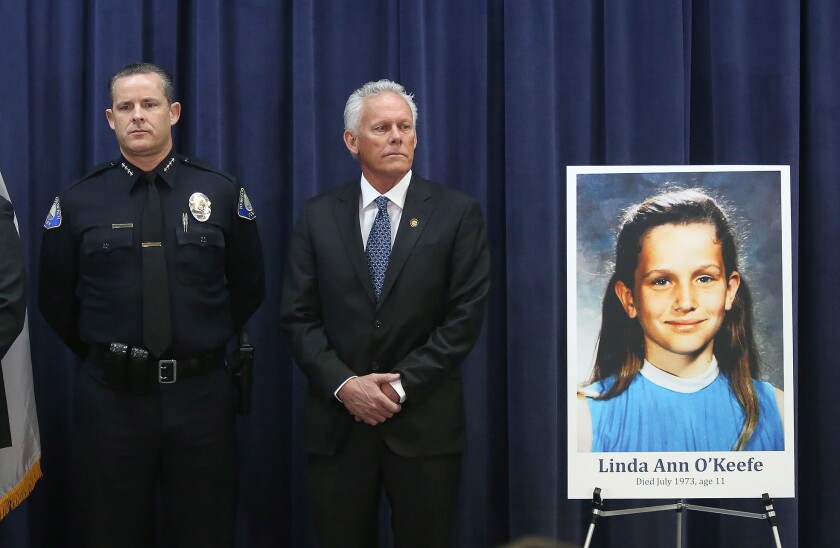 Cindy Borgeson was eating a cheeseburger at In-N-Out when she got a call from Newport Beach police that she thought would never come.
It had been more than four decades since her 11-year-old sister, Linda Ann O'Keefe, was sexually assaulted and strangled. The killer had vanished after dumping the girl's body among the cattails in the city's scenic Back Bay.
Borgeson, who was 18 when Linda was killed, was resigned that detectives might never find the man responsible. Her Christian faith gave her the strength to forgive the faceless perpetrator and move forward, she said.
The phone call jolted her back, to that painful time when her sister's body was found in 1973. The detective on the other end asked if she was sitting down. They had arrested a suspect — James Alan Neal, 72 — just before sunrise in Colorado Springs, Colo.
Borgeson had been in touch regularly with investigators over the last several months after authorities launched a renewed effort to solve the cold case, but the news was still unexpected.
"I really in my wildest dreams never thought this would be the outcome," she said.
The break in the case came from technology that would have baffled most in the 1970s, an era better known for Watergate and the Vietnam War than cutting-edge investigative tools.
Back then, DNA testing wasn't available. Instead, investigators tested bodily fluids and blood left at crime scenes for proteins that helped provide clues or narrow a list of suspects.
However, that was far from an exact science, which made DNA testing so crucial when it arrived on the scene, said David Kaye, a lawyer and Pennsylvania State University professor who teaches the law of evidence and applications of forensic science.
Newport Beach detectives in 2018 contacted Parabon NanoLabs, a Virginia-based medical lab, which used DNA from the crime scene to calculate a possible suspect's facial composite, gender, ancestry, freckles and skin tone, eye and hair color.
But detectives still couldn't put a name with the computer sketch. They had checked the DNA against databases of convicted felons over the years but continued to come up empty-handed.
That changed in January when investigators tapped FamilyTreeDNA.com, a genealogical database that the public uses to search for relatives and ancestors.
Private companies that provide ancestry searches from DNA samples submitted by paying participants usually also guarantee privacy for their users. However, customers are alerted to potential matches and can then use the service to connect with possible relatives.
"Anybody who uploads DNA thinking, 'Maybe I'll discover a long-lost relative,' is running the risk that the DNA will be used in a police investigation," Kaye said. "You also run the risk of finding out that one of your known relatives is a killer."
As genealogical websites grow in popularity, so does their use as an investigative tool for law enforcement.
Genealogical DNA made a major debut as a crime-solving tool last year after authorities announced they had used it to arrest Joseph James DeAngelo Jr., the suspected Golden State Killer, so named for a string of attacks that included more than 50 rapes and at least 13 slayings throughout California from 1974 to 1986.
Linda's death haunted Newport Beach residents, who were afraid to let their children play outside or walk to school alone in their typically safe community.
"For those of us who were there in 1973, we've never forgotten it," Councilman Brad Avery said. "This happened at a time that was simpler. We're more hardened today because times have changed."
Linda vanished July 6, 1973, on her way home from summer school at what was then Lincoln Intermediate — now Lincoln Elementary — in Corona del Mar. She had called her mother for a ride home that afternoon but was told to walk instead — a detail that Borgeson said consumed her mother with guilt until she died in 2005.
The day Linda went missing, her mother became worried when the girl didn't arrive home. She started making calls, first to friends and neighbors, and later that evening to police. Borgeson helped search, but she was less concerned. She figured her middle sister was being disobedient and would be in trouble when she finally arrived home.
She never imagined Linda might not return.
During their search, police uncovered a few clues that something nefarious may have happened, but nothing conclusive was found. A girl and her mother who saw Linda walking the day she disappeared told detectives that she had stopped near Marguerite Avenue and Inlet Drive, where a turquoise van was parked along the curb with its door ajar. The driver was described as a man in his mid-20s or early 30s with curly hair.
It was the last time Linda was seen alive by family or friends. A woman who lived on the bluff above where Linda's body was found a day later told detectives she had heard a female scream, "Stop, you're hurting me," shortly after 11 p.m. the day Linda disappeared. An autopsy determined the girl had probably been killed around midnight.
Investigators collected and preserved semen left on Linda's body. As detectives hunted for her killer, Linda's family tried to move forward. Borgeson eventually let go of her anger, but she said her parents never fully recovered from the pain of losing a child.
"She would have been 57 this year. I wonder sometimes what kind of life she would have lived. Would she be married? Have a family? Probably," Borgeson said. "I don't dwell on that because that wasn't her outcome."
This week, Borgeson has found a quiet joy sharing memories of Linda with reporters who knock on the door of her home in Arizona. Her sister, whom she knew as the "frog whisperer" because of her aptitude for catching the amphibians during family trips to Mammoth, was an old soul, she said.
"She just had this spirituality to her that's hard to put into words," Borgeson said. "I know in my heart that Linda was in heaven celebrating with our parents when they arrested him."
Twitter: @Hannahnfry
---
The stories shaping California
Get up to speed with our Essential California newsletter, sent six days a week.
You may occasionally receive promotional content from the Los Angeles Times.