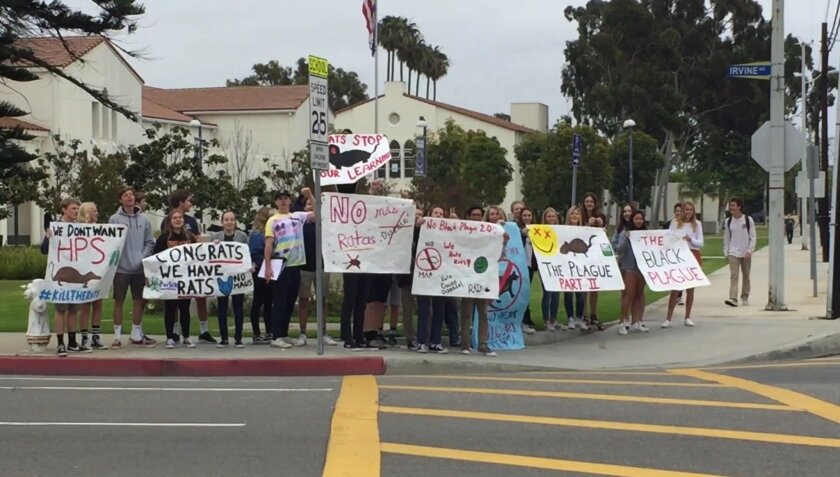 Newport Harbor High School Principal Sean Boulton apologized during a school board meeting Tuesday to students, teachers, classified employees and families for a rat problem that he said has grown and jeopardized campus health and safety.
"As a leader of the school, it's a privilege and a huge responsibility," he said. "We came back from spring break and found out it's a much bigger problem than we realized. It looks like we're getting our arms around it, but it doesn't look like we're out of the weeds."
Boulton said his administrative team will continue to communicate with teachers who work in Dodge Hall about rodent control and cleaning. Months of complaints about a rat infestation at Dodge Hall, where math and world language classes are held, prompted about 150 students and teachers to stage a campus protest April 27.
"It sounds like we're working the problem," said Newport-Mesa Unified School District board President Vickie Snell.
But John Caldecott, a former district human-resources director, called for the board to fire Supt. Fred Navarro over the rat issue.
"Safety is not your No. 1 priority," Caldecott said. "Your priority is preventing embarrassment to the board. I have no idea why the principal would be up here apologizing. This is ridiculous. It should never have happened."
Caldecott's comments received applause from the audience.
Planika Albitar, a Spanish teacher whose classroom is in Dodge Hall, offered her opinion on the issue as a former pathologist.
"I'm a little bit concerned when the board says the No. 1 priority is the well-being of the students," she said. "We have tolerated it and tried to clean it so students aren't exposed."
District spokeswoman Annette Franco said Wednesday that the district has taken action at Newport Harbor High this school year to:
Seal holes to limit rodents' potential access points to buildings and classrooms
Add screens in covered walkways and plumbing vents
Install sweeps under doors
Begin installation of rodent-resistant trash cans
She added that in recent weeks, the district also has increased cleaning and clutter-removal efforts and contracted with a vector management specialist.
Officials from the Orange County Mosquito and Vector Control District visited Newport Harbor High on Monday to look into the rat issue. According to Navarro, inspectors said the school district is doing everything it should be to address the problem.
The Vector Control District sent an email and a letter Wednesday to Timothy Marsh, Newport-Mesa's administrative director of facility support services, with a list of recommendations for the pest management company, according to Lora Young, a vector control spokeswoman.
The recommendations include closing all openings in drainage pipes with quarter-inch steel screens in and under the school's buildings, securing all trash cans with lids and developing a site-specific pest management plan for Newport Harbor High.
Closing the school, either fully or partially, "wasn't even a topic of discussion at this time," Young said.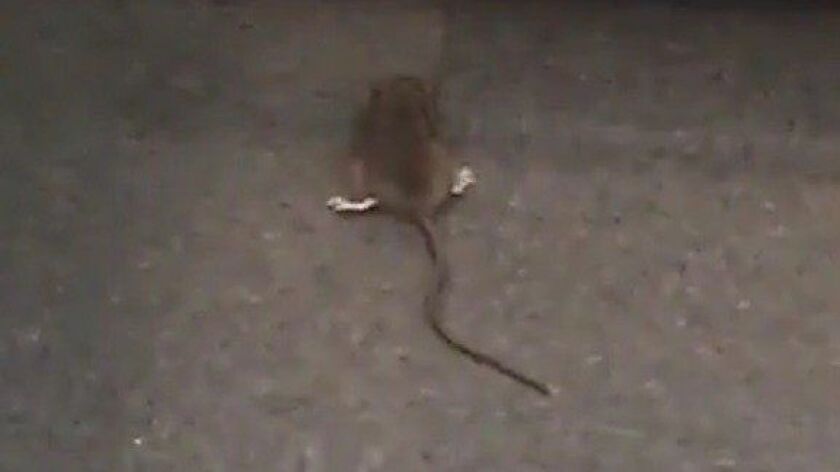 Timothy Holcomb, chief operating officer for the school district, said the state Legislature's approval of the Healthy Schools Act in 2000 was a "watershed moment" for California school districts. Until then, school maintenance officials aimed for pest eradication through all means possible. Now, he said, state law requires the least-toxic pest management plan.
In 2016, the state started requiring school districts to adopt integrated pest management plans to deal with problematic animals, insects and plants. Newport-Mesa voluntarily implemented that strategy in the early 2000s, Holcomb said.
John Joseph Lewis, Newport-Mesa's integrated pest management specialist, received $104,113 in pay and benefits in 2015, according to public records. His compensation for the 2017-18 school year was unavailable.
DANIEL LANGHORNE is a contributor to Times Community News.
---
UPDATES:
4:55 p.m.: This article was updated with information about the Vector Control District's recommendations for pest management at Newport Harbor High School.
1:45 p.m.: This article was updated with additional information from Annette Franco about the school district's rodent-control efforts..
This article was originally published at 11:30 a.m.
---