Proposed Newport condo towers hit another snag over Planning Commission conflicts of interest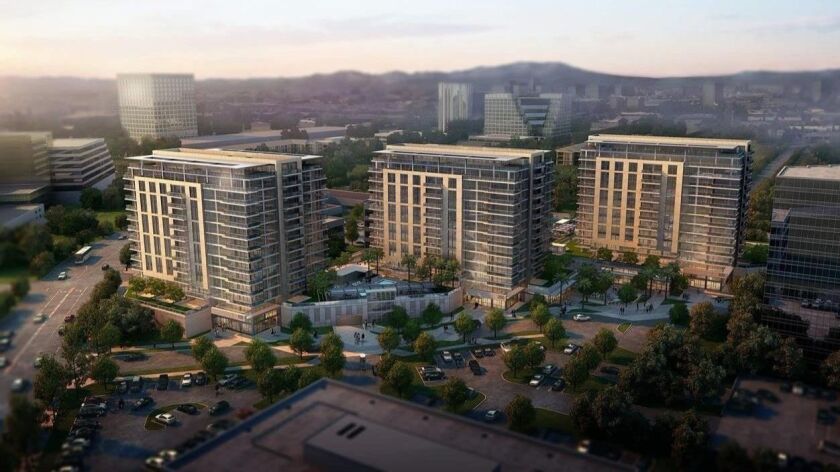 Nearly a year after the project was postponed to sort out conflicts of interest among city planning commissioners, plans for the Koll Center Residences condominium towers in Newport Beach are again on hold so the city can assemble enough commissioners to consider the proposal.
This time it's because Bill Dunlap resigned recently from the seven-person commission for health reasons. He was one of the few members who didn't have a conflict that would have prevented him from reviewing and potentially green-lighting the condos. Typically, members with a conflict on a certain issue recuse themselves from votes and discussions on that issue.
The commission must weigh in on the condo project before the City Council can get a crack at it. It's unclear when that will happen.
Dunlap's departure leaves the commission with six members. That's usually enough to function, but in this case, the group has only three members who are clear to review and vote on the project. It needs four.
In September, the four planning commissioners who had declared conflicts randomly drew cards to determine which one would join the three conflict-free members to create a quorum. The "winner" was Commissioner Peter Zak, who is currently clear to consider the matter with members Erik Weigand and Peter Koetting.
Deputy Community Development Director Jim Campbell said Friday that the city will not repeat the drawing method and will instead wait for the City Council to appoint a new member to complete Dunlap's term, which runs through June 2020.
City Clerk Leilani Brown, whose office will help with the appointment, said she wasn't sure when the replacement would be chosen but estimated it would be by late November.
The Koll Center Residences, planned for Von Karman Avenue and Birch Street near John Wayne Airport, have been on hold since January, when the city and the developer, Irvine-based Shopoff Realty Investments, learned of the commissioners' conflicts.
The Planning Commission had scheduled a Nov. 8 study session to resume talks on the project, which would group 260 luxury condos in three 13-story buildings in an area that is currently an office park. It also would include 3,000 square feet of ground-floor retail space, a parking garage and a 1.17-acre public park.
Twitter: @Daily_PilotHD
---
All the latest on Orange County from Orange County.
Get our free TimesOC newsletter.
You may occasionally receive promotional content from the Daily Pilot.