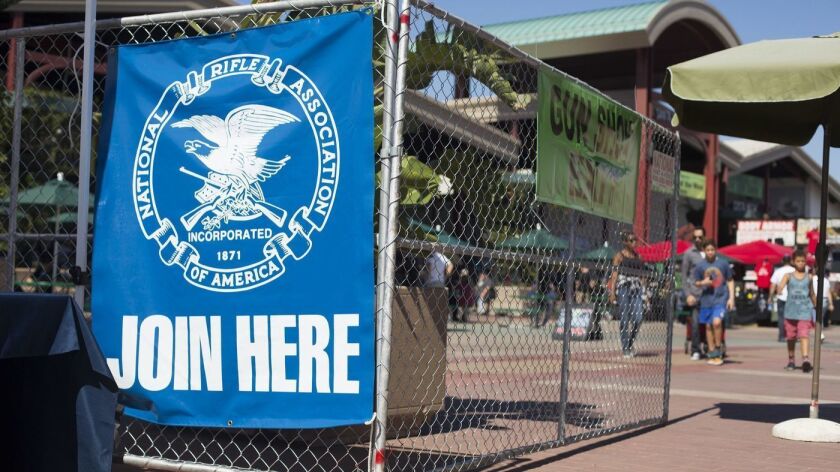 Three gun shows in Costa Mesa will go forward as planned this year after the Orange County Fair Board approved a set of rental contracts following a delay sparked by questions about the events' operating company.
The 5-1 decision Thursday — with board member Ashleigh Aitken opposed and member Gerardo Mouet absent — elicited applause, whoops and hollers from a crowd of gun show supporters, many of whom had urged the board not to cancel or further delay the events.
With the approvals in hand, B&L Productions Inc. can stage its Crossroads of the West Gun Show at the OC Fair & Event Center in August, October and November. The rental contracts have a combined value of about $278,000.
During the Fair Board's meeting last month, a majority of members decided to delay voting on the contracts, pointing to concerns about whether the gun show should have been granted the "certificate of eligibility" license required to operate.
Del Mar Fairgrounds Chief Executive Tim Fennell sent a letter to the state Department of Justice in May asking for an investigation following allegations that Crossroads of the West founder Bob Templeton and his son, Jeff, "have felony convictions for federal firearms violations that could prevent them from organizing gun shows in California," according to a report in the San Diego Union-Tribune.
Bob Templeton told the Orange County Fair Board last month that his daughter, Tracy Olcott, is the general manager of the operation and holds the required certificate of eligibility. In an email provided Thursday, Olcott added that Jeff Templeton is not involved in producing the Orange County shows.
The Fair & Event Center also received communication showing that Olcott currently holds a certificate of eligibility, according to fairgrounds counsel Josh Caplan.
"I have not seen any documents from the [state] Bureau of Firearms to suggest that Ms. Olcott's license is not valid," Caplan said.
Aitken, however, said she didn't think the board had received all the information it requested at last month's meeting.
Board Chairwoman Barbara Bagneris said the panel will have a broader policy discussion about gun shows during its August meeting.
Berardino and Tkaczyk resign from board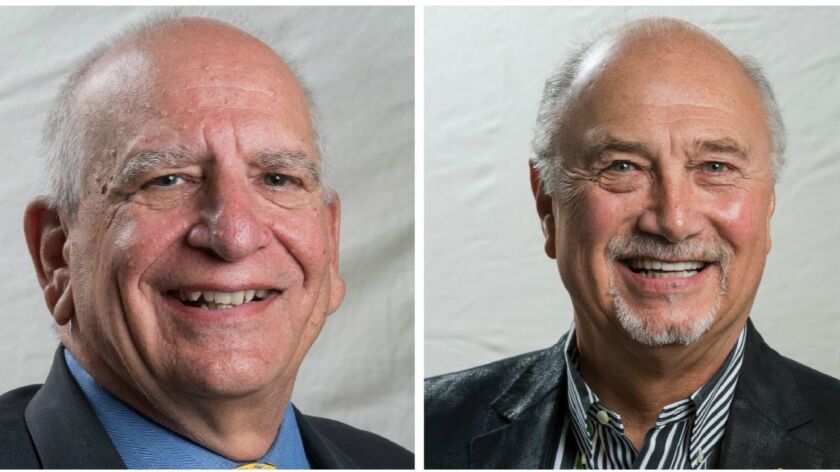 Thursday's meeting began with the surprising announcement of the resignations last week of board members Nick Berardino and Stan Tkaczyk.
Berardino, who joined the board in 2011, was a longtime leader of the Orange County Employees Assn.. the county's largest public sector union. The soon-to-be 70-year-old Lake Forest resident was the union's general manager from 2004 until his retirement in 2015.
Berardino said in an interview Thursday that he decided to leave the board so he can focus on a long-discussed goal to develop Orange County's first veterans cemetery.
"Many folks in the veterans community felt that I was best equipped to deal with the variety of interests and asked me if I would step up," he said. "I said yes and I'm going to commit 100% to this."
Tkaczyk, a 72-year-old Newport Beach resident, had served on the Fair Board since 2012. Before that, he was vice president and president of Rainbow Disposal Co.
"I'm proud of the projects that were completed and paid for during my time on the board," Tkaczyk said in an interview Thursday. "I believe in no debt. I now leave the fair with no debt."
Both men cited the fairgrounds' Heroes Hall veterans museum and "Table of Dignity" agricultural workers memorial as projects they were proud to help shepherd along. Tkaczyk also pointed to renovations at the Pacific Amphitheatre, while Berardino said he was happy to have worked to protect "the fair from sale and the influences of people who wanted to use it for development purposes."
It's unclear when or whether Gov. Jerry Brown will name their replacements on the Fair Board. His appointments secretary, Mona Pasquil Rogers, could not be reached for comment Thursday afternoon. Brown is termed out of office this year.
Twitter @LukeMMoney
---