Costa Mesa's Shalimar Teen Center honors graduating seniors from Newport Harbor, Back Bay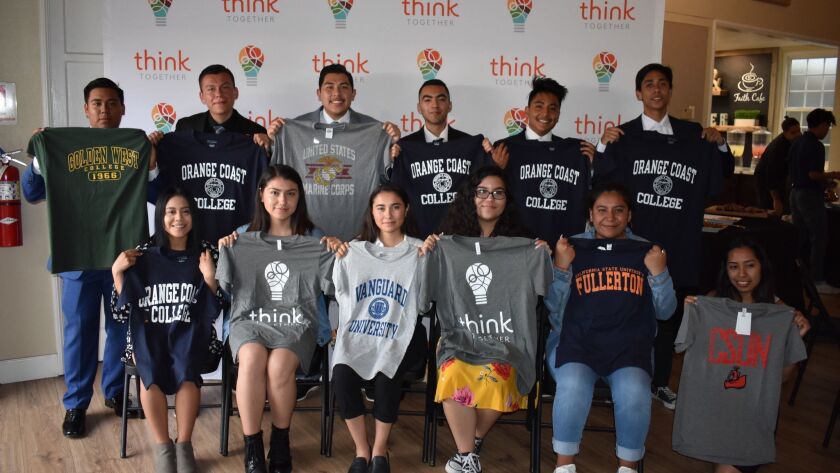 The Shalimar Teen Center recently celebrated a dozen of its latest Newport-Mesa Unified School District graduates — awarding four of them a combined $12,000 in scholarships during a ceremony last week.
Back Bay High School graduate Eduardo Perez received the "Student Work Study" award from the You Run This Town Foundation for completing its career workshop and working eight hours a week for three months maintaining the garden at the Shalimar Learning Center in Westside Costa Mesa.
That nonprofit, which aims to find a clear and stable path for underserved youth, also awarded $1,000 scholarships to Newport Harbor High School graduates Irene Antonio, Araceli Manriquez and Stephanie Correa during the June 13 ceremony.
Think Together, the Santa Ana-based nonprofit that formed out of the Shalimar Learning Center in June 1997, also awarded $2,000 scholarships to Correa, Antonio and fellow Newport Harbor graduate Sakay Maldonaldo. The organization also named Correa its "Face of the Future."
Matthew Nixon, a Think Together spokesman, added that all 12 students also will receive Dell laptops in August when they connect with the new mentors that they'll have through college.
"Since the founding of the Shalimar Teen Center, we've helped send more than 400 first-generation kids to college," said Randy Barth, Think Together's founder and chief executive. "The Teen Center has produced a two-time, Emmy Award-winning TV producer, medical doctor, architect, engineer, teachers and our first student graduating from Harvard University this year."
The center, founded in November 1994 in response to issues with gang violence and criminal activity in the Shalimar neighborhood, will have a celebration later this year to honor its 25th anniversary.
Most of the center's senior class this year comes from Newport Harbor, which held its graduation Thursday. Some have been attending since childhood.
Stephanie Correa, Newport Harbor
Correa is the youngest of three sisters, but she'll be the first in her family to go to college when she heads to UC Santa Barbara to study chemistry this fall.
She's an aunt to two little girls — one 8, the other 4 — and has been in the program at Shalimar since second grade.
At Newport Harbor, she was a California Scholarship Federation officer and part of the National Honor Society, Latinos Unidos, Bridges program and the yearbook committee. She was an editor this year and the yearbook made history by featuring a Latina on the cover for the first time.
Correa said she plans to be a surgeon — specializing either in neurology or cardiology, she isn't sure which.
She said it was an honor to be named Think Together's "Face of the Future."
"It's been really influential to my life," she said. "I live right around the corner. I was recommended to this program by my sisters … and English isn't my first language. This program really helped me cement that."
She added that the program has provided long-time support both academically and socially — saying she's "formed a family."
Correa received $6,000 in scholarships from Think Together and its partners, collectively.
Eduardo Perez, Back Bay
It's just been Perez, his sister and his mother his whole life.
"I realized that you can do everything by yourself," he said. "You don't need somebody to be there with you."
Perez was never much interested in school but, at the Shalimar Teen Center, he spent his time maintaining the culinary garden and helping staff with whatever they needed.
He's been at the center since seventh grade and said he feels it's helped him out a lot.
"I never liked school, but they always pushed me," Perez said. "They never forced me to do anything, but they always helped me and tried to talk to me."
High school was rough, he said, but the center was always there to assist him in everything from math to science to English — judgment free.
Now graduated, Perez will be joining the Marine Corps. He said he chose that route because he thought it would help him be more disciplined and better himself.
Irene Antonio, Newport Harbor
Antonio grew up in the area, just across the street from the Learning Center. The fifth of six siblings to pass through Shalimar, she attended the program from third to seventh grade, until she moved, but returned her junior year.
She will attend Cal State Northridge to study multimedia production this fall. She said she's always had a liking for cameras and, following a summer internship, decided to follow in her mentors' footsteps.
Her goal is to work for a private company and design advertising or possibly explore working in the film industry. The Learning Center, she said, "has kept me on track a lot academically."
"Even during the time that I left and I moved away, I kind of fell back," Antonio said. "School wasn't really my main priority ... I didn't really kind of know what I was doing. That affected my freshman and sophomore year."
She said she returned without any urging from family members.
"Toward the end of my sophomore year, I figured out that, if I want to end up somewhere, I have to start trying again," she said.
Araceli Manriquez, Newport Harbor
As an only child, Manriquez said she felt it was beneficial to come to the Learning Center and interact with more people.
Everyone else at the center seemed to have siblings, she said, and she thought being there helped her become more social. She's been coming since the fifth grade.
This fall, she will attend Vanguard University in Costa Mesa to study business administration.
"When I was very young, I saw my cousins grow up and they were the first in their family to go to college or to university so they basically had no idea going in what they were going to study," Manriquez said. "… Then, my cousin decided to go into international business and I saw every step of the way how she dealt with the struggles and the success."
Manriquez said she also wanted to make a difference and that she will have opportunities to work with different businesses once she earns her degree.
"It's not like you're going to do something specific for your entirety of life," she said. "You can move on from job to job and it's a different experience either way."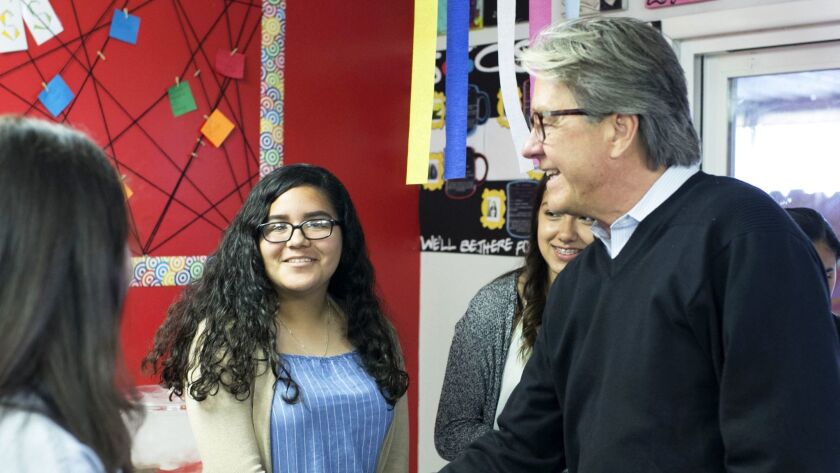 Sakay Maldonaldo, Newport Harbor
Born in Anaheim, Maldonaldo has lived in Orange County all her life — or, at least until she moved to Mexico in 2011.
By eighth grade, she decided to pursue her education in the U.S. and moved back to the country by herself. Her parents and sister are still in Mexico, she said. Her freshman year, she lived in Anaheim again with an aunt and went to John F. Kennedy High School in La Palma.
She moved in with another aunt in the Newport-Mesa area her sophomore year and began attending both Newport Harbor and the Shalimar center.
She will head to Cal State Fullerton in the fall and plans to study biology. She describes herself as people-oriented and said she also might look into studying political science.
Her end goal is to become an ambassador, work her way up to the United Nations and administer embassies around the world.
"I have really, really big goals but, you know, a big goal of mine was just to come back here and get my high school diploma and I did it," Maldonaldo said. "So, if I can do that without parents, which was basically like going to college abroad, then I can do anything."
---
All the latest on Orange County from Orange County.
Get our free TimesOC newsletter.
You may occasionally receive promotional content from the Daily Pilot.