Huntington Beach officer justified in fatal shooting outside 7-Eleven, D.A.'s office says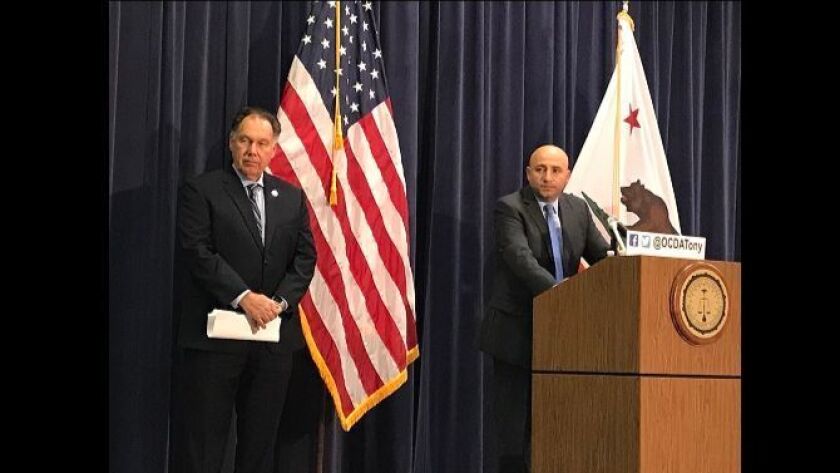 A Huntington Beach police officer who shot and killed a 27-year-old man during a scuffle outside a 7-Eleven store in September will not face criminal charges, the Orange County district attorney's office announced Wednesday.
According to Assistant District Atty. Ebrahim Baytieh, the office determined that Officer Eric Esparza was legally justified when he shot Dillan Tabares, a homeless Navy veteran who had been paroled from state prison eight days earlier. The Sept. 22 shooting was captured on bystanders' videos that were widely circulated on social media.
"It is clear in this case, based on the totality of all the available evidence, Officer Esparza was justified in believing Tabares posed a significant threat of death or serious physical injury to Officer Esparza and possibly other civilians in the parking lot," Baytieh wrote in a letter to Orange County Sheriff Sandra Hutchens.
"This conclusion is based on all of the circumstances, particularly the conduct of Tabares leading up to the shooting," Baytieh added.
In October, roughly a month after the shooting, Huntington Beach police named Tabares as the suspect in the fatal beating of Richard Darland, 80, who was found outside his home in the 7800 block of Ellis Avenue on Sept. 19, three days before Tabares was shot.
Esparza was in his patrol car in the parking lot of the 7-Eleven store at 6012 Edinger Ave. at about 9:30 a.m. Sept. 22 when he parked and approached Tabares. Esparza told Tabares to stop, but he walked away, according to the D.A.'s letter.
It's not clear what prompted Esparza to stop Tabares. The officer, who has been with the Huntington Beach Police Department for three years, declined to provide a statement to the Sheriff's Department, which investigated the case, or to the district attorney's office. His current assignment in the department is not clear.
However, Esparza told another officer at the scene that Tabares was trying to grab his gun from his utility belt during the ensuing scuffle, according to footage from Esparza's body camera that was made public Wednesday.
Warning: The following video contains graphic content.
A registered nurse who witnessed the altercation told investigators that Tabares "looked out of it" and she thought he might be under the influence of a drug, according to the D.A.'s letter. She told investigators that she heard Tabares shouting at the officer and then saw him walk directly at Esparza and swing at him, according to the letter.
As Tabares approached Esparza, the officer used his Taser, but it was not effective, authorities said.
A video taken just before the shooting and later posted on social media shows Tabares and the officer struggling on the ground next to a parked car. Tabares appears to pull an item off the officer's utility belt.
Baytieh said the item was the officer's flashlight. Tabares' DNA was found on the officer's flashlight holder, magazine holder and the grip of his Glock pistol, according to an analysis by the Orange County Crime Lab.
Body camera footage and another video show Esparza firing six shots, causing Tabares to convulse and stumble. After a seventh shot, Tabares collapsed on his side against the store.
Tabares was taken to UCI Medical Center in Orange, where he was pronounced dead at 10:13 a.m.
Tabares' family said he had drug and mental health issues. The D.A.'s letter states that an analysis of his blood showed the presence of ethanol and methamphetamine.
The confrontation with Esparza wasn't Tabares' first run-in with Huntington Beach police. Officers had arrested him 12 times since 2014, Police Chief Robert Handy has said.
From 2014 to 2016, Tabares was in and out of Orange County jails for misdemeanor convictions including disturbing the peace, carrying a dirk or dagger, possession of an opium pipe and resisting arrest, according to Orange County Superior Court records.
In May 2016, he pleaded guilty to a felony count of battery with serious bodily injury. He was initially sentenced to jail time and three years' probation, court records show.
Twice in 2016 he was found to have violated his probation and was sentenced to additional jail time, records show.
In March 2017, Tabares was arrested for violating probation a third time, and a Superior Court judge sentenced him to two years in state prison. However, with time served and other credits, he served about six months in Wasco and Centinela state prisons, according to court and California Department of Corrections and Rehabilitation records.
On Sept. 20, Tabares was considered to be eluding supervision, according to Department of Corrections records.
Police connected Tabares to Darland's slaying after they found his name in Darland's phone and saw him in surveillance footage. They said they had not connected him to the homicide by the time Tabares was shot.
Detectives asked the county crime lab to analyze Tabares' clothing that was kept as evidence in the investigation of the officer-involved shooting.
A crime lab examiner found blood on Tabares' pants that matched Darland's DNA, according to the D.A.'s office.
Handy said Tabares first met Darland in 2013 when Darland began helping him. He provided Tabares with food and transportation and allowed him to use his computer and to shower in his house. He also let Tabares sleep outside the house.
Tabares' shooting was the seventh and last involving a police officer in Huntington Beach in 2017 — a total that exceeded any other year this decade, according to department archives. It was the year's second such shooting in which a person was killed.
Twitter: @HannahFryTCN
---
All the latest on Orange County from Orange County.
Get our free TimesOC newsletter.
You may occasionally receive promotional content from the Daily Pilot.