National debate about immigrant detainees leads to a swell of OC volunteerism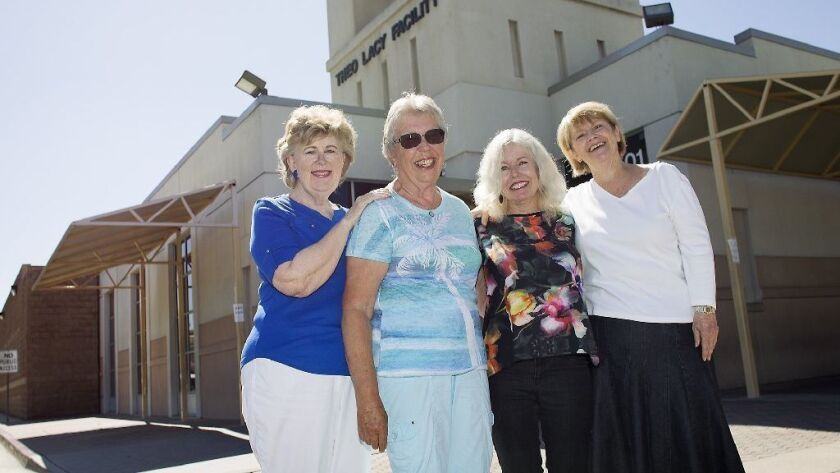 This summer Sandy Lillard started losing sleep.
A lawyer from Laguna Niguel, Lillard had always been interested in immigration issues, but when the Trump Administration's "zero tolerance" policy was rolled out in April, leading to the separation of thousands of immigrant and asylum-seeking parents from their children, she realized she had to do something to support these families.
"I'm not sleeping at night," said Lillard. "I'm thinking, 'You have to do something, I can't just sit here and read about it on Facebook; I can't just hear about it on the news.'"
So earlier this month Lillard attended a volunteer orientation for Friends of Orange County Detainees , a nonprofit that organizes social visits to the approximately 1,000 immigrant detainees held at two facilities in Orange County.
That night she was among more than 100 prospective volunteers gathered at Irvine United Congregational Church — nearly 10 times the usual monthly turnout.
While organizers expected a larger-than-normal crowd, the size still surprised them.
"We had as many volunteers tonight as we usually have in a year," said Peggy Thompson, a member of group's leadership team.
Sheryl Hagen, also a member of FOCD's leadership team, said that the main reason for the sudden surge in interest is what people are seeing on the news every day.
"It's shed a huge light on the immigrant-detention process and what people go through when they come here," she said. "People are not at all aware that when people come asking for asylum, this is what happens to them; they get caught up in this process."
None of the separated parents or children is presently being held in Orange County, said Hagen, but other undocumented immigrants who come into contact with law enforcement and asylum seekers who present themselves at the border are.
FOCD started in 2012 when a group of women from Tapestry, a Unitarian Universalist congregation in Mission Viejo, started visiting immigrant detainees at the James A. Musick Facility, a minimum-security county jail in Irvine that has a contract with U.S. Immigrant and Customs Enforcement to hold about 300 immigrant detainees.
Their goal wasn't to change policy or to help individuals with their cases, but to use ICE-approved visits to be a friendly face to immigrants and asylum-seekers in custody — often for months or years — as they await their immigration hearings.
Eventually the group expanded to offer additional help — mostly for asylum-seekers — such as pickups after release from detention and packets of clothing, toiletries and a pre-paid cell phone.
FOCD also helps them connect with sponsors and family members across the country. Some volunteers have taken asylum-seekers into their own homes.
This year FOCD has made more than 1,000 visits and has more than 90 active volunteers.
While FOCD has supported asylum seekers for six years, Hagen said that many Orange County residents still don't know about the county's immigrant detention system.
"People have no idea," said Hagen. "I can't tell you how many people said, 'I didn't even know they were detaining people in Orange County.' I think people are really surprised that it's happening in their own backyard."
This was one reason Johanne Kaminski showed up to the new volunteer orientation.
"I was like, 'Are you kidding me?'" Kaminski said of learning at last month's "Families Belong Together" rally to protest family separation that the county holds immigrant detainees. "You hear about it everywhere else, but I didn't know [it was here]."
Jose Torres, a graduate student at UC Irvine, said that even though he's been studying immigration for many years, current events pushed him to get involved.
"Like a lot of us, we see what's going on in the media, and it's very alarming," he said.
By going into the detention facilities, Torres said he can bring the experiences of detainees to the broader public, which he hopes can eventually create change.
"They're human beings and I believe that their stories should definitely be out there," he said.
Lillard, meanwhile, hopes the visits will show a different side of who Americans are.
"What they see in detention is not what America is. This room," she said, gesturing to the crowd of volunteers around her, "this is what America is like."
XXX XXX is …….
---
All the latest on Orange County from Orange County.
Get our free TimesOC newsletter.
You may occasionally receive promotional content from the Daily Pilot.