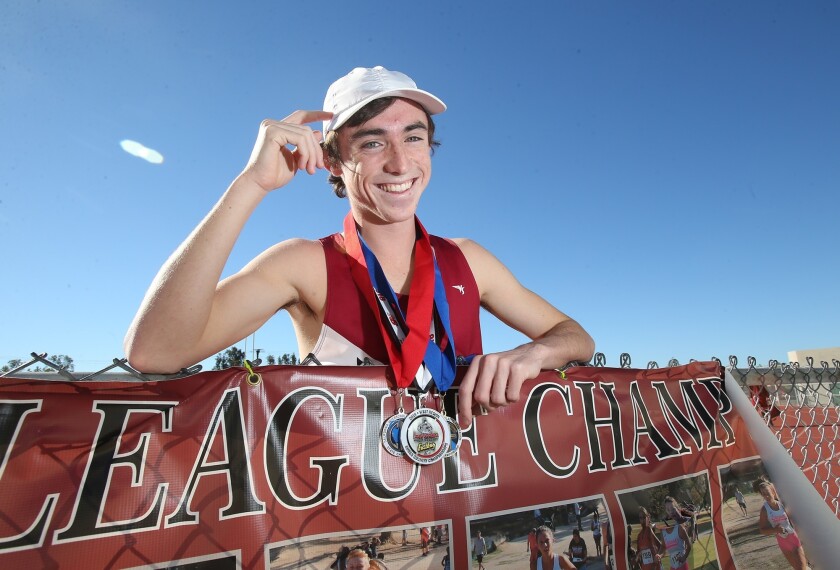 As he stood on the podium following the CIF State Division IV cross-country championship race at Fresno's Woodward Park in 2017, Laguna Beach High's Ryan Smithers was probably too out of breath to formulate many thoughts at all.
Smithers, a junior at the time, had nearly collapsed in the final stretch, willing his body through the finish line for a top-10 placing in his first state appearance. Shortly thereafter, however, Smithers began to think about what it would be like to see his teammates up there on the podium with him.
The Breakers finished sixth as a team in Division IV in 2017. Teams hoping to get on the podium had to place in the top three of their race.
Laguna Beach went back to the drawing board in the offseason, still with another bite at the apple ahead with its core group of seniors. Along with Smithers, Sebastian Fisher, Cal Neilson and Zachary Falkowski were all coming back for a final high school boys' cross-country season.
Smithers revealed an introspective side of himself this season, one that was not satisfied with what he had already accomplished. There was unfinished business, and the Breakers senior ace called upon motivational quotes for inspiration.
And it worked. Smithers, the 2018 Daily Pilot Boys' Cross-Country Dream Team Runner of the Year, led Laguna Beach to its first CIF Southern Section and CIF State championships since 2009.
Smithers would put these words of wisdom on the homepage of his iPhone, ensuring that he had a constant reminder to stay on task. One quote that came to mind after the season was, "Nothing changes if nothing changes."
"What that represented was that the results that you get from your races will not change if you do not change how you go about your training or go about your sleep schedule or anything like that," Smithers said.
Discipline became the name of the game for Smithers, who began recording the hours of sleep that he got nightly. He shared the sleep calendar with his coaches, and he insists that he was honest about the entries. It was the only way it would work.
They kept sleeping calendars. They watched what they ate. They gave up junk food. They committed to the program as a group and committed to each other.
Scott Wittkop, Laguna Beach High boys' coach
Since Smithers had served as the ace of the Breakers the year before, Laguna Beach boys' cross-country coach Scott Wittkop said that it became that much easier for the rest of the team to make the commitment to becoming great.
"The good thing about Ryan having that attention to detail is that not only does it help him, but it just helped the team a lot," Wittkop said. "It was one of those things that because he was taking care of all of that, all of the other guys were taking care of all of that. It just became part of the mentality of the whole group.
"They kept sleeping calendars. They watched what they ate. They gave up junk food. They committed to the program as a group and committed to each other."
Smithers proved to be a good act to follow.
Laguna Beach topped JSerra 39-131 in the CIF Southern Section Division 4 final at the Riverside City Cross-Country Course on Nov. 17. The bigger surprise was Smithers winning the race in 14 minutes 46.1 seconds.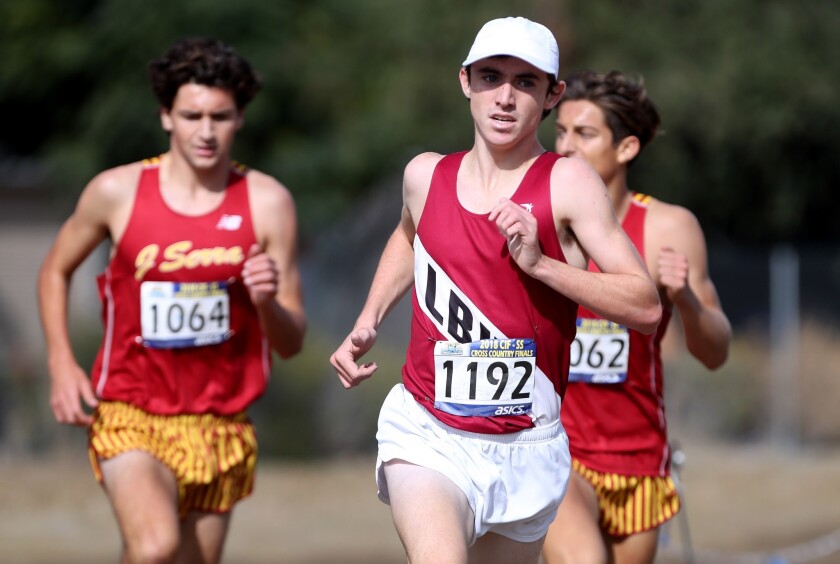 Knowing his previous history in big races, Smithers had to take a gamble to chase down JSerra's Anthony Grover and hope that he would have enough left in the tank at the end.
"With about 600 meters left, that's when [JSerra's Peter Herold and I] were starting to catch up on Anthony [Grover]," Smithers said. "There was a split-second decision where I was like, 'Am I going to go for it and just start kicking and potentially die out the last 100 meters, or am I just going to play it safe and take second?'"
The following Saturday, Smithers (15:27.8) was the runner-up to Grover (15:21.8) at state. Laguna Beach took home the Division IV team title, though, defeating San Anselmo Sir Francis Drake 68-97.
Smithers' season ended in the Foot Locker West Regional Championships at Mt. San Antonio College. He placed 11th in 15:52.4, one spot shy of advancing to the Foot Locker National Championships.
The Laguna Beach school record belongs to Smithers, who won the Wave League championship with a time of 14:21.4 at Central Park in Huntington Beach.
For Wittkop, a defining moment in Smithers' season came early on in the Woodbridge Invitational at SilverLakes Sports Park in Norco. The Woodbridge meet has long been considered a destination event for cross-country runners hoping to lower their personal records, and Smithers had his sights set on breaking the school record.
"He broke it," Wittkop said looking back on the Woodbridge Invitational. "The only thing is that his teammate [Sebastian Fisher] ran faster than him that day and actually got the record. It really just showed what kind of person that he was. He wasn't mad. He just continued to work hard. He ended up breaking the record later in the season. It just showed what kind of a teammate that he was, that everyone was happy for one another. Even though something that he was looking for individually didn't come to fruition at that time, he just kept on. It didn't deter him.
"It just kind of showed me that if there is going to be some difficult spots in there, he's going to step up and take care of it, and he really did."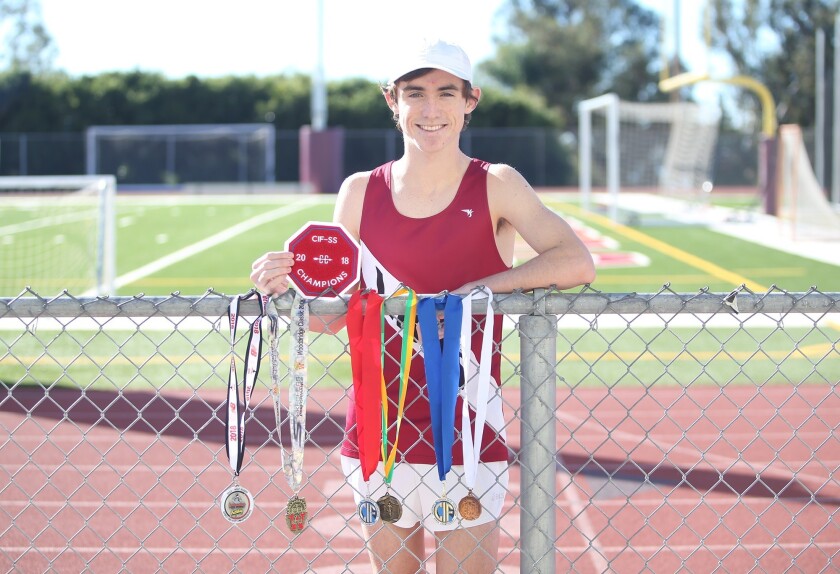 COACH OF THE YEAR
Scott Wittkop
Laguna Beach
In an era that pays special attention to load management, Wittkop and his coaching staff handled the Breakers in a manner that allowed them to peak at the end of the season. It paid off for Laguna Beach, which went on to win CIF Southern Section and CIF State titles in the same season for the first time since 2009. Wittkop said that winning a state title was a stated goal of the program that came about on a team trip to Grover, Utah, in the summer of 2017. After placing sixth at state that year, a number of seniors returned to the Breakers lineup in 2018, fully committed to seeing the goal through in year two of the process.
When it became apparent that Laguna Beach would rank among the top teams in the state in Division IV this season, expectations rose. Wittkop confessed that those expectations became one of the toughest things to manage, and when the gun went off for his team at state, he worried about what he would say if his team did not see its destiny fulfilled. Such a speech need never have been prepared.
"Every day was like their best workout," Wittkop said. "They just didn't have bad days. They were always prepared. They were always ready. We didn't babysit them. They knew what they wanted, and they went after it."
In one of the most glaring errors in the division of the Sunset Conference across all sports, Laguna Beach was placed in the Wave League this season. The Breakers dominated the meet, topping Newport Harbor 20-72 when the conference's results were combined.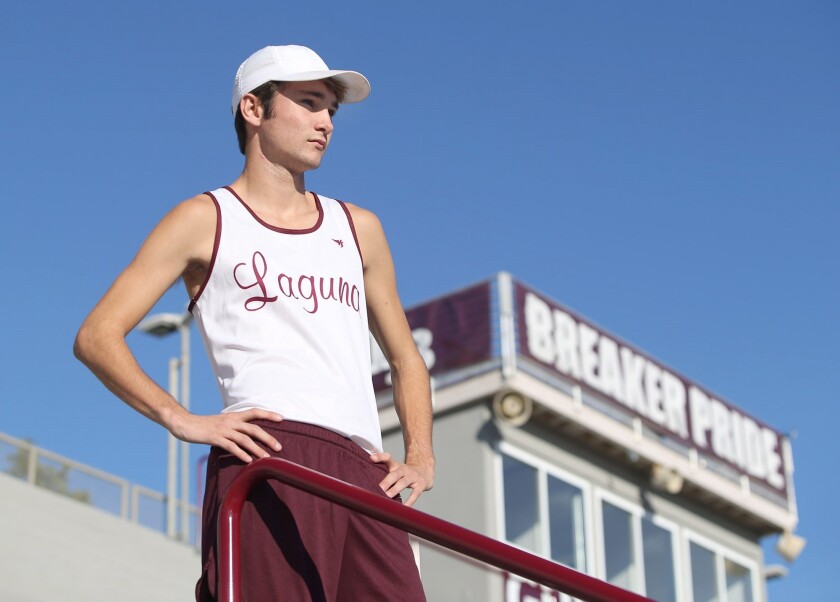 FIRST TEAM
Logan Brooks
Laguna Beach | Jr.
Championships are rarely won without contributions across the board, and Brooks saved his biggest moment of the season for the final race. The junior stepped up in the CIF State Division IV championship race, finishing seventh in 15:48.7. With his top-10 finish, Brooks made the podium. His performance helped minimalize the impact of a struggling Sebastian Fisher, who had served as the Breakers' No. 2 runner for most of the season. Laguna Beach still won the state title handily by a 29-point margin.
Kevin Cortez
Costa Mesa | Sr.
In his senior season, Cortez took strides to make his name known in postseason meets. The Mustangs' frontrunner finished as the runner-up to Santa Ana's Diego Duran in the Orange Coast League finals. Costa Mesa advanced to the CIF Southern Section Division 4 finals. In his bid to join Elliot Hachac (2016) among the recent Mustangs on the boys' side to advance to the CIF State meet, Cortez wound up just shy of the required top-20 finish in the section finals (26th, 15:52.2). A maximum of five individuals moved on from each divisional final, provided that they achieved the necessary placing.
Sebastian Fisher
Laguna Beach | Sr.
Laguna Beach had a phenomenal one-two punch atop its lineup. Fisher placed seventh in the CIF Southern Section Division 4 final for the victorious Breakers. In the early stages of the season, he challenged Smithers for the title of ace. On Sept. 15, Fisher ran 14:38.8 in the Woodbridge Invitational at SilverLakes Sports Park in Norco. At that moment, Fisher's time stood as the unquestioned school record for Laguna Beach. Later in the season, Smithers was credited with a personal record of 14:21.4 in the Sunset Conference finals, setting the new Laguna Beach standard for a three-mile cross-country race.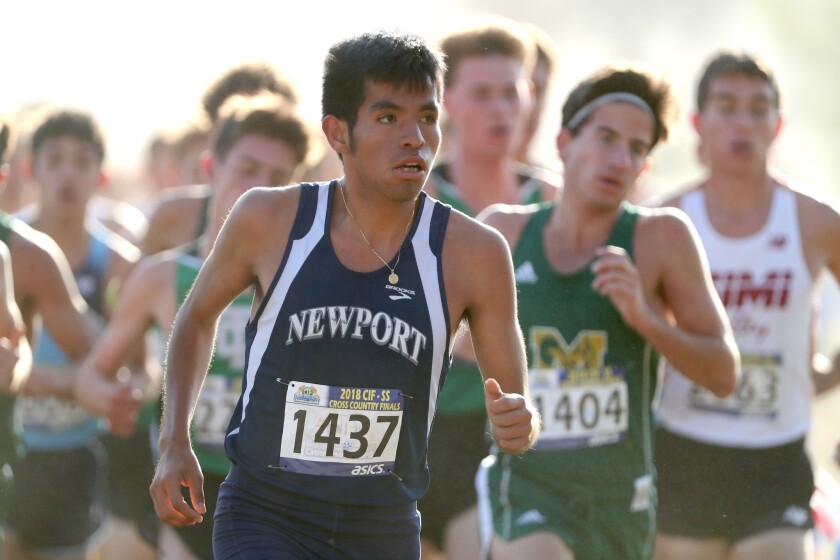 Alexis Garcia
Newport Harbor | Sr.
Arguably the area's most decorated runner, the Sailors senior accomplished several individual feats this season. Garcia earned his third trip to the CIF State meet as an individual, notching his second consecutive top-10 finish in the Division II race by placing seventh in 15:23.1. After back-to-back top-10 finishes in the Orange County Championships as a sophomore and junior, Garcia finally reigned supreme in his last chance to claim the crown. Garcia also won his third career league title, narrowly holding off Smithers in the Sunset Conference finals with a time of 14:21.1.
Lars Mitchel
Huntington Beach | Sr.
The Sunset Conference finals were run together, but the scores were ultimately separated to reflect the Surf and Wave League standings. Laguna Beach stole the show in the Wave League, pushing the first five runners across for a perfect 15-point team total. Mitchel's star shined bright in the background, as his sixth-place (14:57.8) showing helped Huntington Beach edge Fountain Valley 59-64 for the league's second berth into the CIF Southern Section Divisional preliminaries. A preferred walk-on at Colorado State University, Mitchel added top-10 finishes in the Brea Invitational (third, 16:16.5) and the Division 1 race of the Riverside Invitational (ninth, 15:23.8).
Cal Neilson
Laguna Beach | Sr.
Allergy season could not keep Neilson from being a key contributor for the Breakers. He returned after missing the Sunset Conference finals to finish 10th (15:29.3) in the CIF Southern Section Division 4 championship race. A week later, he was the third runner to cross the finish line for the CIF State Division IV champions. He completed the Woodward Park course in 16:08.0 (17th), a personal record for Neilson in three career races at the venue. Neilson had his best year as a senior, also establishing a three-mile lifetime best 15:22 at the Woodbridge Invitational.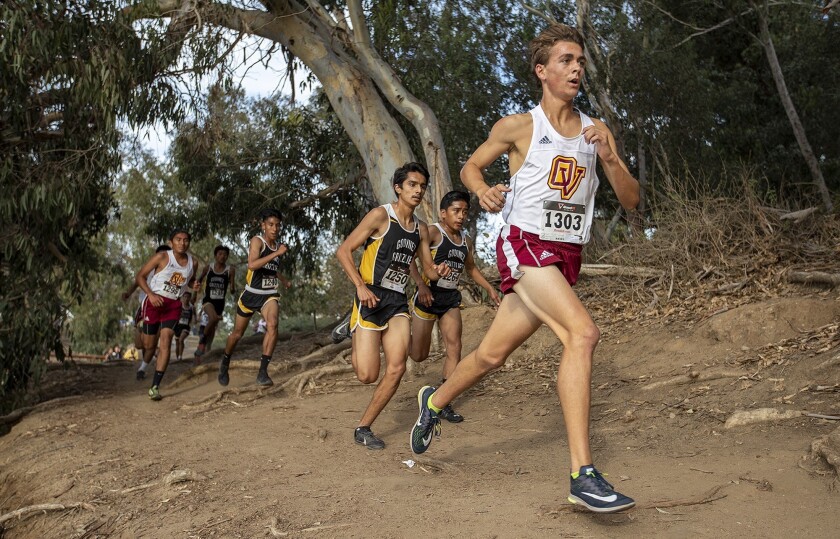 Jason St. Pierre
Ocean View | Sr.
St. Pierre was the most consistent performer for a Seahawks team that needed to avoid a letdown after getting over its greatest hurdle the year before. Coming off the first CIF State appearance in program history, Ocean View had just two seniors left in its starting seven. When Edwin Montes, the Seahawks' presumed ace coming into the fall, got off to a slow start, St. Pierre stepped up. He placed fourth (16:09.2) in the Riverside Invitational to lead the Seahawks to the overall 85-90 win over Los Angeles Cathedral in the Division 3 varsity race, providing a hint that Ocean View may still have its magic at work on the CIF Southern Section course. Montes rounded into form just in time, and the Seahawks advanced to the state meet in Division IV. The Golden West League runner-up again paced the Seahawks in the Division 4 final (28th, 15:54.2), and Ocean View qualified for state with a sixth-place finish.
*
SECOND TEAM
Name, School, Year
Mateo Bianchi, Laguna Beach, So.
Michael Davey, Newport Harbor, Sr.
Zachary Falkowski, Laguna Beach, Sr.
Miguel Flores, Ocean View, Jr.
Edwin Montes, Ocean View, Sr.
Ian Turner, Corona del Mar, Sr.
Yuki Watanabe, Fountain Valley, Sr.
Twitter: @ProfessorTurner
---