Newport Beach signals it may appeal state housing mandate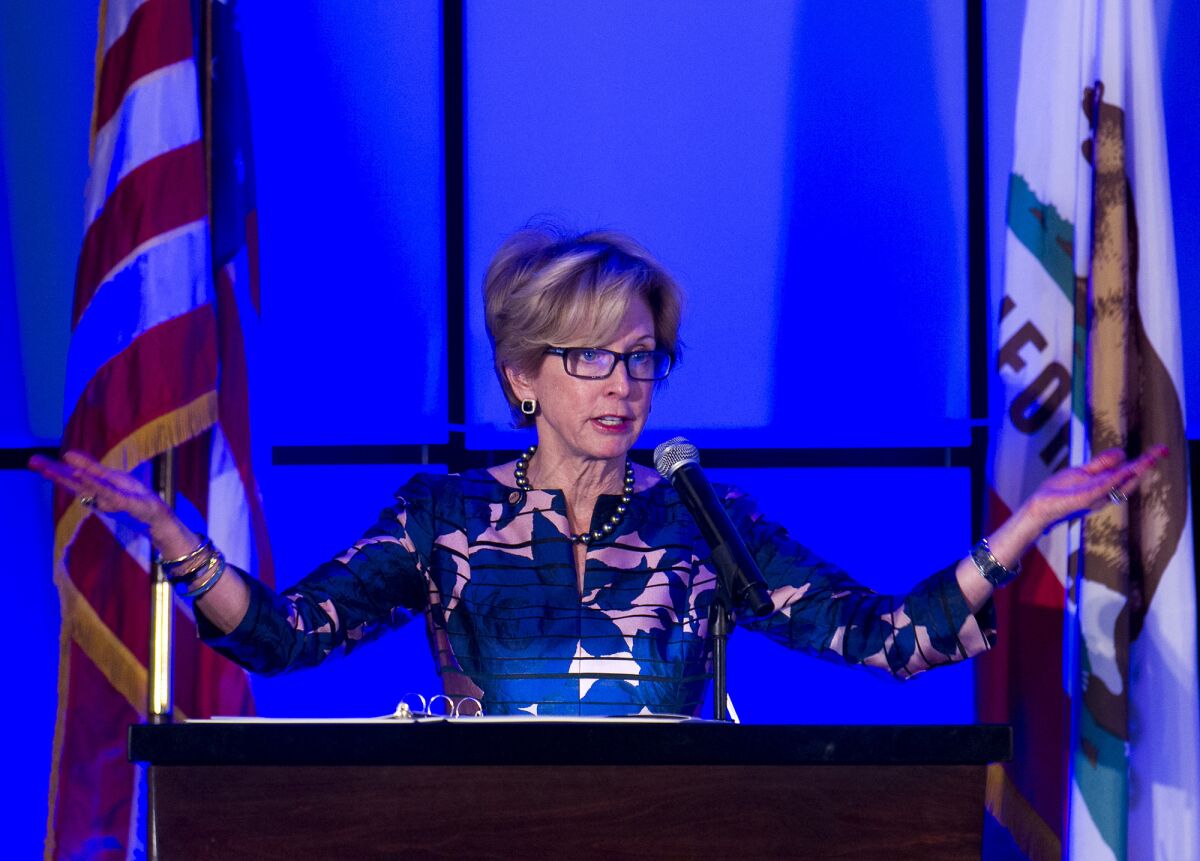 Cities can't appeal their state-mandated housing minimums until February, but Newport Beach appears to be gearing up already.
Mayor Diane Dixon pointed out this week that Newport's current minimum of 4,832 new homes, which the Southern California Assn. of Governments says should be approved over the next decade, is the equivalent of about 50 Museum House towers — a jarring allusion for Newport Beach, where residents successfully beat back the proposed 100-unit condominium tower of that name in 2016 because of its potential to snarl traffic and bring more high-density high-rises to town.
"This land-use action has been imposed by the state on our city and is probably the most significant state mandate imposed [in] our city planning history," Dixon said at Tuesday's City Council meeting.
After SCAG reshuffled the allocations in a dramatic adjustment Nov. 7, Newport's share climbed about 75% over minimums announced in October. Costa Mesa's share more than doubled. Fountain Valley's more than tripled. Same in Huntington Beach.
Dixon acknowledged California's housing shortage and said she doesn't dispute Newport's responsibility to add market-rate and affordable housing. But Newport, which initially expected a directive of about 2,000 new units, needs to find where to zone for those homes within its built-out boundaries, plus consider how they will affect traffic, utilities, first responders and schools, she said.
The Southern California Assn. of Governments voted this month to shift more of the 1.3 million new homes the state says Southern California needs over the next 10 years toward the coast, increasing the number of homes Newport needs to approve to 4,832 from the roughly 2,700 set in October. SCAG represents Orange, Los Angeles and four other counties.
The state housing department has 60 days to review the most recent SCAG figures.
Dixon said the city should challenge its number after the appeal window opens in late February, work to keep its number from getting even higher, consider seeking an extension of its October 2021 deadline for completing its plan for where homes could go, and consider lobbying the state.
The mayor called on staff to map out the city's next steps, including how Newport might challenge its mandate, and issued a call for input from residents.
Coincidentally, Newport Beach is working to update its general plan, which guides the city's long-term planning and includes a housing element.
"Above all, we as residents of this city must work together to ensure and protect our quality of life," Dixon said.
City Manager Grace Leung said staff is working "aggressively" on the matter.
"This item is of highest priority on the city staff side," she said.
Staff plans to return to the council with a housing update in January.
---
All the latest on Orange County from Orange County.
Get our free TimesOC newsletter.
You may occasionally receive promotional content from the Daily Pilot.