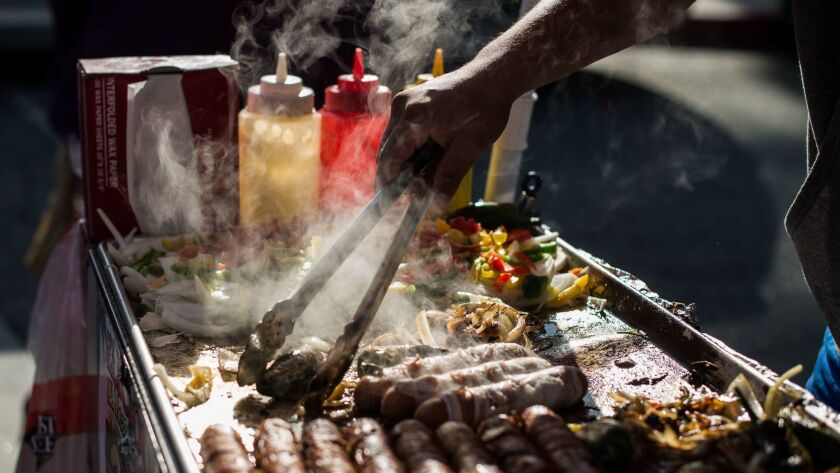 Five months after a restrictive sidewalk vending ordinance was proposed to Costa Mesa city leaders, the City Council is expected to vote on a much more lenient proposal Tuesday.
Costa Mesa, along with a slew of other local cities, had laws on the books prohibiting sidewalk vending in most of the city. Those local laws were peeled back in response to the passage of a state law in 2018 permitting sidewalk vending throughout the state. The law, which then-Gov. Jerry Brown signed, limits cities from enacting local regulations unless they protect "objective health, safety and welfare concerns," according to a city staff report.
Neighboring cities Newport Beach, Laguna Beach and Huntington Beach erected stringent local ordinances last year. In October, Costa Mesa first looked at a similarly designed ordinance, which would have prohibited sidewalk vending anywhere in the city between 11 p.m. and 7 a.m. daily, unless within 500 feet of a business that is legally operating during those hours. It also would have required sidewalk vendors to pay for a permit and placed restrictions on sidewalk vending near residences, businesses and public buildings and inside parks.
Instead, city staff changed the proposed operating hours from 8 a.m. to sunset in residential zones and removed restrictions on operating hours anywhere else in the city. The new ordinance also would remove restrictions on vending near farmers markets, the Orange County fairgrounds and the Civic Center.
Tuesday's council meeting will begin at 6 p.m. at City Hall, 77 Fair Drive.
---