Creativity amid the coronavirus: how local artists are enduring the crisis
As the coronavirus pandemic pummels industries across the globe, one group of professionals is particularly hard hit. Yet it may be the most practiced at spinning beauty from bleakness.
With honed tenacity and perseverance, many artists continue to do what they do best: make art.
"It truly is some sort of blessing in disguise," said Nico Sauceda, 28, a painter in Huntington Beach. "I'm able to not think about the worries of work and get to focus and hone all my skills."
State and local directives calling for nonessential businesses to close put Sauceda's job at Gorman Framing in Costa Mesa on hold for at least a month. Now, instead of squeezing his painting into late-night hours after putting his three children to bed — sometimes staying up until 3 or 4 a.m. before returning to the store by 8 a.m. — his creativity has space to breathe.
"There is something I'm looking forward to" Sauceda said. "It's really a gift."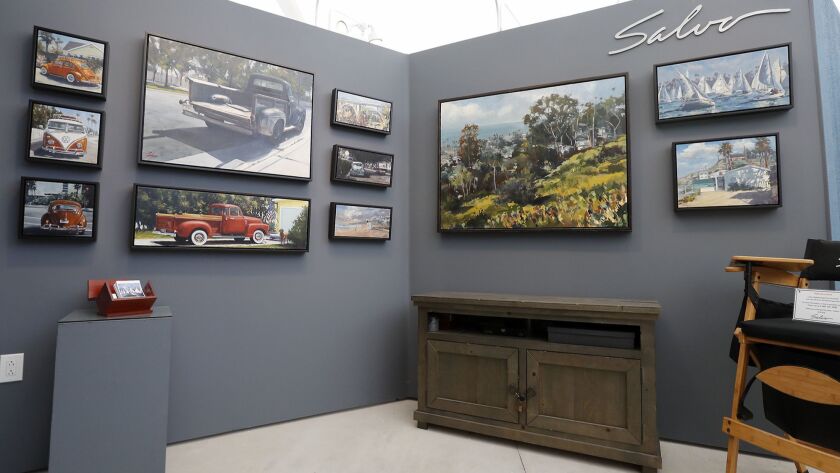 The struggle
But no amount of creative time can completely buffer artists from the economic suffering afflicting the arts industry.
"Now that the stock market's taken a crash, people are not going to want to buy art because it's sort of a luxury, it's not a necessity," said Anthony Salvo, 60, an oil painter who owns a studio in Newport Beach.
When the arts flourish, so do surrounding industries. Think of the crowds flooding downtown Laguna Beach after a day at the summer art festivals. Or the gallery visitors going to cafes and other shops on Newport's Balboa Peninsula. Or the theater-goers visiting Costa Mesa for dinner and a show.
In a strong economy, art and cultural activity can contribute as much as 4.5% of the nation's gross domestic product, as it did in 2017, according to data from the U.S. Bureau of Economic Analysis.
But as the COVID-19 coronavirus crisis has burgeoned, the market to display and sell art has vanished. Musicians can't go to theaters, restaurants or bars to play. Museums and galleries are closed. Weddings — and the related industry of designers, florists and photographers — are being canceled. The Segerstrom Center for the Arts in Costa Mesa announced Wednesday that all shows through April are canceled or postponed. The Laguna Playhouse is closed until further notice.
For many artists, the sudden evaporation of venues and events has decimated their income. According to an Americans for the Arts economic impact survey, artists and arts organizations and agencies across the United States had lost $3.6 billion as of Thursday.
In California, 96% of the 411 organizations that responded to the survey said they had canceled events, contributing to $5.7 million of economic loss to the industry statewide.
Salvo is holding his breath that the Festival of Arts in Laguna Beach will still open in July as scheduled. Like many festival artists, the two-month festival is his biggest show and largest revenue source of the year.
"They either buy your work there or they find you and buy it later," Salvo said of festival-goers. "It's just a great exposure for an artist to be in that show. So if that cancels, it's not good."
'We can help each other'
Resources for struggling creatives have popped up in various ways. On Friday, it was monetary. The $2-trillion federal stimulus deal that President Trump signed Friday includes $75 million each for the National Endowment for the Arts and National Endowment for the Humanities and $50 million to the Institute of Museum and Library Services.
The National Endowment for the Arts has compiled a list of various organizations offering resources for struggling creatives. One of those, "COVID-19 Freelance Artists Resources," gained steam online with a series of panels about how to apply for emergency funding, quantify work lost and learn other financial best practices.
The coronavirus pandemic coincided with the California Arts Council's annual grant program, which the council next week will consider adjusting to accommodate artists affected by the virus.
"We know the arts and culture fields are particularly vulnerable to the economic repercussions of the emergency. With public events canceled and revenue sources for organizations and individual artists severely threatened, we are among the most impacted sectors in the U.S.," Council Chairwoman Nashormeh Lindo and Executive Director Anne Bown-Crawford said in a statement on the CAC website. "But we are also one of the most innovative sectors, and together we will find our way through this moment."
Locally, exhibitors at the Festival of Arts have been contributing for years to a nonprofit Artists Fund to help those in their community who "don't earn enough to afford healthcare or to put aside funds to carry them through a personal or natural disaster." Similarly, the Sawdust Art Festival stewards an "artists' benevolence fund" to help any working artist in Laguna Beach.
Individuals are stepping up too. Costa Mesa resident Salina Mendoza, 28, paints and designs socks and fanny packs, but during the day she works at consulting firm Brix Labs. When she began hearing from artist friends about their diminishing incomes, she decided to leverage her tech income, put her artwork on a half-off sale and donate all the proceeds to artists in need.
"They make art because they love it. This is them. This is sacred," said Mendoza, curator and founding partner of Low Key Gallery in Santa Ana. "Whatever I can do to help my friends that are really living out their purpose, then I'm all for it."
As of Thursday, she had collected $625 to direct to artist friends in need.
Creative solutions
Some artists are finding alternative ways to connect with their audience.
Instead of its usual gallery reception March 14, the Laguna Plein Air Painters Assn. livestreamed its annual awards ceremony. There were some electronic kinks, said Salvo, an association member, but it worked.
Following the lead of museums worldwide, the Orange County Museum of Art announced Friday that it would hold several virtual art events, including behind-the-scenes videos of artists and screenings of independent films, in collaboration with the Newport Beach Film Festival, which has postponed its 2020 run to August because of the coronavirus outbreak.
OCMA also commissioned artists to create "listening sessions" — "unique sound-based projects for an engaging at-home experience that doesn't keep you tied to looking at your screen," according to a news release.
Like many of his colleagues, Cody Parole, 28, relies on Instagram to promote his artwork. The Costa Mesa-based multimedia artist posts YouTube videos showing his art process, such as a recent mural painting at Victoria Elementary School.
His newly founded artists collective, Highway 1, was planning to hold a party at the end of the month to celebrate the release of a new magazine, The 27 Club. Instead, he said, it will likely be an online-only release.
"The one good thing is we do get a lot of exposure and a lot of business from just online and social media," Parole said. "There's definitely still opportunity, but really it's about still trying to network and just stay on top of the trends."
Mendoza had just launched her organization Artist Safe Spaces, which is intended to help artists find places to do live art, when the pandemic hit. Since gatherings outside are no longer permitted, she invited artists to livestream their performances on Instagram, beginning with harpist Jillian Lopez. Mendoza also is collaborating with a Costa Mesa gallery to hold a private figure-drawing class via video.
But viewing art online changes the experience. Wendy Wirth, 57, a landscape painter with a studio in Laguna Beach, doubts the success of buying online for the foreseeable future.
"There's so much to art that isn't digital, because there's nuances you don't get when you see something live in a framing, and how the light hits it," Wirth said.
Still, she expressed faith in her fellow artists: "All the artists get very creative when there's trying times."
Social distancing already a way of life
For many artists, "stay at home" and 6-foot social distancing guidelines aren't far from their norm.
"We're a solitary people anyway," Salvo said. "We paint by ourselves, so we're not really meeting a lot of people in our studios."
So as the world is changing, inside an artist's studio, not much is different.
"You can't really be creative on demand, but since we have to stay home ... it's no big deal to just keep painting," Salvo said. "I'm going to finish all my paintings. If there's a show or no show, I'm still going to finish them."
For some artists, the coronavirus actually has planted seeds of inspiration. Sauceda, the Costa Mesa painter, said he is grateful for the unexpected time off work to spend with his girlfriend and their three children, each in creative endeavors: floristry, photography, building and crafts. Even Sauceda's 18-month-old colors beside his painting daddy.
"There's definitely a lot of sadness and dark energy coming from [the virus], but the planet's going to be regaining its strength through lack of all the stuff we're using," Sauceda said. "I think everyone's going to realize the time that they took for granted spending with their families and all this positive that they're going to see."
He's dreaming up a new painting: tall grass pushing through a vacant lot where an old building was bulldozed. He's already picked a spot in Costa Mesa.
"Once that happens, plants start growing," he said. "Even though that house has been there 10, 15 years, nature will always prevail and grow from it. ... Negative turning into a positive."
---
All the latest on Orange County from Orange County.
Get our free TimesOC newsletter.
You may occasionally receive promotional content from the Daily Pilot.