2020 in review: Top stories of the year in Orange County education
It's been tough for students this year.
With schools closing in March and remaining that way through much of the rest of the calendar year, parents, teachers and students have grappled with what is the best way to learn in the midst of a pandemic and how to bring kids back into classrooms safely.
But, in spite of the obstacles, people have found ways to still celebrate the accomplishments of their children this year.
Here are some of the top stories in education in Orange County in 2020:
Area schools close in March
Schools in Huntington Beach, Laguna Beach, Newport Beach, Costa Mesa and Fountain Valley all moved to close their campuses in March in an effort to slow the transmission of the coronavirus.
Students and teachers made the transition to online learning, initially hopeful of an April return before the closures were extended through the end of the school year. The same held true of campuses in the Coast Community College District and at UC Irvine.
Athletics benched at local districts
School-based athletics were sent to the sidelines due to the coronavirus pandemic in March.
While there have been no games since that time, local school districts began to issue guidance for the return of athletics with modifications in August.
Huntington Beach Union High School District rolled out a plan with three phases, which allowed for teams to resume workouts outdoors in groups of 10 or less in Phase I.
The guidance classified sports and performing arts into three categories — low risk, moderate risk or high risk — based on their potential for virus transmission.
The California Department of Public Health came out with updated guidance for youth sports on Dec. 14. It assigned sports to one of four color-coded tiers, much like the state's reopening framework, and competitions between two teams cannot be held prior to Jan. 25 at the earliest.
High school graduations pivot from tradition
Though seniors this year had to go without Grad Night and a prom, they didn't have to miss out on their graduation ceremonies — school districts and parents made sure of that.
In the Huntington Beach Union High School and Laguna Beach Unified School districts, schools held graduations by way of drive-through celebrations. Students rode through their campuses in caravans to receive their diplomas and take pictures for a last hurrah.
In the Newport-Mesa Unified School District, students celebrated their accomplishments through virtual commencement broadcasts at home. Parents, too, organized ways to celebrate in-person, including a car parade and a walk along the coastline of Newport Beach.
For full coverage of graduations and profiles of the 2020 senior class, visit latimes.com/socal/daily-pilot/news/story/2020-06-10/class-of-2020-series-graduating-during-the-coronavirus-pandemic.
Parents, students challenge slow campus reopenings
Protests occurred in several districts over reopening school campuses in the intervening months between the end and beginning of the school years.
Students began the fall semester with classes online.
Parents and students raised concerns on both sides of the argument, with some uncertain about student retention and mental health while others argued that it is not safe to return students and teachers to classrooms as the pandemic continues.
Protests also occurred earlier this year over graduation ceremonies.
O.C. Board of Education tries to overturn order to close schools
As opposition to California's coronavirus mandates regarding mask wearing and school closures reached a fever pitch this summer, the Orange County Board of Education made several moves challenging state officials and guidelines.
Following a June 24 community forum, in which members of an expert panel advised against mandating masks to prevent the spread of the virus, the board decided in a July 13 meeting to issue its own guidelines recommending public schools reopen without facial coverings or social distancing.
Later that month, members approved pursuing litigation to overturn an order from Gov. Gavin Newsom that mandated schools in counties under state watch due to high coronavirus case counts — including Orange County — return to distance learning in the new school year.
Murrieta-based law firm Tyler & Bursch filed an Aug. 24 complaint with the state Supreme Court claiming Newsom's mandate violated federal and state protections. Ultimately, the court decided not to hear the matter.
Orange Coast College completes facilities
The Orange Coast College campus in Costa Mesa announced that several of its construction projects neared completion this year, including its student housing development, student union and college center. Its $51-million aquatics center was completed in April.
The facilities were funded by Measure M, a $698-million bond measure for Coast Community College District passed by district voters in 2012.
Campuses in the district have been closed since fall and will remain closed through the upcoming spring semester. Classes have been taught largely remotely.
Several students with housing contracts have tried to exit their agreements in response to the ongoing pandemic. In August, the number of leases dropped from 508 to 404, which includes 50 new contracts signed in July. A total of 154 lessees appeared to have backed out of their agreements.
Parents push back as Huntington Beach City School District closes school
In January, the Huntington Beach City School District discussed the possibility of closing a school. Parents rallied at a district meeting and launched a petition, fearful of rumors that John R. Peterson Elementary School might be considered for permanent closure. Previously, the school district had considered closing Joseph R. Perry Elementary School and Isaac L. Sowers Middle School.
In the end, it was Perry Elementary School that the district decided to close in spite of recommendations from a district committee that said both Perry and Sowers should remain open.
The district had been considering closing one of its seven schools for more than a year, and Perry had been first on the list in 2018.
Parents protested the closure of the campus at 19231 Harding Lane in June, expressing frustration that the move was made in the middle of a pandemic and that information on the closure was only presented in English. District officials said the closures would help the district absolve $6.8 million in potential budget cuts.
Brethren Christian High School closes in Huntington Beach
Parents and coaches at the private school confirmed in July that Brethren Christian High School would be closing down due to declining enrollment and financial difficulties. Alumni said they found out about the closure through social media posts.
The school was on the Gisler Middle School campus on 21141 Strathmoor Lane until recently, after a long-term lease with the Huntington Beach City School District ended in 2019. The school relocated to 6931 Edinger Ave. last year.
Brethren Christian High School was founded in 1947 and was initially located at Seal Beach Brethren Church before expanding to Long Beach and Paramount, then moving to Cypress and eventually to Huntington Beach.
Elementary, secondary schools begin reopening
With much fanfare and months of debate and planning, elementary schools across the six public school districts in the Daily Pilot's coverage area reopened in the fall.
The Newport-Mesa Unified School District reopened its elementary schools in late September, while schools in Huntington Beach and Laguna Beach reopened in October.
In Laguna Beach, secondary students have yet to return to in-person instruction. Huntington Beach high schoolers returned in November. In Newport Beach and Costa Mesa, secondary students also were unable to return to campuses until November, but now aren't expected to see the inside of their classrooms again until late January.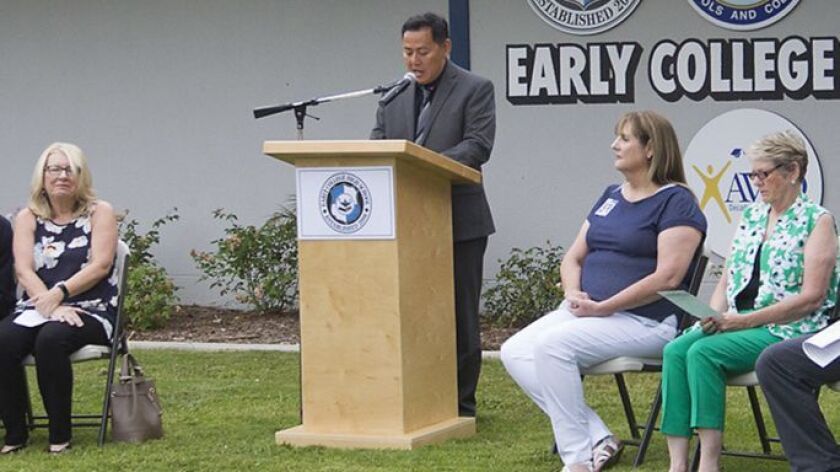 Leadership changes across districts
In an election year unlike many others, board trustees have been shuffled across districts. Additionally, Supt. Gregg Haulk of the Huntington Beach City School District and Supt. Fred Navarro of the Newport-Mesa Unified School District stepped down.
Deputy Supt. Leisa Winston of the Laguna Beach Unified School District will replace interim Supt. Greg Magnuson in Huntington Beach in January and in August, Newport-Mesa Unified school board members made interim Supt. Russell Lee-Sung the superintendent through June 2022.
Meanwhile, board members sworn in after the November election were:

Newport-Mesa Unified School District: Leah Ersoylu, Carol Crane, Krista Weigand
Huntington Beach Union School District: Susan Henry, Michael Simons
Huntington Beach City School District: Bridget Kaub
Fountain Valley School District: Steve Schultz, Jeanne Galindo
Laguna Beach Unified School District: Kelly Osborne, Jan Vickers
Coast Community College District: Jerry Patterson, Mary Hornbuckle
Sara Cardine and Andrew Turner contributed to this report.
---
All the latest on Orange County from Orange County.
Get our free TimesOC newsletter.
You may occasionally receive promotional content from the Daily Pilot.