Air monitoring near Huntington Beach landfill site to expand to 2 schools, park, city streets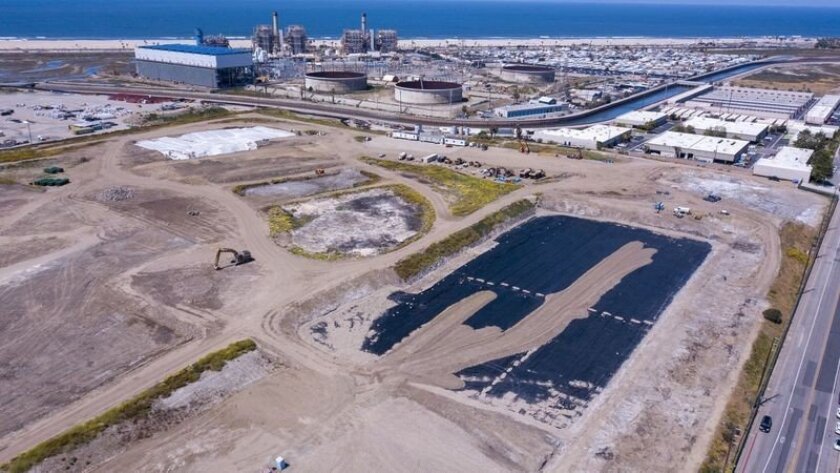 Responding to community concerns about potential air pollution related to the ongoing cleanup of the Ascon landfill in Huntington Beach, project managers plan to expand an air-monitoring program beyond the site to include two nearby schools, a community park and two residential streets, according to the state Department of Toxic Substances Control.
Ascon plans to monitor for volatile organic compounds and dust by Sept. 30 at:
Edison High School, 21400 Magnolia St.
Edison Community Park, 21377 Magnolia St.
Eader Elementary School, 9291 Banning Ave.
Rhodesia Drive and Breton Lane.
Edison High and the park border the 38-acre former landfill at Hamilton Avenue and Magnolia Street. Eader Elementary is about a mile and a half away but parents have told city and school district officials that they are concerned that wind may carry dust and odors to the campus.
Rhodesia Drive is adjacent to Magnolia. Brenton Lane is near Edison Park.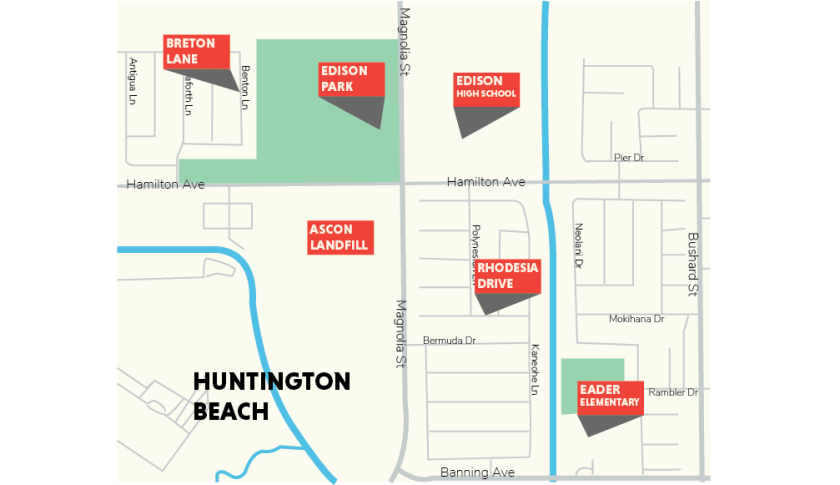 The effort marks another step in Ascon's commitment to expand health and safety enhancements following several complaints in April from residents concerned about the site's remediation work. Residents told project, city and state officials that the dust and odor from the cleanup, which began earlier this year, were causing respiratory problems.
As a result, remediation work was indefinitely suspended when DTSC implemented 10 safety enhancements. Project Navigator, an environmental consultant overseeing the daily activity at Ascon, must meet those requirements before it can resume the work.
The cleanup at the site — which served as a waste disposal facility from about 1938 to 1984 — is expected to continue through 2020.
State and city officials plan to meet with Ascon representatives again on Tuesday for a progress update.
In addition, the Huntington Beach Union High School District retained Compton-based environmental consulting agency Forensic Analytical Consulting Services this week for additional air-quality testing at Edison High.
That firm's initial reports reaffirmed the district's assurance to parents that the campus was safe, which meant summer school classes and activities proceeded as normal.
Though the cleanup is suspended, Ascon officials said they are continuing to secure the site and monitor the air. They are also preparing to install a 16-foot-tall barrier along Hamilton and Magnolia, which is still subject to permit approval from the city.
"We expect the permit to be granted by early next week, per discussion with city staff," said Ascon spokeswoman Mary Urashima. "City staff has been great about working with our team with over-the-shoulder reviews so we can meet all the permit requirements."
Officials also are using new products such as Posi-Shell — a blend of clay binders, fibers and polymers that creates a thin layer of stucco when mixed with water — to seal some of the site's excavated areas as an additional measure against potential odors and dust, Urashima said.
Ascon has already increased around-the-clock, on-site monitoring "for chemicals that might travel through the air in dust or vapor" and is using more effective odor suppressants on contaminated soil, according to a news release from the DTSC.
In addition, according to the state, tests for asbestos in concrete rubble were negative.
---
All the latest on Orange County from Orange County.
Get our free TimesOC newsletter.
You may occasionally receive promotional content from the Daily Pilot.