Costa Mesa council extends city marijuana rules for a year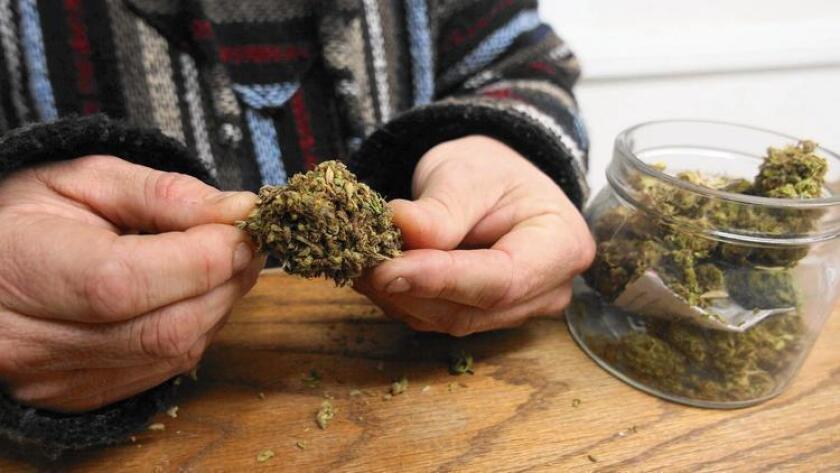 Costa Mesa City Council members voted unanimously Tuesday to approve a yearlong extension of an ordinance aimed at maintaining local marijuana rules to give city staff more time to study the effects of coming state regulations.
The latest extension is the final one allowed for the urgency ordinance, which the council originally passed Jan. 3 and extended Feb. 7 until Dec. 22. It now runs through Dec. 22, 2018.
Barry Curtis, Costa Mesa's economic and development services director, said the ordinance allows the city to continue prohibiting marijuana-related activities to the extent possible under state law.
The ordinance does not apply to uses authorized under Measure X — a local voter-approved initiative that allows businesses that research, test, process and manufacture some medical marijuana products to open in the area north of South Coast Drive, west of Harbor Boulevard, south of MacArthur Boulevard and east of the Santa Ana River, though not in South Coast Collection.
"Staff would use the extended time to assess what, if any, inconsistencies exist between the state regulations and the city's medical marijuana process and whether further amendments are needed," Curtis said Tuesday.
Those new regulations, set to go into effect in January, are being implemented following statewide voter passage of Proposition 64, which authorizes people 21 and older to legally possess, use and grow marijuana for recreational purposes, with certain restrictions.
Extending the urgency ordinance, Curtis said, "will also provide sufficient time for the Planning Commission and City Council to consider new long-term policies and regulations."
Businesses looking to open under Measure X are required to obtain a business license, a medical marijuana business permit and a conditional use permit, which requires approval from the Planning Commission.
Resident Jay Humphrey said an issue that needs to be on the local radar is that the state-owned OC Fair & Event Center could consider allowing marijuana-related events at the Costa Mesa property, even though retail sales of marijuana and marijuana products are prohibited in the city.
"Gee whiz, is that consistent with what the public asked for?" Humphrey told the council. "Is that consistent with what you guys all asked for? This is an issue that we need to keep in mind."
Fair & Event Center spokeswoman Terry Moore said Wednesday that its staff is looking into the issue and that no determination has been made on whether such events will be permitted at the fairgrounds.
Other residents told the council Tuesday that some marijuana dispensaries are operating illegally in Costa Mesa and should be investigated.
Twitter @LukeMMoney
---
All the latest on Orange County from Orange County.
Get our free TimesOC newsletter.
You may occasionally receive promotional content from the Daily Pilot.