Fashion Island mall turns 50 with a challenge to remain in fashion
Fashion Island sees itself as a peerless luxury shopping experience uniquely situated minutes from Newport Beach's sandy shores.
"As it relates to the guest experience, that has always been our chief focus. Fashion Island was created as, and will always aim to be, a place where guests can gather, where they can experience something special, something more than just a mall," said Dave Moore, president of retail properties for the Newport Center mall's owner, the Irvine Co.
And as the local icon celebrates its 50th anniversary on Saturday, it looks to leverage what makes it distinct — its oceanside, outdoor setting among Mediterranean-inspired architecture, upscale brands and fine and casual dining options — as it shares challenges with all retailers in a tumultuous time for the industry.
Malls and their stalwart tenants are struggling against online shopping and the preferences of younger clientele. Credit Suisse recently forecast that 20% to 25% of malls nationwide would close within five years.
This year alone, Bebe closed all its stores and went online. BCBG Max Azria closed 120 stores and filed for Chapter 11 bankruptcy protection, and the parent company of Ann Taylor, Lane Bryant and Dressbarn stores announced plans to close more than 600 stores over the next two years.
Gymboree filed for Chapter 11, Sears Holding Co. announced plans to shutter almost 250 Sears and Kmart stores, and Newport Beach-born teen clothier Wet Seal closed all 171 of its remaining stores, two years after trimming more than 330 locations.
And this week, Gap Inc. announced it's closing 200 Gap and Banana Republic stores while expanding its Old Navy and Athleta brands.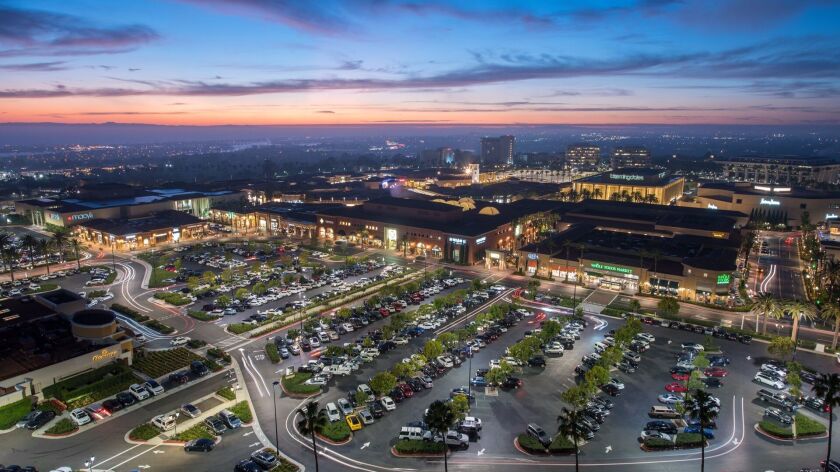 As a mall developer, the Irvine Co. is aware that retailers are in the same boat. Its strategy is to be singular.
"I don't think we're any different than anyone else out there trying to make sure that we stay differentiated," said Easther Liu, chief marketing officer at Irvine Co. Retail Properties. "The word 'experience' is a word widely used, but I do think that is exactly what we deliver and why we are distinguished from many of our other peers."
Today's shoppers can get anything delivered to their doorstep via web commerce or apps, so, Liu said, even discount behemoths like Walmart have something in common with Fashion Island, even though the former lacks the latter's well-kept courtyards, live music and designer boutiques with personal shopping stylists and valet parking.
"We're all fighting that same battle of trying to figure out how do we get that consumer to make sure that they continue to come back into the stores, into our physical spaces," Liu said.
Past, present and future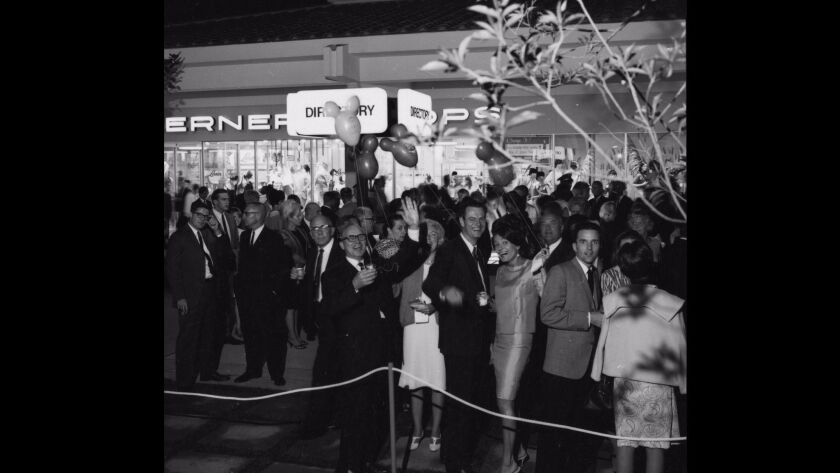 Newport Beach formally greeted Fashion Island on Sept. 9, 1967, with a charity gala. Black and white photos from the chic evening show ladies in cocktail dresses and bouffants and gentlemen in skinny ties. Shoppers at the time could browse Buffums, The Broadway, Robinson's and Penney, plus 52 specialty stores, or dine at Bob Burns and the Velvet Turtle.
Buffums, a Southern California chain, dissolved in 1991. The Broadway, a Los Angeles-based chain, was sold to what is now Macy's Inc. in 1995 and The Broadway space became Bloomingdale's the next year. Robinson's — later Robinsons-May — became Macy's in 2006. Penney, now JCPenney, still lives, but not at Fashion Island — the space was converted to the Atrium Court shops and food court in 1985.
In the late '80s, Fashion Island remodeled, re-landscaped and added 70,000 square feet of retail, three outdoor paseos, a movie theater, the Island Terrace food court and a four-level parking structure.
Additions in the past decade include a Nordstrom, Dick's Sporting Goods, True Food Kitchen, Urban Decay cosmetics, one of only two Lincoln Experience Center showrooms in the country, and expansions of Anthropologie and Neiman Marcus (the Neiman Marcus opened in 1978 and is the only one in Orange County).
One of the next offerings will be The Lot, a cinema-restaurant-bar fusion that is replacing the Island Cinema.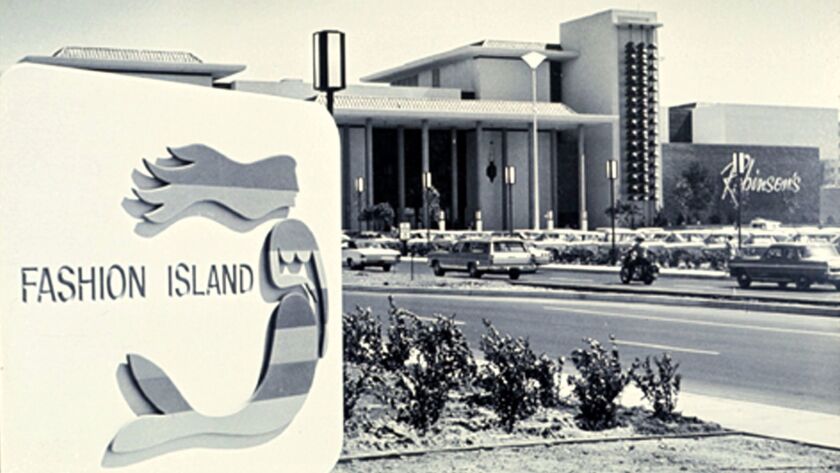 The current department store anchors — Bloomingdale's, Macy's, Nordstrom and Neiman Marcus — need balance with boutique brands to keep the mix appealing, Liu said.
"That's why we have to go after the Bonobos of the world and the Suitsupply and Rodd & Gunn and Nespresso and those things, so that we can try and make sure there's a complement and not as much of a competition," she said.
Fashion Island and its Irvine Co. sibling, the Irvine Spectrum Center, have similar missions as lifestyle centers: bringing in customers.
The Irvine Spectrum has some of the same tenants as Fashion Island — including Nordstrom, Lululemon and Pressed Juicery — but also has carved out a dining and entertainment niche, with a giant Ferris wheel, The Ride 7D, an Imax theater, a Dave & Buster's and an Improv comedy club, plus about 20 full-service restaurants and more than 30 quick-serve and snack options. Liu said the center drives evening activity in the generally quiet city of Irvine.
Fashion Island's clientele trends older, with a higher overall price point. And it positions itself as a destination for out-of-towners — a third of business is generated through tourism, Liu said. Packages with the Island Hotel across the street or The Resort at Pelican Hill 10 minutes away offer guests shuttle or sedan service between the properties and to dinner.
'Experiences that cannot be duplicated'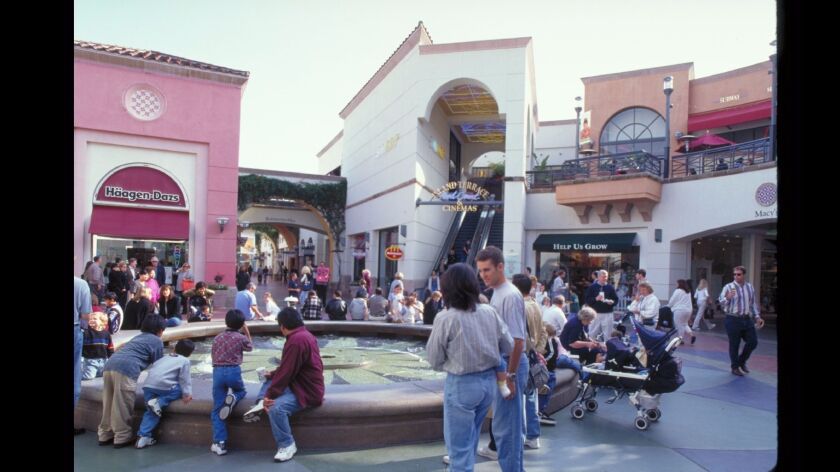 Debra Gunn Downing, executive director of marketing for Costa Mesa's South Coast Plaza — Fashion Island's chief peer that also is marking 50 years this year — said luxury centers need more than high-end retail to stay relevant. They need to stand out, and "there's more pressure today than ever before to create a point of difference," she said.
At South Coast Plaza, visitors can partake of buzzy dining concepts such as the Taiwanese soup-dumpling chain Din Tai Fung or the coming-soon Japanese ramen house Tsujita Artisan Noodle. There are limited-edition handbags from Versace, Kate Spade, Gucci and Roberto Cavalli sold only at the South Coast Plaza shops, and Disneyland pins available only at the concierge desks.
"A luxury center needs to be in touch with its shoppers. They want unique experiences that cannot be duplicated elsewhere or online," Gunn Downing said. "We have had great success with exclusive merchandise this year for our 50th anniversary. The high-end shopper desires beautiful pieces that are rare and with limited availability."
Moore said Fashion Island has always evolved. And all players in the retail and retail real estate industry must evolve quickly.
"Given the pace of technological change and digital influence on all consumers, our industry has been trying to find the balance of investments into digital, evolve the bricks and mortar footprint and experience and find the sweet spot for balancing online and offline for the consumer," he said.
That means the industry needs to be open-minded and attuned to trends and changing consumer behavior, Moore added.
"There is no easy formula or solution."
IF YOU GO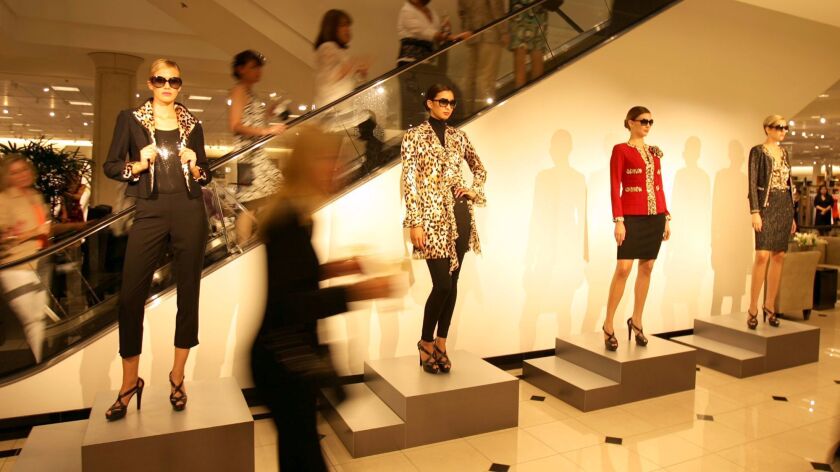 What: Fashion Island's 50th Birthday Bash
When: 2 to 6 p.m. Saturday
Where: Fashion Island courtyards and stores, 401 Newport Center Drive, Newport Beach
This customer appreciation event will feature live entertainment, treats, promotions and parties throughout the center. Newport Beach Mayor Kevin Muldoon's office will present a proclamation to commemorate the anniversary at 2 p.m. at the Neiman Marcus-Bloomingdale's courtyard.
Twitter: @Daily_PilotHD
---
All the latest on Orange County from Orange County.
Get our free TimesOC newsletter.
You may occasionally receive promotional content from the Daily Pilot.