Newport Beach Aviation Committee member steps down after confrontation with speaker at meeting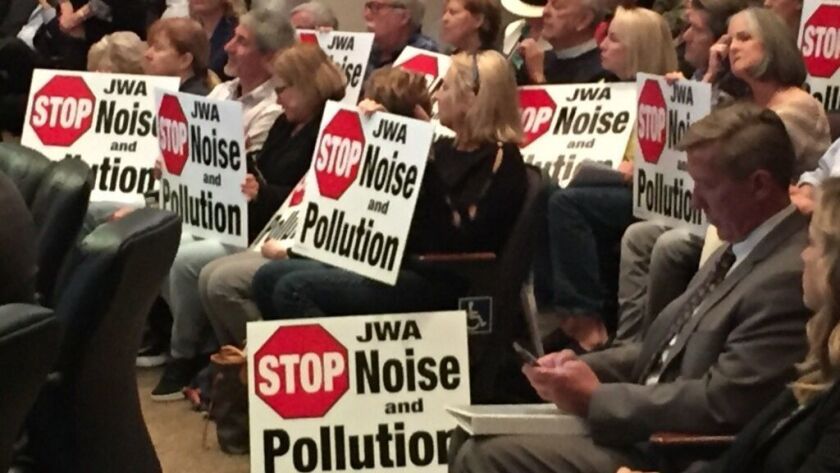 A longtime Newport Beach Aviation Committee member has resigned after having a verbal exchange with a resident minutes before the resident suffered a medical emergency in the committee meeting room.
Jim Dunlap submitted his resignation to City Councilman Jeff Herdman on Wednesday, two days after the Aviation Committee meeting that ended suddenly when the resident was stricken. Herdman had selected Dunlap as his district appointee to the 15-member committee.
"I agree that my membership on the committee would be counterproductive," Dunlap wrote in his resignation email.
His note did not elaborate, and he did not respond to a request for further comment.
Herdman, who chairs the Aviation Committee, reached out to Dunlap the morning after Tuesday's City Council meeting, in which the council approved Dunlap's application to remain on the panel. He had applied in April and the appointments were scheduled last week.
Herdman told Dunlap in an email that there had been much talk since Monday's committee meeting about his comments and that people "are concerned that you may be counterproductive to the mission that the city is on regarding JWA [John Wayne Airport] and its effect on the quality of life for the people of Newport Beach."
"Know that I do not join these people, Jim, in this way of thinking about you, but there is nothing I can do to change their minds," Herdman added.
Dunlap, a retired airline pilot who had been on the committee since 2006, pushed back Monday on public outcry over proposed changes to general aviation infrastructure at John Wayne Airport, and the resident responded with criticism about airport noise.
The general aviation plan — which could include the addition of a terminal for private jets — has brought a groundswell of opposition in Newport Beach, and Newport residents — especially those who live under the airport's departure path — have long been critical of airport operations and noise.
Resident Jim Mosher, who was at Monday's Aviation Committee meeting, said Dunlap was upset by the tumult over general aviation and said some opponents of the plan were spreading misinformation and not wanting to consider information contrary to their beliefs.
He singled out "Stop JWA expansion" yard signs that have popped up around town, saying proposed changes to general aviation would not involve expansion, Mosher said.
The resident, whose identity has not been confirmed, said he was responsible for posting some of the yard signs, and he challenged Dunlap's assertions. After he finished his comments, three other people in the audience told Dunlap he was "condescending," Mosher said.
The meeting was interrupted when audience members called out that the man was in physical distress. First responders arrived and the man is expected to recover, a city spokeswoman said.
Dunlap's aviation background includes a stint as a military pilot and a 32-year career as a commercial pilot with Western and Delta airlines. He also has served with the Airport Working Group of Orange County, a local advocacy organization.
In his resignation letter, he said he didn't know how the city should proceed with the airport issue given that aviation issues fall under the federal government's control.
"I do know there is no consensus in the county, or for that matter, the city on whether JWA is an asset or a liability," Dunlap wrote. "It's a problem I don't think Solomon could solve."
---
All the latest on Orange County from Orange County.
Get our free TimesOC newsletter.
You may occasionally receive promotional content from the Daily Pilot.