O.C. supervisors lean toward plan to add new JWA general aviation terminal while capping number of private jets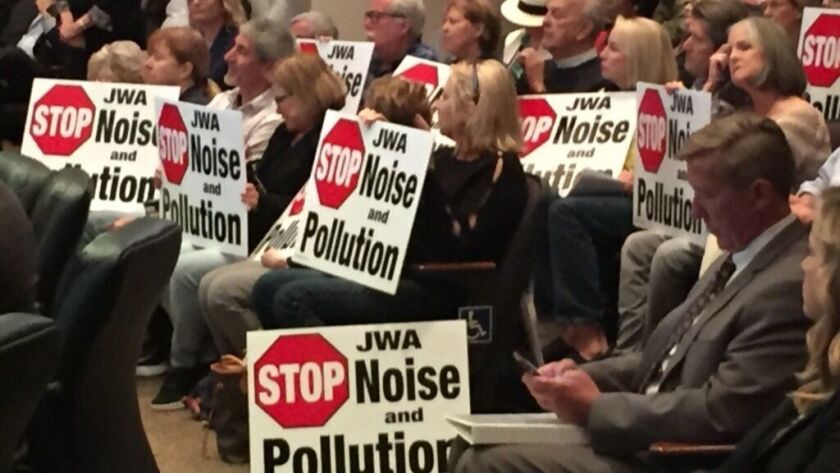 The Orange County Board of Supervisors is trying to compromise on potential changes to general aviation infrastructure at John Wayne Airport by melding amenities attractive to owners of business jets with limited jet activity amenable to noise-sensitive neighbors while preserving storage capacity for smaller planes.
The supervisors expressed preference Tuesday for a plan combining two options they were asked to consider for potential adoption. The plan would allow for a general aviation terminal while capping the number of private jets based at the airport.
After roughly five hours of discussion, including pleas from airport-adjacent residents worried about increased noise from private jets, the board stopped short of committing to the modified plan pending clarification from county and airport lawyers. The modified plan will return to the supervisors May 21.
Supervisor Andrew Do hashed out a compromise handwritten on the back of a note from Newport Beach-based advocacy group Airport Working Group of Orange County and displayed on a projector.
He suggested capping business jets based at JWA to 65 and smaller "light GA" planes to 339 single-engine and 35 multi-engine aircraft, while keeping the same number of support operators and increasing hangar space for light GA.
The county Airport Commission demurred last week on taking a position on potential updates because it said it wanted to maintain onsite storage space for smaller private planes that could be squeezed out by amenities for corporate jets.
The Airport Commission and the Board of Supervisors postponed votes on the matter in April after Newport Beach objected to what it considered the last-minute release of a key section of the project's environmental review.
The county, which owns and operates JWA, says updates would provide facilities to serve an increase in the number of private jets at the airport. Private jets fall outside the restrictions that JWA has operated under since 1985, when a Newport Beach-initiated settlement agreement set limits on noise levels, commercial departures, number of annual passengers and airport capital improvements.
Airport staff has recommended changes that would include a new general aviation terminal — the airport currently has terminals only for commercial service — and dedicated, fee-based customs screening for noncommercial international flights.
A total of four potential options feature a range of amenities, with all options including infrastructure updates such as buildings and airfield roads to comply with current Federal Aviation Administration standards. All proposed changes would stay within the airport's existing footprint.
Do said his hybrid is close to "keeping faith" with the Newport agreement.
Board Chairwoman Lisa Bartlett, however, persuaded the board to continue the item until its next meeting.
"We think we're close but we are not," she said.
Newport Beach City Councilman Jeff Herdman said county staff's preferred plan is an attempt to expand commercial operations to the benefit of a small group of users. He was referring to air taxis, some of which are considered general aviation though they provide a paid service.
He reminded the supervisors that the Newport City Council supports the most basic option — the one the council backed in March that would allow for adjustments required by the FAA but keep the frequency of private aircraft departures the same and not add a terminal for general aviation.
"The [airport staff's preferred plan] was not designed to serve the people of Orange County yet it will lead to long-term adverse impacts on the daily lives of thousands of your constituents as well as mine," said Herdman, who leads Newport's Aviation Committee.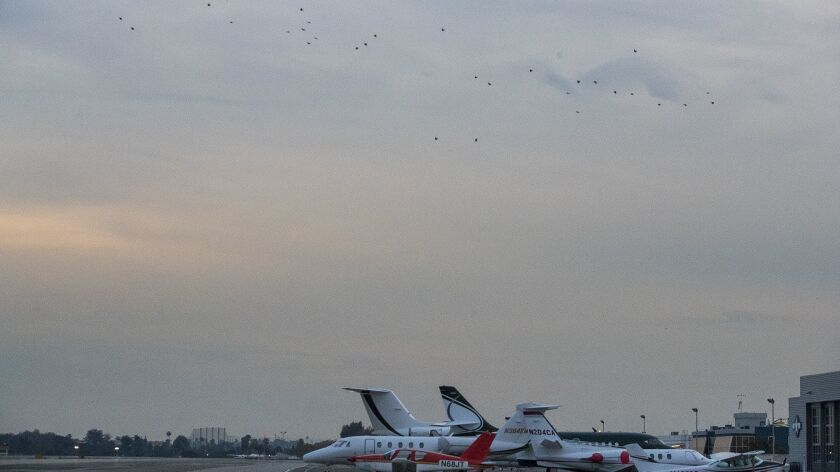 Katrina Foley, mayor of neighboring Costa Mesa, and former Huntington Beach mayor Keith Bohr told the supervisors they also support the basic plan.
"I've been in these bodies where you have a ton of people speak and oftentimes there's a loud vocal minority," said Bohr, who currently is on Huntington Beach's Jet Noise Commission, launched recently to focus primarily on noise linked to Long Beach Airport. "This is not the vocal minority."
Patricia Jantzen, who lives on Newport Beach's Balboa Island, said the supervisors would ruin the community if they approve JWA updates that she said are circumventions of the landmark 1985 settlement agreement, which she said should be amended to hold general aviation planes to the same standards as commercial carriers.
"We pay an incredible amount of money to live in this county. Money talks. We provide a lot of money for this county to operate," Jantzen said. "The property tax revenues will plummet and reflect huge losses because the property values will drop."
Treb Heining, a Newport resident and frequent international traveler who flies out of Los Angeles International Airport, didn't support any of the proposals. He said John Wayne Airport should be moved.
"I always marvel that we can be so small-minded here in Southern California in that we're trying to fit a square peg into a round hole over and over," he said. "LAX, Orange County airport all forced upon communities ... when other cities around the world do it so smart. They put their airports way far out."
Supervisor Michelle Steel, whose district includes Newport Beach, said she wants to modernize aging facilities but also consider quality of life for nearby residents. Her motion for the basic plan got a second from Supervisor Don Wagner for sake of discussion but failed to get a majority vote.
---
All the latest on Orange County from Orange County.
Get our free TimesOC newsletter.
You may occasionally receive promotional content from the Daily Pilot.