Laguna Beach updates budget for 2020-21 in light of a $7.4-million shortfall in revenue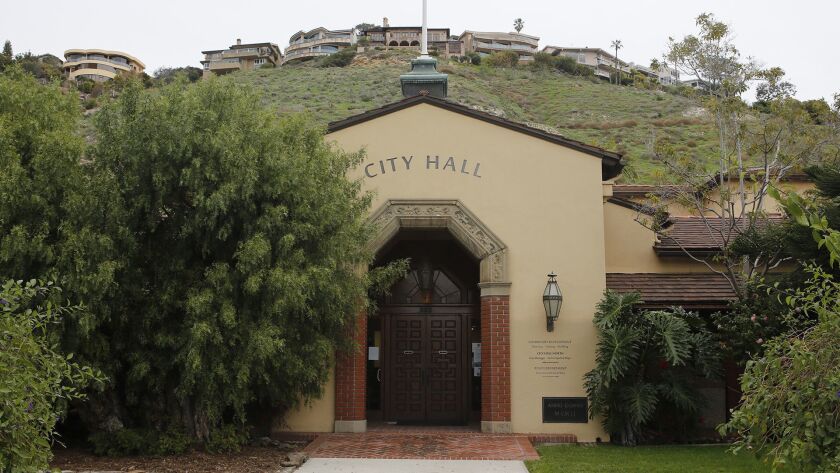 Ahead of what the city expected would be a $12-million loss in revenue, the Laguna Beach City Council made significant cutbacks to its budget in April in an effort to curtail the effects of COVID-19.
At the start of the pandemic, city staff predicted that the city would see significant changes in its transient occupancy tax and sales tax with hotel tax revenue to drop by $3.5 million, sales tax by $1.3 million and community development fees by $1.2 million less than initial budget estimates when the budgets for both the 2019-20 and 2020-21 fiscal year were adopted in June last year.
On Tuesday, city staff reported the revenue losses for the 2019-20 fiscal year was actually $7.4 million across all funds, including $3.5 million in the general fund. April projections initially saw a $6-million loss in the general fund.
Overall, all funds beat estimates. Property taxes came in $53,000 higher than expected and sales tax similarly beat its estimates by $200,000. The transient occupancy tax also beat estimates by $1.4 million and city departments saved more than $2.5 million.
City Manager John Pietig said that though the city is in a "bad" situation in comparison to pre-COVID, it is not as bad as staff believed it could have been earlier this year.
The Orange County Health Care Agency on Friday reported 22 new deaths and 282 new cases related to the coronavirus.
City staff said that current projections assume that the coronavirus pandemic wouldn't have further impacts on public health and require closure of businesses and services, but acknowledged that if such a situation should change that it will affect the city's finances.
"The uncertainty surrounding the spread of the coronavirus as businesses and schools reopen, the flu season, a potential vaccine, recession and pre-coronavirus pressures on retail make the remainder of the fiscal year nearly impossible to predict," staff said in a report prepared for the council meeting.
Up for consideration Tuesday was for the City Council to carry over revenue from the last fiscal year and subsequent appropriations thereof such as the setting aside of $1.5 million to balance the current fiscal year's budget without impacting the general fund reserve to preserve such funds for future downturns and economic recovery.
In addition, other actions taken Tuesday were the establishment of a CARES Act Assistance fund, addition of a systems analyst position to the Community Development department, authorization for a $30,000 contract to retain interim public works director Manuel Gomez and addition of a defensible space inspector.
All actions were approved unanimously.
The City Council also moved to fund the position for a defensible space inspector to the city's budget through the end of the current fiscal year, acknowledging wildfire concerns as 25 major blazes continue to burn up and down the state. Most of Laguna Beach is designated a severe fire hazard severity zone.
Mayor Pro Tem Steve Dicterow said that he felt it was important to move forward with hiring a defensible space inspector. Councilman Peter Blake agreed, adding that he felt the city needed to move forward with clearing dry brush and creating a plan.
"Not a plan that's wrapped around emotions and politics, but a plan that's actually wrapped around keeping us safe," Blake said. "With five of the six greatest fires in our history burning right now, we have to be looking at this."
Residents spoke in favor of the defensible space inspector and the systems analyst positions, complimenting city staff for how budget issues have been handled in light of the COVID-19 pandemic.
Gavin Curran, the city's director of administrative services, said that the next financial report will be scheduled for February. Discussions for next year's budget are set for May and June.
---
All the latest on Orange County from Orange County.
Get our free TimesOC newsletter.
You may occasionally receive promotional content from the Daily Pilot.