Orange County receives first shipments of COVID-19 vaccine and gives first doses
It's a light at the end of the tunnel for what has been a challenging year — the first doses of the Pfizer-BioNTech COVID-19 vaccine have arrived in Orange County.
On Wednesday, five staff members were selected from Providence St. Joseph's Hospital in Orange to receive the first vaccinations in Orange County from Pfizer-BioNTech. Jeremy Zoch, chief executive officer at St. Joseph Hospital of Orange, said the doses arrived just hours before a joint news conference at the hospital.
Each inoculation was streamed live and greeted with a round of applause.
"It's been a long road. A lot [of people] have worked really hard to get us to this point. [We're] very, very grateful to Pfizer and, soon, Moderna, for what they have done," said Erik Wexler, the chief executive for Providence's Southern California region. "Soon, we will be protecting all of our caregivers in our community and eradicating this horrific pandemic."
In attendance were Orange County Board of Supervisors Don Wagner and Doug Chaffee and Orange County Health Care Agency Director and Public Health Officer Dr. Clayton Chau in addition to hospital staff.
"On March 25, our county announced our first COVID death. Today, less than nine months after that tragic day, we administer a vaccine," Wagner said. "Now with the COVID vaccine not just on the horizon, but here in this room in a sub-freezing storage facility waiting to be distributed — we're poised to take the next step in responding to this pandemic."
To the outside world, COVID-19 statistics may be little more than numbers, but in Southern California's hospitals, conditions are rapidly deteriorating.
Chaffee described Wednesday as a "momentous day for all citizens of Orange County" and urged residents to continue wearing masks, practicing social distancing and washing their hands. Chaffee added that it will be some time before all citizens can be vaccinated.
Chau also called on residents to "not let [their] guards down" and to continue best practices to curb the spread of the virus.
"Most importantly as we are welcoming in the winter holiday celebrations and the new year, please do not — and let me repeat — do not mix households and gather," Chau said. "It is so important as you know our numbers in our country, in our state, in our county have been rising so high. Today, we celebrate a wonderful milestone and the significance cannot be overstated."
Michael Lowman, a nurse at Providence St. Joseph's Hospital, was the first nurse vaccinated during the news conference.
As COVID-19 cases soar, Orange County will deploy mobile field hospitals to relieve some of the stress on the region's healthcare system.
Dr. Paul Sheikewitz, who works in the emergency care center and was vaccinated Wednesday, said the greatest challenge has been the burden of the number of patients versus the number of staff that are able to take care of the patients coming in.
"Providence St. Joseph's has done a wonderful job in trying to expand our capacity, I would say, to the limit. We're probably at that limit right now, but we're doing the best we can," Sheikewitz said. "This is also a challenge among each individual healthcare worker and employee — that challenge is to not get the disease."
"It's been very risky," Sheikewitz added. "We use [personal protective equipment]. We're in the rooms constantly and, quite frankly, it's miraculous that so few people have gotten it and that's why we're so grateful to have this vaccine today."
Hospitals around Orange County have received or are receiving doses of the vaccine this week, including Hoag Memorial Hospital Presbyterian in Newport Beach, the UCI Medical Center in Orange and Mission Hospital in Laguna Beach and Mission Viejo.
The state previously allocated about 327,000 doses and is expected to receive at least 1 million more doses of the COVID-19 vaccine by the end of the month between the additional 393,900 doses of the Pfizer-BioNTech vaccine and the 672,000 doses of the Moderna vaccine, if it receives U.S. authorization as expected.
The vaccines will do little to stem the new infections flooding California. Initial supplies will be steered toward healthcare workers and residents of long-term care facilities.
The vaccines come at a time when cases grow by the thousands and Orange County health officials announced Tuesday that it would be deploying mobile field hospitals to Fountain Valley Regional Hospital, St. Jude Medical Center and UCI Medical Center as hospitals are overwhelmed with patients.
On Wednesday, the Orange County Health Care Agency reported 3,231 new cases and 23 deaths. The total number of cases in the county is now at 111,168. Hospitalizations at area hospitals are at 1,486 and 319 cases are in intensive care units.
Data shows just 9.5% of adult beds in ICUs are available.
An estimated 68,773 have recovered.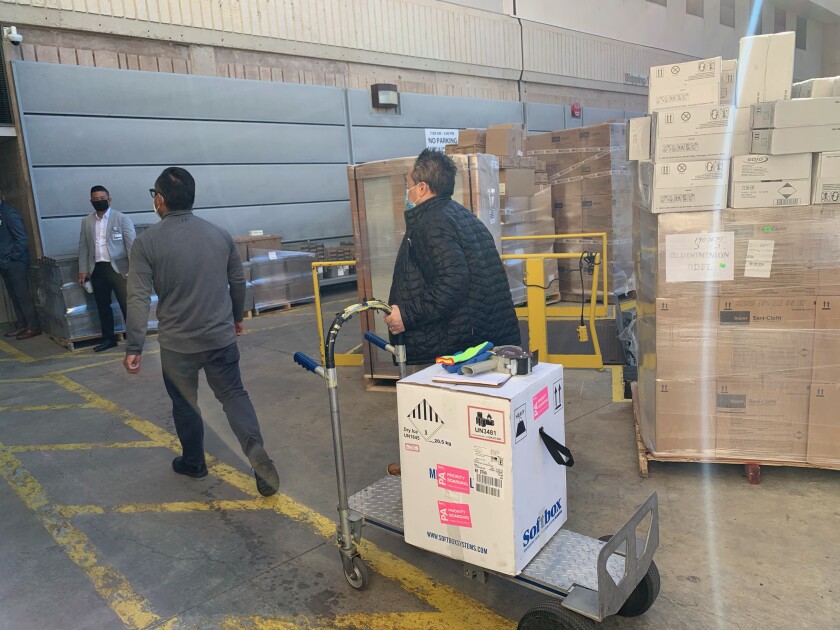 Here are the latest cumulative coronavirus case counts and COVID-19 deaths for select cities in Orange County:
Santa Ana: 21,983 cases; 347 deaths
Anaheim: 18,865 cases; 368 deaths
Huntington Beach: 4,515 cases; 94 deaths
Costa Mesa: 3,666 cases; 49 deaths
Irvine: 4,008 cases; 18 deaths
Newport Beach: 1,781 cases; 28 deaths
Fountain Valley: 1,369 cases; 23 deaths
Laguna Beach: 407 cases; fewer than five deaths
Here are the case counts by age group, followed by deaths:
0 to 17: 10,113 cases; one death
18 to 24: 15,987 cases; four deaths
25 to 34: 23,384 cases; 24 deaths
35 to 44: 17,594 cases; 42 deaths
45 to 54: 17,903 cases; 127 deaths
55 to 64: 13,445 cases; 237 deaths
65 to 74: 6,785 cases; 334 deaths
75 to 84: 3,460 cases; 378 deaths
85 and older: 2,433 cases; 571 deaths
The latest maps and charts on the spread of COVID-19 in Orange County, including cases, deaths, closures and restrictions.
Updated figures are posted daily at occovid19.ochealthinfo.com/coronavirus-in-oc. For information on getting tested, visit occovid19.ochealthinfo.com/covid-19-testing.
---
All the latest on Orange County from Orange County.
Get our free TimesOC newsletter.
You may occasionally receive promotional content from the Daily Pilot.