'We can be the change': Newport Harbor High meeting aims to build togetherness from outrage over Nazi symbols at student party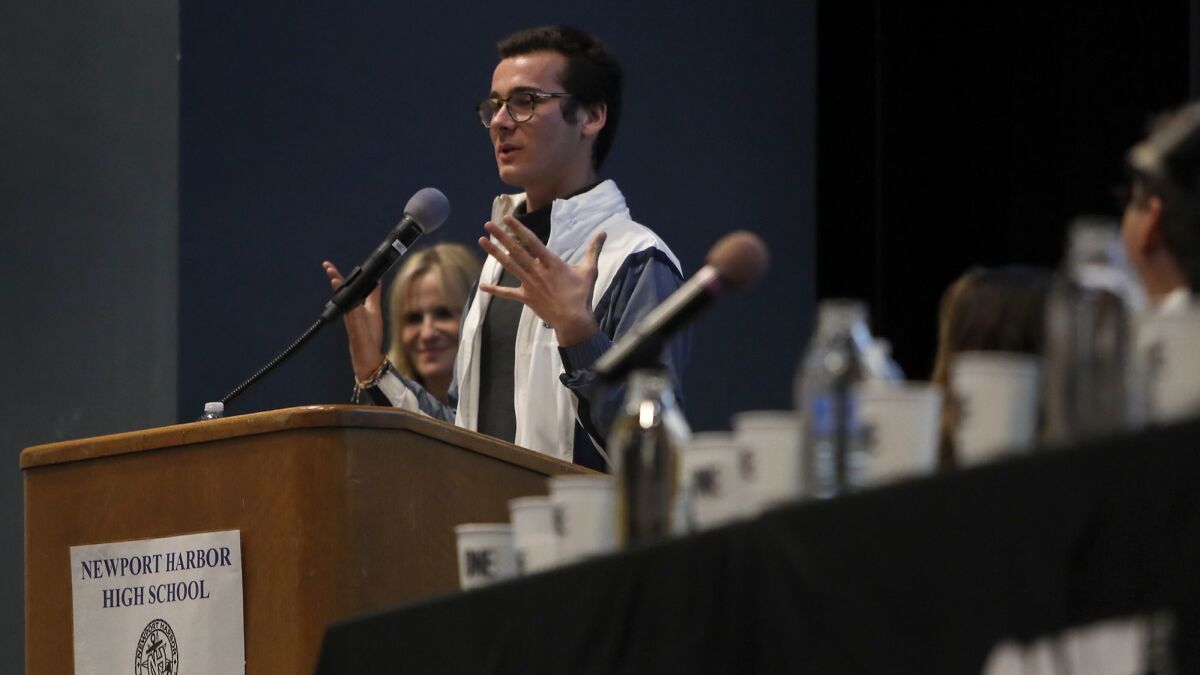 In the theater where a different community forum was held last week, the nonprofit One Recovery presented a panel at Newport Harbor High School on Wednesday night in response to a recent off-campus party in Costa Mesa where area high school students were photographed flashing Nazi salutes over a makeshift swastika.
Wednesday's meeting focused neither on the party-goers nor the hurt and outrage the incident sparked. Instead, it focused on the good that could come out of it — a change in culture, mirroring sentiments shared at forums last week at Newport Harbor and Corona del Mar high schools.
"Although the recent events definitely prompted this awareness panel … there's a bigger issue going on," said Chelsea Reeves, director of culture development for One Recovery. The organization says it is "dedicated to the inspiration of young people, their loved ones and conscious members of the community looking to raise their awareness" through meetings, speakers and events.
One Recovery has a program called One-On-Campus that works with the Newport-Mesa Unified School District to take in students that may be suspended and grants them the option of attending eight meetings with their parents.
The district has not publicly disclosed any disciplinary actions for students involved in the party, which included teenagers from Newport Harbor, Costa Mesa and Estancia high schools.
One Recovery's approach is restorative justice, which emphasizes the rehabilitation of offenders through meetings with victims and others in the affected community.
"One-On-Campus believes when one person can connect with another person with the lens of love and inspiration, then there's one," Reeves said. "We're all in this together and let's figure out how to navigate this life and inspire one another and create a change."
The program was piloted in 2015 at Corona del Mar High School, where the nonprofit has a drop-in center. It also has a location at Ensign Intermediate School in Newport Beach.
One Recovery founder Lynne Pedersen said the hope is for Newport Harbor to also have a location, if interest is high.
"We can be the change," Pedersen said. "When one person changes, a group can change. Where a group can change, a campus can change. Where a campus culture changes, a community changes."
Though students typically are referred to the program, others, such as Corona del Mar seniors Johnny Lujan and April Clark, went willingly.
Lujan, who moved from Pennsylvania last year, said he was "more on the feminine side" and in the third grade was separated from jump-roping with girls and told to play with other boys. After moving, he said, he felt he was still in the "Pennsylvania method" — "Let me be who they want me to be."
But he came to accept himself because of the organization's support, he said.
Clark, whom Lujan invited to One, said the organization is "another family" to her and that she was thankful to join before she graduated.
In addition to student speakers from Corona del Mar, the group Wednesday night brought a panel of speakers on everything from social media to LGBTQ education. Parents and students had the opportunity to ask questions.
"No single person has the right answer," Reeves said. "We're all one and figuring out how to navigate through this life together, and rather than focus on the hate and what's been done wrong — and there is wrong, we're not taking from that — it's about how we can rise from this."
---
All the latest on Orange County from Orange County.
Get our free TimesOC newsletter.
You may occasionally receive promotional content from the Daily Pilot.