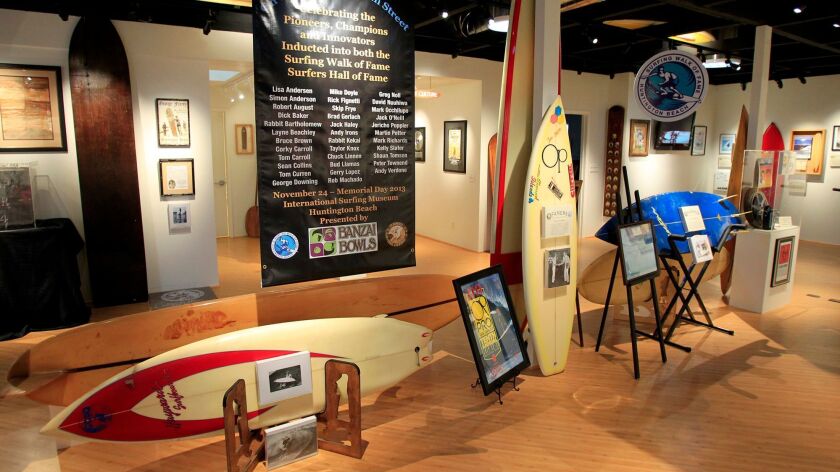 With multiple housing lawsuits involving the state, hurdles in establishing a homeless shelter, the study of public art and cultural spaces and other issues, developments in the past year in Huntington Beach will help shape Surf City's future identity.
Here are some of Huntington Beach's top stories of 2019:
Surf museum operation going out to bid
Community groups and pillars of the surfing community will have a chance to craft a vision for the future of Huntington Beach's surfing museum now that the city has decided to put the management of one of the city's most iconic cultural spaces out to bid.
The move in December came after months of outcry from residents and members of the surfing community who protested a proposed change of operators at City Council meetings in October and November.
Emotions flared when city staff and Visit Huntington Beach — the local tourism bureau that leases the museum property at 411 Olive Ave. from the city — put lease agreements on the Oct. 7 council agenda that would replace the current subtenant, the nonprofit Huntington Beach International Surfing Museum, as the space's operator and give a five-year sublease to the San Clemente-based Surfing Heritage and Culture Center.
Residents, museum supporters and volunteers expressed concern about potentially losing local management of the museum.
Officials have said they have no intention of moving the museum outside of Huntington Beach but want to see it run more professionally.
City Manager Oliver Chi said this month that a request for proposals from possible operators is expected to be released shortly after the new year.

City continues court battle over 'sanctuary state' law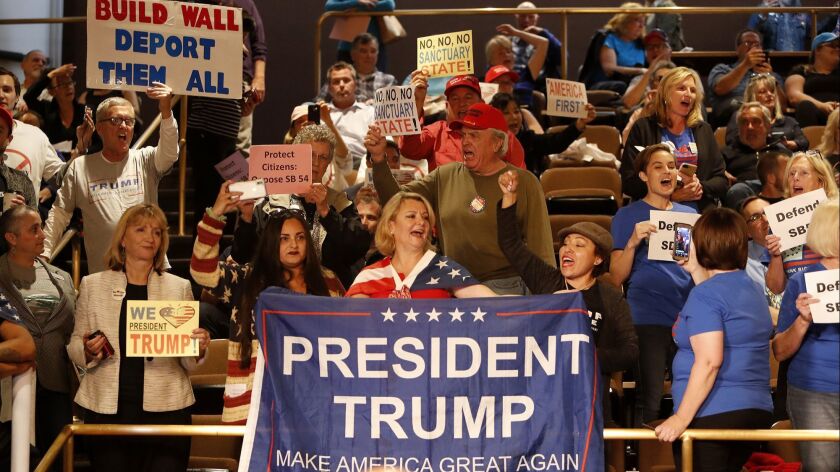 Attorneys for Huntington Beach argued on Oct. 23 in front of a panel of appellate judges, along with attorneys for California and community groups, over a lower-court ruling last year that determined a "sanctuary state" immigration law infringed on Huntington Beach's rights as a charter city.
City Attorney Michael Gates said the California Constitution bars state legislators from imposing prohibitions on the city's Police Department to force compliance with Senate Bill 54, officially called the California Values Act, which in many cases prohibits state and local police agencies from notifying federal officials about the impending release of immigrants in custody who may be deported.
Orange County Superior Court Judge James Crandall determined in September 2018 that the law is unconstitutional as it applies to charter cities, which are run by a charter adopted by local voters. The city sued to challenge SB 54 earlier that year.
The ruling made Huntington Beach exempt from complying with SB 54 and made it the first city to successfully challenge the law in court.
The state attorney general's office filed a notice of appeal in November 2018. In January, the American Civil Liberties Union filed an appeal on behalf of residents, workers and community organizations in Huntington Beach and Los Alamitos.
The state 4th District Court of Appeal in Santa Ana will return an opinion on the appeals by Jan. 21, according to court records.
Site for city homeless shelter still undetermined
Huntington Beach is still without a clear path for designating a site for a homeless shelter after hopscotching among potential locations that have been met with public outcry and threats of litigation.
In October, the property search expanded beyond city limits when officials announced they might explore regional options.
The city said it would consider a portion of a site at 3175 Airway Ave. in Costa Mesa that the latter city purchased in March with the intent of using it as a long-term homeless shelter.
Huntington's expanded considerations came after multiple potential sites in Surf City fell through.
The City Council on Oct. 21 green-lighted the sale of 15311 Pipeline Lane — a site the city bought for $2.85 million in April. The property was earmarked for a 75- to 90-bed shelter, but the city was later sued by a group of residents, other property owners and businesses because they claimed the site could be used only for industrial purposes. The city took a nearly $80,000 loss on the Pipeline transaction.
Woman convicted of murder in DUI crash that killed three teens
A San Clemente woman was found guilty of murder in a DUI crash that killed three Las Vegas teenagers in Huntington Beach in 2018.
After less than an hour of deliberations, an Orange County Superior Court jury convicted Bani Duarte on Oct. 1 of three counts of second-degree murder and one count of driving under the influence causing great bodily injury.
Shortly after 1 a.m. March 29, 2018, a Toyota Corolla containing the teenagers — who were in Huntington Beach for spring break — was struck by Duarte's Hyundai Sonata while stopped at a red light at Pacific Coast Highway and Magnolia Street, authorities said. The Toyota was pushed into a pole and caught fire.
Brooke Hawley, 17, Dylan Mack, 18, and A.J. Rossi, 17, were killed. A fourth occupant, Alexis Vargas, was severely injured.
Duarte could face a sentence of 51 years to life in state prison, according to prosecutors. She is scheduled back in court in January.
Huntington Beach gets new city manager
Oliver Chi joined Huntington Beach as its new city manager on Sept. 30.
On Aug. 5, the City Council voted unanimously to hire Chi, who at the time was Monrovia's city manager, after considering 90 candidates. His four-year contract comes with an annual starting salary of $260,000.
The council promoted longtime city staff member Travis Hopkins to assistant city manager on Dec. 16.
Dust and odors spark concerns about Ascon cleanup
Cleanup efforts at the site of the former Ascon Landfill came to a temporary halt in June after residents of southeast Huntington Beach and Edison High School families lodged hundreds of complaints and made their concerns known to city and state officials about potential problems related to dust and odors from the 38-acre property.
Community hearings were scheduled after complaints ballooned beginning in the spring.
On June 6, the company shut down excavation efforts while project managers implemented "enhanced mitigation measures" to comply with the state Department of Toxic Substances Control.
That same month, Huntington Beach Union High School District administrators ordered comprehensive air quality reports at Edison High after hearing concerns about student health and safety.
Summer school classes and other on-campus activities proceeded as planned after independent testing determined air there was safe.
The site, which served as a landfill from 1938 to 1984, is in the middle of an 18-month cleanup that is expected to continue through 2020.
On July 9, project managers said they would increase the onsite monitoring frequency to 24 hours a day for chemicals that might travel in dust or vapor and pledged to expand an air-monitoring program beyond the project site to include Edison High, Eader Elementary, Edison Park, Brenton Lane and Rhodesia Drive.
Project managers maintain that air monitoring has not found any chemicals above levels that present a public health concern. But residents continue to press for more-comprehensive testing and protective measures.
Surf City shapes its image as art city
City staff has worked for more than a year on a comprehensive public art plan to help steer and streamline the city's decision-making related to public art projects. The goal is to outline procedures for management, funding, public engagement and site selection for future works in the city.
The City Council voted in July to dissolve the Allied Arts Board, saying there are other local groups with the same mission.
A year after a proposed mural design for a prominent downtown building on Main Street — depicting an approximately 20-foot-tall surfer riding a wave next to the Ruby's Diner on the Huntington Beach Pier — drew mixed responses, the city Design Review Board unanimously voted not to recommend the design, saying it didn't fit city guidelines or include public input.
The Public Art Alliance later solicited public input for a new design plan for the massive space that would contain six 20-by-12-foot panels of artwork.
City staff distributed a survey on what kinds of public art residents want to see.
The master plan is expected to be presented to the City Council early next year.
City and state battle over housing
Huntington Beach took the state to task over housing laws that city officials say infringe on local control.
On Jan. 17, City Attorney Michael Gates sued over Senate Bill 35, which calls for cities that are behind on their housing goals to streamline certain housing projects by eliminating some steps in the approval process.
Less than week later, the state answered with its own lawsuit, accusing Huntington Beach of defying a state law that requires cities and counties to set aside sufficient land for housing development and claiming it had tried to work with the city over four years.
In February, Gates filed lawsuits challenging Senate Bill 166, which governs local land use and zoning by requiring cities and counties to identify and provide sites for lower- and moderate-income housing within 180 days if they are out of compliance with the state's housing laws. Gates argued SB 166 strips the city's authority as a charter city over local zoning by immediately forcing it into compliance.
In August, a Los Angeles County Superior Court judge denied Huntington Beach's request for the state's case to be dismissed.
In September, Gates announced that two more lawsuits were in the works to challenge Senate Bill 1333 and Assembly Bill 101.
Before SB 1333, charter cities were allowed to opt out of some state housing mandates as long as they had a planning commission, complied with a general housing plan, reported to the state Department of Housing and Community Development and provided low- and moderate-income housing in the coastal zone. As of September 2018, the new bill requires all 121 charter cities to comply with state housing laws.
AB 101 requires the state attorney general to request a court order telling any cities in violation, including charter cities, to bring their housing plans into compliance with specified provisions. The bill also requires a status conference with cities that haven't complied with the order. Cities that continue to defy the order could be fined.
The housing-related litigation is continuing.
AES completes construction of new power plant
AES' new Huntington Beach power plant has completed construction and commissioning phases.
In an update this week, AES said performance testing — the last step before the new plant goes into operation — has begun. That is expected to take two to three weeks, AES said.
The company said "minor construction work and fine-tuning" may continue until the plant begins operating its generators in early 2020.
The new plant is replacing the 1950s-era plant at 21730 Newland St. with a modernized one that will use air instead of sea water for cooling, among other updates.
One of the existing plant's two operating units is scheduled to be retired Tuesday, AES said. Two others are already out of commission. The last operating unit is slated to be retired at the end of 2020.
In November, the California Public Utilities Commission recommended extending the unit's operating life for up to three years. The State Water Resources Control Board will review the recommendation early next year.
---