Donald Trump campaigns in Florida and Ohio. Hillary Clinton raises money in San Francisco.
Reporting from San Francisco
Hillary Clinton's advice for coping with a negative campaign: Watch cat GIFs
Don't boo, GIF!
That's Hillary Clinton's digitally inspired take on one of President Obama's favorite edicts to supporters when they jeer their political opponents -- "Don't boo, vote!"
Speaking at a fundraiser in San Francisco on Thursday, the Democratic presidential nominee reflected on the starkly negative turn of the campaign's final month.
"It makes you want to turn off the news. It makes you want to unplug the Internet or just look at cat GIFs," she said. "Believe me, I get it. In the last few weeks I've watched a lot of cats do a lot of weird and interesting things."
But Clinton urged supporters not to succumb to the temptation to tune out the campaign and stay away from the polls on election day.
"We have a job to do, and it'll be good for people and for cats," she said. "We need to demonstrate that we have a hopeful, positive, unifying vision for our country in the face of all this ugly [rhetoric]."
Clinton made no specific reference to new allegations that GOP nominee Donald Trump inappropriately touched women against their will. But the "whole world has heard Trump brag about how he mistreats women," she said. 
"The disturbing stories just keep coming, but it's more than just the way he degrades women, as horrible as that is," she added. "He has attacked immigrants, African Americans, Latinos, people with disabilities, POWs, Muslims, and our military, which he's called a disaster. There's hardly any part of America that he's not targeted."
For those needing a break from the news, here's a cat GIF to get you started: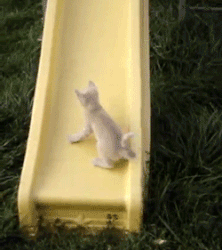 Latest updates
By the numbers
How does Clinton or Trump get to 270 electoral votes? Play with our map.
Find out which Republicans support Donald Trump
Copyright © 2017, Los Angeles Times