Welcome to a special edition of Essential Politics, our live feed from the California Republican Party convention in Burlingame. Here's a quick glance at what happened at the weekend event.
Make sure you're following us on Twitter and keep an eye on the latimespolitics Snapchat account for a behind-the-scenes look at the convention.
For more on California politics subscribe to our free daily newsletter and the California Politics Podcast.
Most seats empty when Republican Senate candidates take stage at state convention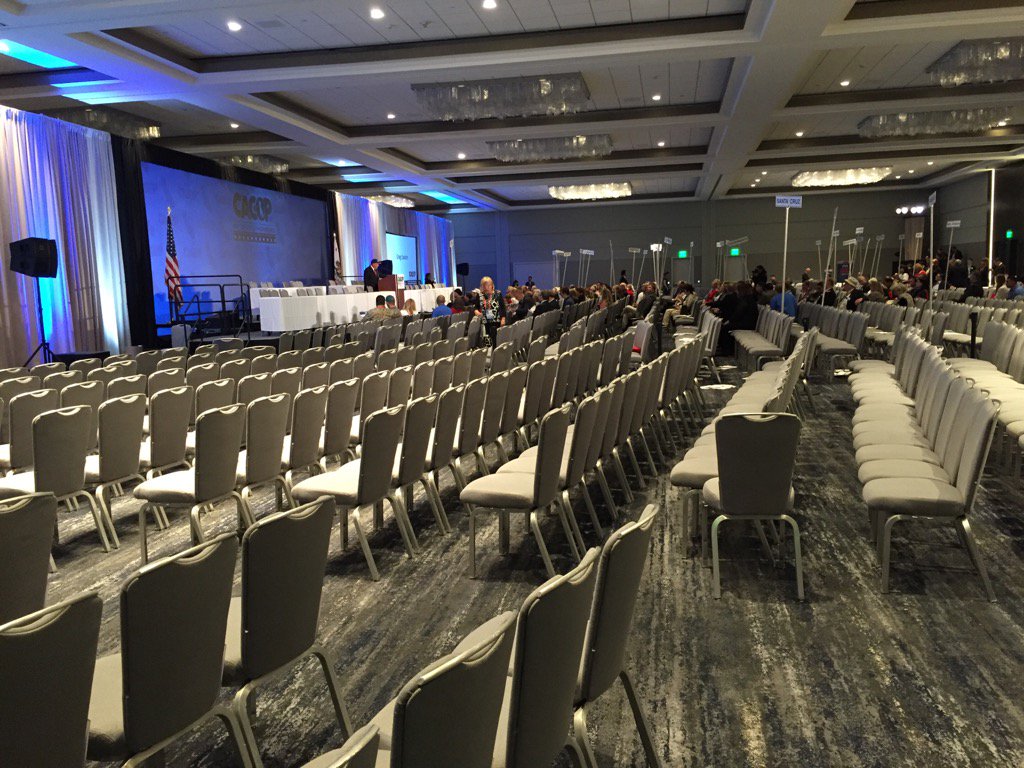 California Republicans running for the U.S. Senate have struggled to catch the eye of voters consumed by the wild race for the GOP presidential nomination, and it wasn't any easier for them at this weekend's state Republican Party convention.
The three-day event drew an at-capacity crowd — as well as throngs of protesters and reporters — to hear presidential contenders Donald Trump, Texas Sen. Ted Cruz and Ohio Gov. John Kasich. The three were given prime speaking slots to address the state GOP's full delegation.
The crew of Republican Senate candidates, by contrast, were given eight minutes each to speak to delegates on Sunday afternoon, the final event of the day.
By the time they took the stage, the hotel ballroom that hours ago held hundreds had thinned out to about 60 people.
Tom Del Beccaro, one of the top Republicans running, tried to put a positive spin on the tough task of following Trump, Cruz and Kasich this weekend.  Del Beccaro said he worked the hallways and ballrooms throughout the three-day convention, signing up volunteers for his campaign and appealing for support.
"Obviously, they have been the main story," Del Beccaro said of the presidential candidates. "But the increased enthusiasm brought more people here, so it was an overall plus."
GOP rival George "Duf" Sundheim held a "Tweet up with Duf" event Saturday night. Republican Ron Unz, who championed a 1998 initiative to end bilingual education, plastered the lobbies with deep-green "Keep English-Vote Ron Unz" signs and mingled with delegates.
Of the 12 Republicans running for Senate, 10 spoke on Sunday.
Longshot contender Karen Roseberry, a substitute teacher from the Antelope Valley, took that opportunity to lash out at the Republican Party for its "half-baked" efforts in California's U.S. Senate race.
"We've checked out," she told the small crowd.
During his short speech, Del Beccaro emphasized his support for a new federal "flat tax" and his plan to help the U.S. economy grow. Sundheim said he would help bring respect back to America after what he called the failed foreign policy of the Obama administration. Unz highlighted his successful effort to limit bilingual instruction in public schools.
The top Democrats in the race, Atty. Gen. Kamala Harris and Rep. Loretta Sanchez of Santa Ana, lead the Republicans in the race by a wide margin, according to a recent Field poll. The survey found that Harris had support from 24% of likely primary voters, and Sanchez was backed by 14%. Among the top three Republicans, Unz had 5%, Del Beccaro came in at 4% and Sundheim had 2%.
Close to half of those polled said they were undecided.
Richard Alvarez, a Republican delegate from San Diego County, fears that none of the Republicans will be on the ballot in November. Under California's "jungle primary" rules, the two candidates who receive the most votes in the June 7 primary will advance to the November general election, even if they belong to the same party.
"There are too many Republicans running. They're going to split the vote," Alvarez said. "That's not good."
Richard Marshall, chairman of the Siskiyou County Republican Central Committee, praised Sundheim for being the only candidate who traveled all the way up to Yreka to campaign, but remains undecided.
"We need to obviously have a candidate who can hopefully can win in a Democrat-slanted state," Marshall said. "I don't know who that is right now."
Republicans say no to legalized pot, condoms for porn actors and a cigarette tax hike
The California Republican Party stuck mostly to its conservative roots Sunday, opposing proposed ballot initiatives to legalize pot, increase cigarette taxes and require background checks for people buying ammunition.
Those were among the slate of initiatives expected to appear on the November ballot that Republicans considered Sunday at the party's spring convention in Burlingame.
The only mild surprise was the party's support for a $9-billion school bond measure which had faced opposition from some fiscal conservatives. Democratic Gov. Jerry Brown also opposes the measure.
The measure would provide $9 billion in bonds for building and upgrading K-12 facilities, and includes $2 billion for community college projects.
The decision to support the measure passed on a close, hotly contested vote among GOP delegates.
Among the measures opposed by the party:
Among those that won party support:
Reporting from burlingame
Ralph Reed to California Republicans: Presidential primary wounds will heal
On the final day of the California Republican Party convention, evangelical leader Ralph Reed told a breakfast gathering that the rancor of this GOP presidential primary won't cause backers of losing candidates to stay home in November.
"A voter who's with you in the primary is going to vote for you in the general [election]," he said on party allegiance.
"It's never true. They get over it, you know."
Reed, the one-time leader of the politically powerful Christian Coalition, now runs the Faith and Freedom Coalition. The social welfare nonprofit, he said, is "strictly neutral" during the Republican primary campaign.
In his remarks to a crowd of a few dozen Republican convention attendees Sunday morning, Reed criticized — but cautiously — the state party's record on grassroots outreach.
"You can't go out and just find a self-funder who's going to write a big check," he told the group.
"Our job is to persuade, not just to preach, not just to lecture, not just to say, 'You're wrong and we're right.' We have to speak in a way so that our speech, as the book of Proverbs says, is seasoned with grace."
Reed then admitted to the crowd what it probably already knew: That hasn't exactly been the tone of this presidential primary.
As he mingled with the audience afterward, Reed could be heard praising both Texas Sen. Ted Cruz and Ohio Gov. John Kasich. So what about Donald Trump?
"Trump's a friend," he said to reporters. "He's pro-life, he believes marriage should be defined as a man and a woman, he's a strong supporter of Israel."
And he disagreed that Trump's rhetoric on illegal immigration could prove to be a problem with Latino voters.
"When you go the Hispanics and say, 'I believe in the rule of law,' that doesn't cost you the Hispanic vote, as long as you make it clear that your vision for the future of the country includes them."
State GOP extends term limits for party chairman
The California Republican Party on Sunday voted to extend the term limits for its current chairman, Jim Brulte.
The change makes Brulte eligible to serve two additional two-year terms.
Brulte is credited with helping turn around the party's finances and launching a rebuilding process to make the GOP politically relevant again in California.
"We're on the road to recovery," Michael Osborn, chairman of the Ventura County Republican Party, a prime supporter of the change. "He has a plan and vision that gets us where we need to be."
Republican delegates at the party's spring convention overwhelmingly passed the measure. Previously, chairs of the party were limited to two terms.
The change was written in a way to make it apply only to Brulte, so it will not affect future party chiefs.
Brulte, a former state Senate Republican leader from Rancho Cucamonga, took over as chairman in 2013 at a time when the party was in disarray and in massive debt. He was reelected in 2015.
Reporting from burlingame
With her early reveal as running mate, Fiorina says she 'checked the box for Ted Cruz'
Carly Fiorina took to her new role as Ted Cruz's would-be running mate on Saturday, lashing out at his rivals and defending him from critics.
Fiorina, who ended her presidential run in February after losing badly in Iowa and New Hampshire, urged Ohio Gov. John Kasich to exit the presidential race.
"I suspended my presidential campaign because there was no path to victory. I actually wish John Kasich would get the memo, because you see if you lose 49 out of 50 states, you will not be the nominee," Fiorina told a couple hundred people at the dinner meeting of the California Republican Party convention. "It isn't going to happen. Here in the state of California, like in the state of Indiana, a vote for John Kasich is a vote for Donald Trump."
Fiorina flew in from Indiana — which holds its primary Tuesday — for her brief remarks in front of a few hundred people before returning to the Hoosier State. It was her first appearance in front of California Republicans since she was their 2010 Senate nominee and lost to Barbara Boxer by 10 points. 
She barely mentioned that race, but noted that her name was still on the presidential primary ballot in Virginia's March 1 primary, and that she hesitated when she saw her name. 
"But then I thought, why did I run? I ran because we need a fighter, I ran because we need a constitutional conservative, and I checked the box for Ted Cruz," Fiorina said.
She met with him a week or so later and decided to endorse him. Seven weeks later, Cruz picked Fiorina as his would-be running mate. During their time together on the campaign trail, Fiorina said she admired Cruz, viewing him as a husband, a father to two young daughters and a friend to people such as Utah Sen. Mike Lee. 
"Say, I'd rather have a friend like Mike Lee than John Boehner," Fiorina said, poking at the former House speaker, who called Cruz "Lucifer in the flesh" earlier in the week.
Boehner is among many Republicans in Washington who do not have fond feelings for Cruz. Fiorina pointed to such critics as proof that Cruz would upend the nation's capital.
"As someone who's challenged the status quo all my life, that's how you go from a secretary to a CEO — you have to challenge the system," Fiorina said. "You do more than ruffle feathers, you do more than rock the boat. You make enemies. It is the price of leadership."
Reporting from burlingame
California Republican Party continues its climb back to fiscal stability
As the California Repuiblican Party's spring convention heads into the home stretch of the three-day weekend, it's worth pointing out just how far the organization has come in balancing the books.
State campaign finance reports filed Thursday show the party has raised more than $2.5 million this year, with more than a third of that money coming in over the last month.
Better yet for the GOP faithful, the party reported $4.5 million cash on hand. By comparison, the state party had only about $155,000 in cash at end of 2012 — about three months before Jim Brulte, a former GOP legislative leader, was elected chairman. This weekend, the party may modify its rules to allow Brulte to seek another term as chairman.
Even so, Republicans continue to be outpaced by Democrats. In its new campaign filing, the California Democratic Party reported raising $8.7 million in the first few months of 2016 and had a whopping $15.9 million in cash on hand.
The new reports also detail a bit of what GOP leaders had to shell out for the weekend convention. The party reported a $100,000 deposit to the Hyatt Regency Burlingame, site of the event. Party leaders also paid a few thousand dollars to vendors for logistics help for the weekend.
The smallest pre-convention payment that was easily identifiable: security services. No doubt the amount of that budget item will go up after Friday's tense standoff with protesters who showed up to welcome Donald Trump.
Republicans leaning against ballot measure to repeal English-only education law
An influential Republican Party committee came out in opposition to a November state ballot measure that would repeal key parts of Proposition 227, the 1998 law that restricted bilingual education in California by requiring school instruction in English.
The panel also opposed an initiative to require actors in adult films to use condoms, but came out in support of a $9-billion bond measure for school construction.
The party's initiatives committee, led by its chairman, Republican donor Charles Munger Jr., sorts through ballot measures expected to be on the June and November ballots to recommend whether the state GOP should support, oppose or remain neutral on the measures.
Those recommendations will come up for a vote Sunday before the full delegation attending the California Republican Party convention. 
Copyright © 2018, Los Angeles Times