The U.S. men's national soccer team got an early score from Michael Bradley while Mexico answered halfway through the first half on a free kick by Carlos Vela on Sunday night at Estadio Azteca in Mexico City.
Reporting from Mexico City
U.S. holds on and earns a tie in Mexico City
 It was hardly a game befitting a tense and historic rivalry.
For long stretches the U.S. didn't try to score. And for even longer ones, Mexico was unable to. So, fittingly, Sunday's World Cup qualifier at Estadio Azteca ended in a cloudburst with the score tied 1-1.
And while that was a result that satisfied neither side, it was also one that didn't disappoint either team.
"We'll take our point. Points are hard to come by here," said U.S. captain Michael Bradley, who scored the only American goal in the sixth minute.
"They had one or two chances. We had one or two chances," said U.S. goalkeeper Brad Guzan, who is unbeaten in two starts at Azteca. "For us to come down here and take a point, it's not the worst result in the world."
The point, in fact, is the eighth for the U.S. in its last four World Cup qualifiers, equaling Costa Rica for second-best, behind Mexico, with four games remaining in the CONCACAF tournament.
Entering March, the U.S. was winless, pointless and in last place.
"I feel very good with where we are," U.S. coach Bruce Arena said. "We made up some ground,"
The tie also leaves the U.S. unbeaten in seven games under Arena and unbeaten in Mexico City since 2009.
Mexico, meanwhile, remained unbeaten through six qualifiers and extended its lead to six points over the U.S. and Costa Rica, virtually guaranteeing it will earn one of CONCACAF's three automatic berths in next summer's World Cup.
But to earn the tie Mexico had to overcome a surprise start that saw Bradley take advantage of some video research and two Mexican mistakes to give the U.S. a 1-0 lead before many of the more than 81,000 spectators had found their seats.
When Mexico tried to play the ball out of its own end, Bradley anticipated the pass would come to Javier Hernandez, so he closed on the Mexican striker at the midfield stripe and took the ball off his foot after a sloppy first touch. Bradley then raced between two defenders and, looking up, noticed keeper Guillermo Ochoa was way off his line.
That was Mexico's second mistake. And Bradley took advantage of that one, too, sending a right-footed shot from about 40 yards over the outstretched hand of the backpedaling keeper.
"We've played against him a number of times," Bradley said of Ochoa, who often strays from his net. "I took the first touch and saw that he was a good ways out. And here you know if you catch a ball right, with this air the ball is going to fly.
"I just wanted to make sure I caught it right. And I did."
The goal was just the fourth by an American in an Azteca qualifier since 1980. It was also just the second Mexico has allowed in six qualifiers in this cycle — both against the U.S.
But the lead didn't last long, with Carlos Vela equalizing for Mexico on a counterattack in the 23rd minute. Hernandez made it happen, keeping the ball alive at midfield by dribbling through U.S. defender Kellyn Acosta before sending the ball ahead for Vela, who skipped away from DaMarcus Beasley, then beat Guzan with a left-footed shot from the top of the penalty area.
The goal was Vela's first against the U.S. since the 2009 Gold Cup final but it could hardly be blamed on the seldom-used Beasley, who got little help from his two center backs when Vela turned toward the goal. 
With the U.S. playing at altitude for the second time in 70 hours, Arena promised lineup changes, and he replaced seven players who started in Thursday's win over Trinidad and Tobago in Colorado. It was a plan Arena formulated months ago, then started to put into practice when his team gathered for training camp two weeks ago.
That meant hunkering down with a five-man back line, absorbing pressure and robbing Mexico of the space it creates by spreading its attack wide. "Our team did a great job with our tactical plan," Arena said.
Said Mexico coach Juan Carlos Osorio sadly: "Their intention was to defend."
Before Sunday, Beasley had played just four minutes this year. Midfielder Paul Arriola had played only eight, Acosta just 74. But the three have also played in Liga MX, meaning they are familiar with playing at altitude and dealing with the intimidating environment of Azteca.
And though the U.S. wall would bend at times, giving up 10 shots, it broke just once with Vela's score coming on the team's lone shot on goal.
Both teams had chances to steal in a win in the closing minutes, only to be denied by the goal frame, with Mexico's Hector Herrera driving a long free kick off the underside of the crossbar in the 71st minute and Bradley striking the right post on a half-volley from 30 yards three minutes later.
"We were certainly playing to get three points. Nevertheless we're pound of the result," Arena said. "We played 90 minutes to win. Not 90 minutes not to lose."
Reporting from Mexico City
Dylan Hernandez: With powerful foes ahead, U.S. needs to step up its attack
Christian Pulisic can't play alone.
The 18-year-old is already the best player the United States has ever produced, but he isn't the kind of attacker who will slalom through an entire defense on his own. There was only one Diego Maradona. 
Pulisic's minimal influence in the United States' 1-1 draw with Mexico at Azteca Stadium was somewhat predictable, considering the conscious decision the Americans made to send players back instead of forward.
As much as his ability to take on defenders one on one makes him different from other American players, what really separates him is that he is always a step or two ahead of everyone else mentally. He knows when and where to deliver the ball to his teammates, how to position himself to receive it back, how to time his runs. He makes the players around him better. He allows them to make him better. 
Sunday night, he didn't have anyone around him.
This is what Bruce Arena has to address in the 12 months that remain until the World Cup in Russia. The coach has to bridge the enormous chasm between how his team attacks when playing regional weaklings and upper-echelon teams such as Mexico. 
Arena's postgame remarks Sunday indicated his team didn't play as defensively as it did by design.
Reporting from Mexico City
A disappointing finish: 'I hoped for more from Mexico'
After Sunday's game, which ended in a 1-1 draw, there was profound disappointment here with the performance of the Mexican squad, which many had considered superior to the U.S. side.
Some sports commentators said the U.S. team appeared better organized than its Mexican opponents, a view shared by many fans. 
Still, there was relief that at least Mexico did not lose — a result that would have been a humiliation, especially considering the charged political context between Mexico and the United States.
"I hoped for more from Mexico. I thought they would play better, but we were deceived," said Rodrigo Bolanos, 22, who watched the game at the Malafama bar in Mexico City's Condesa district.
"The only good thing was that the gringos didn't win. That would have been a great embarrassment."
Reporting from Mexico City
A tense night at Mexico City bars as patrons watch the World Cup qualifier
At Wichitos restaurant in Mexico's Condesa district, Alfonso Diaz and five friends watched the tightly played match closely. All were stunned when the Untied States took an early 1-0 lead.
"I was speechless," said Diaz, 33, a software programmer. "What a shock that was."
Calm was restored when the Mexican side tied the score some minutes later.
Across the busy street, Carlos Santamaria, 30, manager of Seps restaurant, sensed early that a tie was a likely result — and he wasn't happy about it.
"For Mexico, today's game means more than a World Cup qualification match," said Santamaria. "There is a lot of pride caught up in this game, and we should not be satisfied with a tie."
At least Mexico didn't lose, though.
"If we lose, we will be the laughingstock of all the Americans — and above all of their president," Santamaria said.
Reporting from Mexico City
'It's better than losing,' says disappointed Mexico fan
With about 10 minutes remaining in the match, a cold rain started to fall. 
As fans scrambled to put on plastic ponchos, Alberto Medina kept watching the field. It was still 1-1. 
"I'm a little frustrated that we don't have a lead over the gringos," he said. "We could still lose."
Medina, 78, wanted desperately for Mexico to win — because he loved the team and because he wanted to send a message. 
"It would be a nice little swipe at Trump," he said. 
Medina had been to three other U.S.-Mexico games in his life. Mexico had won one and lost one. The third was a draw. 
"I felt so happy when they won," he said. "I want that again."
But it wasn't meant to be. As the rain came down, the match ended. Another draw. 
"Well," he said. "It's better than losing."
Reporting from Mexico City
This fan only has eyes for the game
Alejandro Sioron, 21, wasn't yelling at the Americans. He wasn't chucking empty beer cups their way. 
His eyes were glued on the field. 
"They're so evenly matched," he said. "It's thrilling. How could my focus be on the fans? It's on the game."
But he did feel a stirring of nationalism seeing the stadium packed with his countrymen, dressed all in green.
"It's so emotional, to see so many of my countrymen together," said Sioron, who works at a car dealership. "It's beautiful to see."
Pulisic just misses the winner
A long goal kick by Guzan landed to Pulisic, who had a shot at goal that would have sealed his place in the hearts of U.S. fans with the winner. 
Only a couple of minutes left with stoppage time and the U.S. will go home with a point. 
Jozy Altidore replacing Bobby Wood
Arena replaces his lone striker, Bobby Wood, with Jozy Altidore. With Mexico pushing up to try to get the winning goal, Altidore is the type of player who can create problems for El Tri with his strength and pace. 
It'll be a crazy, nerve-wracking final 10 minutes from Azteca. 
Mexico inches away from taking the lead
Mexico just missed a chance to take the lead at the 70th minute on a Hector Herrera free kick that had beaten Brad Guzan but didn't beat the post. 
The shot crashed against the goal post and was quickly cleared by the U.S. defense. 
It'll be a nail-biting final 15 minutes for the U.S. as Mexico will surely look to find the leading goal. 
Nagbe the first U.S. sub replacing Arriola
Bruce Arena makes his first sub as Darlington Nagbe replaced Paul Arriola who had some decent moments but was mostly quiet in the first half. 
Nagbe played in the U.S. win versus Trinidad and Tobago and brings a more dynamic presence to the field than Arriola. 
Two more subs for Arena are left and you'd expect to see someone replace Beasley here soon. Tue U.S. is 20 minutes away from taking a point back from Azteca. 
Pulisic finally sees some touches
Finally some life from Christian Pulisic. It was the first time we have seen Pulisic with some space as he weaved his way down the wing and was close to getting a cross over to Bobby Wood. 
The U.S. will need to pressure the Mexican defense much more if they want to keep the pressure off themselves on the other end. 
They can't continue to stay in full bunker mode and expect to keep the score tied. 
Reporting from Mexico City
Many American fans at Estadio Azteca are watching the game from 'the cage'
Mexico City's Estadio Azteca is known as an intimidating place for visiting teams. In past games, American players have been pelted with bags of urine lobbed at the field. 
But it can be an intimidating place for visiting fans as well. Fights are common. 
To cut down on violence between spectators, fans of visiting teams are kept in what is known as "the cage." This is a section of bleachers up in the nosebleeds that is fenced in with razor wire and guarded by about 200 police officers dressed in riot gear. 
"The cage" is where most of the American fans sat Sunday night —  a small speck of red, white and blue in a sea of green and red. 
Even before kickoff, they traded insults with the Mexican fans on the other side of the fence.
The Mexicans booed loudly when the American national anthem played, and the Americans gloated when their team scored a quick goal just a few minutes into the game. 
But the Mexicans had their turn. Their team scored soon after, and the whole stadium rose up with an ecstatic roar, many people throwing full cups of beer into the air to celebrate. Many in the crowd turned toward "the cage," hurling slurs and raising middle fingers at the Americans. 
The riot police looked on nervously. 
Sloppy start to the second half
Both teams decided to come out with the same lineup that finished the first half. 
A sloppy start to the second half on both sides with Mexico looking to attack from the wings and the U.S. staying back. 
The U.S. will continue to look for the counterattack and will need to get Pulisic more involved if they want to present any danger to the Mexican side. 
Observations at halftime of U.S. vs. Mexico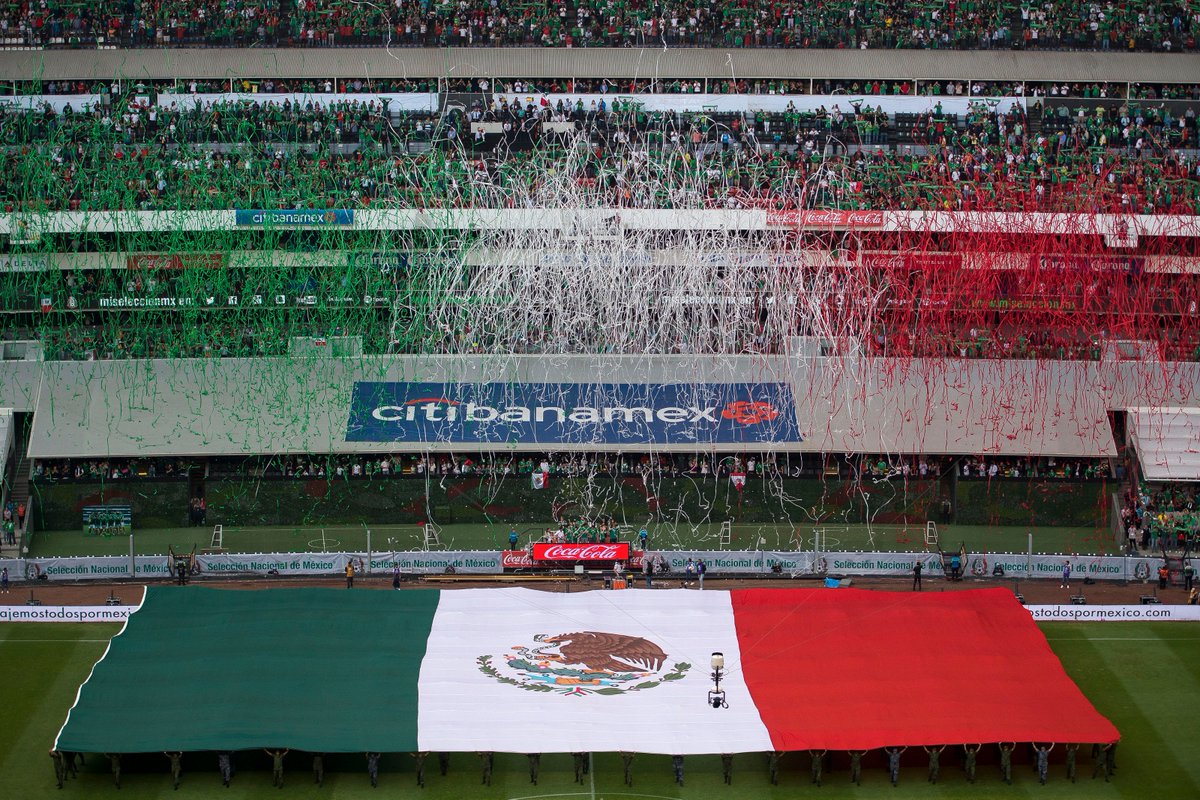 A fast-paced first 45 minutes from Azteca. Expect the U.S. to hunker down in the second half and try to get home with a point.
Beasley will probably be subbed out, and it'll be interesting to see who Arena goes with. Graham Zusi appeared to be the sub whom Arena was going to use when Beasley looked to be out because of an injury.
Kellyn Acosta needed to have planted Chicharito at midfield on that counterattack. Hernandez was able to avoid Acosta's tackle and it ended up leading to Vela's goal. Imagine what Jermaine Jones would have done to Chicharito.
Christian Pulisic has been really quiet today. He is not getting the service he has needed but in his limited touches he has looked dangerous. 
Reporting from Mexico City
Some Mexican fans face a difficult choice: Whom to support?
Many fans at Sunday's World Cup soccer qualifying match faced a difficult decision when it came to which team to support. 
"I have American kids, and I own an American business. That country has given everything to me," said Rafael Martinez, 52, who was born in Mexico but now runs a restaurant in Manassas, Va. 
"My heart is divided," he said. 
But Martinez was wearing Mexican green Sunday. He and a group of friends and family who traveled from Virginia for the game each had a letter printed on their shirt. 
Together, they spelled out "Viva Mexico."
"It's where I was raised," Martinez said. "I've gotta support them."
He brought along his 17-year-old son, Alex, who was born in the United States but said he has increasingly found himself defending his family's Mexican heritage amid a racially charged political climate. 
"It's sad," Martinez said. He said he was happy to be in a place where he could freely celebrate his Mexican pride. 
Martinez also brought along the manager of his restaurant, an  American named Luke Tamer, 29. 
Tamer also wore a green Mexico shirt. But he had a secret. Underneath was another shirt, this one featuring a bald eagle wearing American flag sunglasses. 
"I'm a little undercover right now," he said.
Tamer said he wore the green shirt to show his solidarity with Mexicans. 
"I've had a great trip here," he said. "With the kindness of all these people, I don't see how some Americans can be against them." 
Copyright © 2017, Los Angeles Times