April car sales plummet. Does that signal a longer-term decline?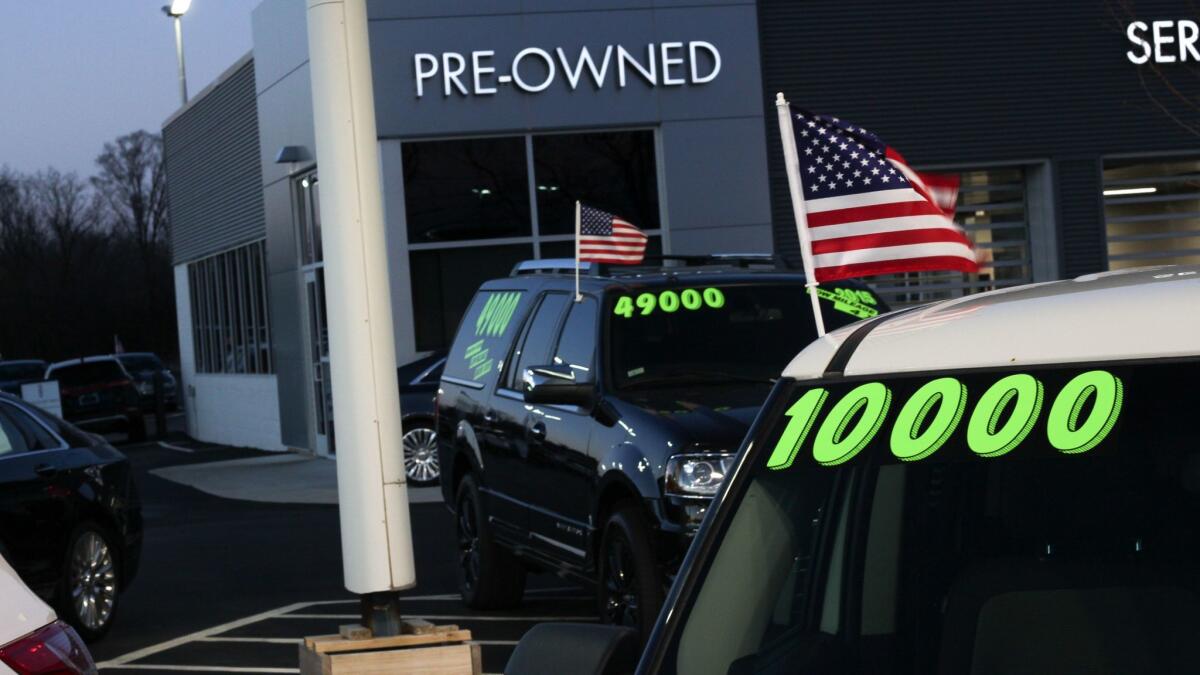 Reporting from San Francisco —
Wages are growing and surveys show consumer confidence is high.
So why are motor vehicle sales taking a hit?
U.S. sales were down in April for the big automakers: Ford fell 7% from April a year ago; General Motors, 5.8%; Fiat-Chrysler, 6.8%; and Toyota, 4.4%.
Volkswagen was the exception, rising 3.1% as the company paid off diesel owners in the emissions-cheating scandal and persuaded large numbers to stick with the brand.
The April figures aren't an aberration. The car industry's year-to-date sales are down as well.
If the trend continues, analysts will have to revise down their predictions that about 17.1 million vehicles will be sold in 2017 and begin asking whether the new-car market is on a steeper slide than anticipated.
They aren't quite ready yet to make that call.
"We're still seeing a high level of sales," said Michelle Krebs, senior analyst at AutoTrader. Since the recession ended, rising employment and low gasoline prices have kept vehicle sales high.
In 2016, automakers sold 17.5 million new cars and light trucks. This year, analysts expect fewer sales, but most envision more of a plateau, not the kind of drop-off that could hurt the economy.
The April numbers are clouding the prognostications.
Mark Wakefield, managing partner at AlixPartners, said the consulting firm is "bucking the idea" of a long plateau, anticipating a cyclical decline.
Carmakers increased incentives and low-to-zero-rate financing just to prop the current numbers up. Meantime, record numbers of leased vehicles are hitting the used-car market. That depresses used-car prices and pulls people out of new-car showrooms to buy older vehicles.
Carmakers then must choose: increase incentives and risk lower profits, or cut production to meet natural demand and lay off workers.
In any event, Wakefield predicts the U.S. auto industry will be selling about 2 million fewer vehicles in 2019 than it sold last year. "We see it turning down," he said — part of a normal cycle.
The recession in 2008-09 hammered car sales, creating a pent-up demand that Wakefield sees as just about exhausted.
Compact cars and sedans have taken the biggest hits, to no one's surprise, as buyers continue to migrate to crossovers, SUVs and pickup trucks.
Underlining the trend, sales of Toyota's RAV4 crossover topped the company's perennially popular Camry sedan in April.
But analysts see a softening even in SUVs and pickups, despite being propped up by incentives, as manufacturers "want to defend their market-share turf," Krebs said.
The most testosterone-loaded trucks remain in high demand. According to Kelley Blue Book, Ford was able to boost year-over-year prices on its F-250 Super Duty by $8,400, to $58,200.
But that's a niche market, hardly enough to prevent Ford last week from announcing a quarterly decline in profits.
Some hybrid and electric cars, meantime, are enjoying healthy percentage sales increases, but off of a tiny base: April sales for the all-electric Nissan Leaf were up 35.1% year-over-year, to a total of 1,063 cars.
Tesla on Wednesday will report first-quarter sales of its Model S and Model X luxury electric cars. Sales of those cars have been near flat at around 25,000 for each of the last three quarters. Analysts will be watching for a production boost.
Of more interest to analysts and investors, the Palo Alto-based company will likely discuss the timetable for its mass-market Model 3, due to start limited production in July. The company plans to boost total vehicle production from about 2,000 cars a week to 5,000 cars by the end of 2017, and to manufacture 500,000 cars annually by the end of next year.
In 2016, the company built about 84,000 cars total.
Car company stock prices slid on the sales report. Ford shares fell 4.4%, to $10.92; GM 2.9%, to $33.20; and Fiat Chrysler 4.3%, to $10.92.
Twitter: @russ1mitchell
---
UPDATES:
3:35 p.m.: This article was updated with closing stock prices.
The article was originally published at 12:50 p.m.