Sen. Joni Ernst learned to 'live within her means' -- on the taxpayer's dime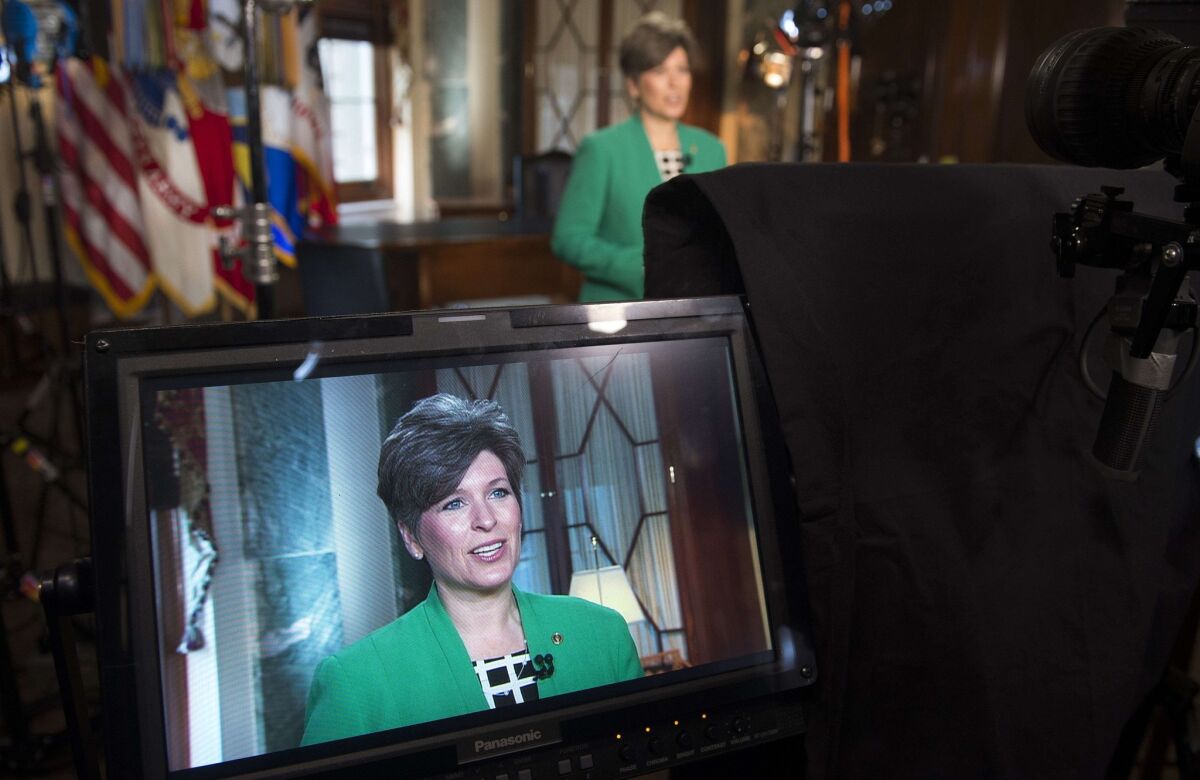 It has almost become a cliche that the politicians who bray the loudest about cutting government waste and slashing "entitlements" turn out to have learned what they know about the government trough from the inside.
The latest example is Sen. Joni Ernst, R-Iowa, who rode her tea party small-government platform to victory in the 2014 election. Ernst is viewed as such an appealing figure by her GOP colleagues that they chose her to deliver the party's official response to President Obama's State of the Union address on Tuesday.
The public spotlight might not prove to be Ernst's best friend. The District Sentinel, a Washington, D.C., news co-op, reports that despite her campaign pitch that her parents "taught us to live within our means," her family members collected $463,000 in federal farm subsidies from 1995 through 2009.
The figures come from the Environmental Working Group's authoritative database of farm supports. Most of the money, more than $367,000 in mostly corn subsidies, went to Ernst's uncle, Dallas Culver, and his farm in her home town of Red Oak, Iowa. An additional $38,665 went to her father, Richard Culver, and $57,479 went to her grandfather, Harold Culver, who died in 2003.
We called Ernst's Senate office to ask how this record comports with her ostensible distaste for individual reliance on the federal government, but there was no answer and the line wasn't taking messages.
But it places her squarely in the camp of GOP office holders who think government assistance is shameful and morally debilitating when it goes to anyone but them. Agricultural supports seem to be a particular blind spot for these politicians. Our favorite among federal lawmakers who have fattened up on farm aid while calling for cutbacks in food stamps for the poor is Rep. Doug LaMalfa, R-Richvale, whose family's farm collected $5.1 million in federal subsidies from 1995 through 2012, while he was advocating that the church should take over providing food aid to the poor and calling for a "modest" $20-billion cut in food stamps.
Ernst will fit right in. At a Des Moines appearance in August 2013, during the formative stages of her Senate primary campaign (recorded by Iowa Pubic Radio), she lamented that "we have lost a reliance on not only our own families, but so much of what our churches and other public organizations used to do. They used to have wonderful food pantries, they used to provide clothing for those that really needed it.... Now we're at a point where the government will give away everything."
This nostalgia for a misty golden past is an essential part of the story. What Ernst fails to acknowledge is that this past never existed. Even in rural communities, the churches were commonly overwhelmed by real need. In urbanized America, the image of family, church and community banding together to lift up the poor, without the government's participation, is pure fantasy.
Is Ernst a hypocrite, or just willfully uninformed? In another snippet from that Des Moines talk, she related how the Red Oak community came together in 2009, a period of crushing local unemployment, to get the economy moving again. "It took local investors and local ingenuity to start up new industry in town," she said. "It wasn't the federal government that came in and helped our community. It was those local citizens banding together....That's what we needed, was for government to get out of the way."
Is that so?
In 2009, Montgomery County, Iowa, where Red Oak is located, collected nearly $9 million in federal farm aid. The following year it was $12 million, and a year after that it was $9 million. At least a few people in Red Oak had to be mighty pleased that the government didn't "get out of the way." As it happens, Iowa ranks second among the states in total agricultural subsidies, behind only Texas.
Yet Ernst with a straight face maintained that "we have to take a good hard look at entitlement programs, and SNAP [that is, food stamps] is a good example of that....We have to do a better job of educating the American people that they can be self-sufficient."
She should explain that to her neighbors in Montgomery County, where the 2,000 people receiving food stamps account for nearly 20% of the population.
Ernst in her response to the State of the Union avoided hitting any of these points very hard--indeed, she had almost nothing substantial to say, which is part of the tradition of these responses. But her homespun narrative about wearing plastic bread bags on her feet as a child to safeguard her pair of shoes rings a little hollow when you examine it through clear lenses. The database of farm subsidies dates back only to 1995, when Ernst was already 25; but if that period is any indication, her family was probably doing quite nicely even before then, thanks to her fellow taxpayers.
Keep up to date with the Economy Hub. Follow @hiltzikm on Twitter, see our Facebook page, or email mhiltzik@latimes.com.