Car-shopping start-up Shift seeks to follow Carvana with 2020 IPO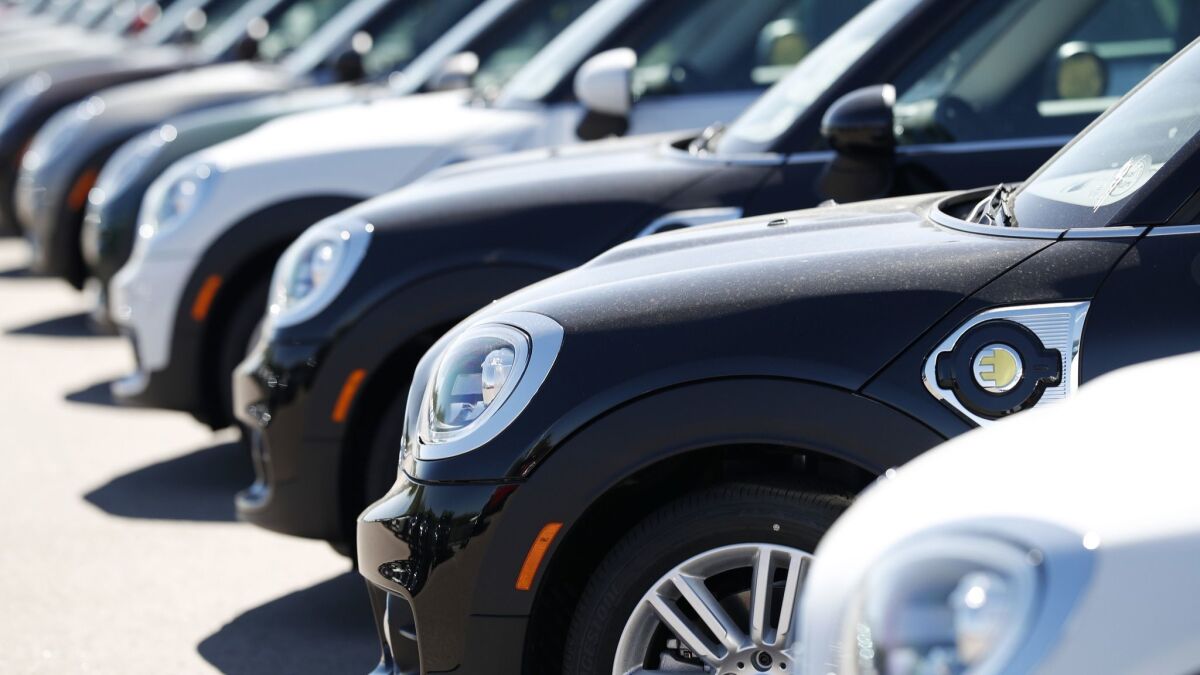 Bloomberg
What happens to the car dealership — that century-old intermediary between automakers and consumers — in the age of Amazon?
It's a question that has launched a raft of start-ups in the auto retail space and spurred existential anxiety among established dealership chains. Amazon.com Inc. has been making inroads, launching a car research and review website in 2016 and working with Hyundai Motor Co. and tire installer Monro Inc. this summer. Tesla Inc., by far the biggest all-electric manufacturer, doesn't work with dealers at all, preferring a business model built around showrooms and online ordering.
It's against that backdrop that Lithia Motors Inc., a 72-year-old bricks-and-mortar dealership chain with $10 billion in sales last year, came to partner with Shift, a 5-year-old car-shopping start-up out of San Francisco. Shift is talking up plans to go public as soon as 2020 after raising $140 million in venture funding last month, including a strategic investment from Lithia.
The alliance speaks to the pressure on dealers to adapt to the technological changes afoot in auto retail. While most national chains let shoppers browse inventory and calculate financing online, they're reluctant to let buyers complete a purchase without luring them into the dealership.
Lithia injected $54 million into the used-car upstart last month, becoming its largest investor. Shift is hoping Lithia's size and scale — not only cash, but the labor and garage space to store and refurbish used cars — will fuel expansion outside its home market of California. Lithia is betting Shift's engineers in Silicon Valley will help it sell more cars. Shift, with its app-driven shopping and home-delivered test drives, could give Lithia a chance to hedge against disruption by cashing in on an initial public offering down the road.
"We're not as tech-savvy as our customers really need," Lithia Chief Executive Bryan DeBoer said. "The partnership between Shift and Lithia finds that balance between brick-and-mortar and tech so consumers can choose whatever they like."
While the two companies will keep procuring and selling cars separately for now, they are going to share data. Shift, which expects to sell 8,000 used cars this year, will be able to access Lithia's inventory of roughly 75,000 vehicles to feed into its algorithm, so both companies will have a more precise sense of which cars at what prices will turn the fastest.
Shift is trying to follow the path beaten by Carvana Co., creator of a "car vending machine" that lets motorists shop online and then pick up their new wheels from a multi-story glass structure without so much as a test drive. Carvana instead offers a seven-day money-back guarantee. The company's stock has tripled since it went public last April, and analysts forecast it will more than double revenue this year to $1.9 billion, though it's not projected to turn a profit until 2020.
George Arison, Shift's co-CEO, said he's in "total fundraising mode," courting public investors to add to the $280 million the company has already raised. His goal is to reach $275 million to $300 million in sales next year, from about $130 million to $140 million in 2018. "We look at this as a last round to a potential IPO," he said. "It's not a promise we'll go public, but we want to be well positioned to go public."
Wall Street analysts are still scratching their heads on whether the deal will play out as both companies imagine. "This helps bolster Lithia's tech narrative, but by the same token, it's still very early days," said Jamie Albertine, an analyst with Consumer Edge Research. "Investors are still waiting for more details and information as to how this drives profitability over time."
Another bonus for Lithia: Shift sells exclusively used cars, an area national chains are flocking to. Margins on new vehicle sales are getting thinner as car manufacturers demand more investments and impose sales target incentives that can eat into profits, said David Whiston, an analyst with Morningstar Inc. in Chicago. While other chains are setting up standalone used-car stores, Whiston said, Lithia took a shortcut by taking a stake in Shift.
"Some combination of Carvana or Shift, or maybe even companies we haven't heard of yet, smaller start-ups still incubating, they're going to become much more important to traditional dealers," Albertine said. "This is going to be a very gradual change over time, and it's far too early to call a winner."
Coppola writes for Bloomberg.
Sign up for the California Politics newsletter to get exclusive analysis from our reporters.
You may occasionally receive promotional content from the Los Angeles Times.