Stocks close mostly lower, and bond yields climb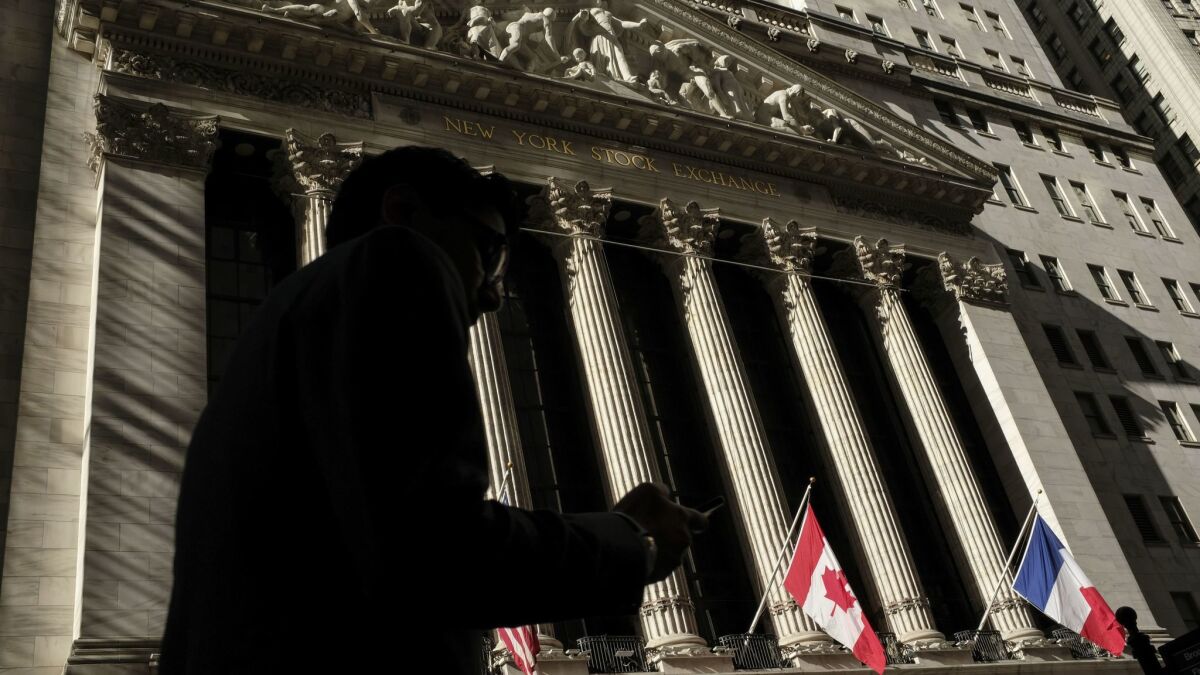 The major U.S. stock indexes closed mostly lower Thursday after a midsession gain faded.
Retailers, restaurant chains and other consumer-focused companies accounted for much of the market's pullback. The losses outweighed solid gains by financial stocks, which got a boost as climbing bond yields set the stage for higher interest rates on mortgages and other loans.
Even though January was the best month for the stock market since March 2016, the swift rise in the yield on the 10-year Treasury note, which is a benchmark for interest rates, has stoked investor worries that higher interest rates could dampen company earnings and hurt equity prices.
"Good earnings alone or maybe great earnings alone won't move the stock market up," said Bob Doll, chief equity strategist at Nuveen Asset Management. "We got to have a pause in the rate of increase in interest rates for the uptrend to resume."
The Standard & Poor's 500 index slipped 1.83 points, or 0.1%, to 2,821.98. The Dow Jones industrial average edged up 37.32 points, or 0.1%, to 26,186.71. The Nasdaq composite fell 25.62 points, or 0.4%, to 7,385.86. The Russell 2000 index of smaller-company stocks rose 4.88 points, or 0.3%, to 1,579.87.
Bond prices fell. The yield on the 10-year Treasury climbed to 2.79% from 2.71%.
The prospect for stronger economic growth, both in the U.S. and abroad, has helped drive up bond yields in recent months. This week, yields have hovered at the highest level since April 2014. Rising yields make bonds more appealing to investors seeking income, but they can also lead to higher financing costs for companies, home buyers and other borrowers.
Those higher borrowing costs can also help lift profits for banks, credit card issuers and other types of lenders. That gave a boost to financial stocks Thursday. Lincoln National shares climbed 3.8% to $85.91.
Investors continued to sift through corporate earnings reports Thursday.
About a third of the companies in the S&P 500 have reported results so far this earnings season, and some 65% of those have delivered both earnings and revenue that exceeded analysts' expectations, according to S&P Global Market Intelligence.
"From an earnings standpoint, the season has been really good and really strong," said David Lyon, global investment specialist at J.P. Morgan Private Bank. "While the numbers look good, there have been a couple of weak spots, but overall, when we look back, it's going to be a really strong earnings season."
Several companies rose after posting strong quarterly results or outlooks.
Qorvo led all gainers in the S&P 500, jumping 16.1% to $83.34. Facebook rose 3.3% to $193.09; the social media company posted strong quarterly results after the market closed Wednesday.
EBay leaped 13.8% to $46.19 after the e-commerce company gave a strong forecast for the current quarter.
Companies that reported disappointing results weighed on the market.
United Parcel Service slumped 6.1% to $119.51 after the packaged delivery company said that higher costs affected its business last quarter.
PayPal slid 8.1% to $78.40 — the biggest drop in the S&P 500 — after EBay said it would move to a different payment processor.
Hershey's latest quarterly results also fell short of Wall Street's expectations. Shares in the maker of KitKat chocolate bars and Twizzlers candy fell 6% to $103.77.
Benchmark U.S. crude jumped $1.07, or 1.7%, to settle at $65.80 a barrel on the New York Mercantile Exchange. Brent crude, used to price international oils, rose 76 cents, or 1.1%, to close at $69.65 a barrel in London.
The rise in oil prices helped lift some energy-sector stocks. Schlumberger rose 2.6% to $75.51.
In other futures trading, natural gas slumped 14 cents, or 4.6%, to $2.86 per 1,000 cubic feet. Wholesale gasoline was little changed at $1.90 a gallon. Heating oil rose 2 cents to $2.09 a gallon.
Gold rose $4.80 to $1,347.90 an ounce. Silver fell 9 cents to $17.16 an ounce. Copper rose 1 cent to $3.21 a pound.
The dollar rose to $109.42 yen from 109.11 yen. The euro rose to $1.2502 from $1.2410.
The price of bitcoin fell 9.7% to $9,178 as of 1:58 p.m. Pacific Time on Thursday, according to the tracking site CoinDesk. Bitcoin futures on the Cboe Futures Exchange slid 8.8% to $9,080.
Major stock indexes in Europe declined. Germany's DAX slid 1.4%. France's CAC 40 declined 0.5%. Britain's FTSE 100 fell 0.6%. Markets in Asia finished mixed. Japan's Nikkei 225 jumped 1.7%, South Korea's Kospi edged up 0.1%, and Hong Kong's Hang Seng index fell 0.8%. Australia's S&P/ASX 200 rose 0.9%.
---
UPDATES:
3:20 p.m.: This article was updated with closing prices, context and analyst comment.
9:10 a.m.: This article was updated with market prices and context.
This article was originally published at 7 a.m.
---
Sign up for the California Politics newsletter to get exclusive analysis from our reporters.
You may occasionally receive promotional content from the Los Angeles Times.